The need-to-know
Benefits from an experienced owner
Needs high-level of enrichment including simulated hunting games and interactive play
Highly active and inquisitive cat
Sociable and dependent cat
Very talkative cat
Lean and elegant cat
Requires grooming once a week
Needs extensive outdoor space
Not ideal for family homes
Can be regularly left for a few hours
Needs a calm environment
Key Facts
| | |
| --- | --- |
| Lifespan: | 8 - 15 years |
| Weight:  | 5 - 6.5kg |
| Colours:  | Siamese cats come in a wide range of colours, all featuring a pale body and shaded points. The eye colour on all coat colours is a bright, intense blue. |
Ratings
| | |
| --- | --- |
| Family-friendly: | 2/5 |
| Playfulness: | 4/5 |
| Intelligence: | 5/5 |
| Tendency to Vocalise:  | 5/5 |
| Likes Other Pets: | 4/5 |
| Grooming needs: | 2/5 |
| Shedding: | 2/5 |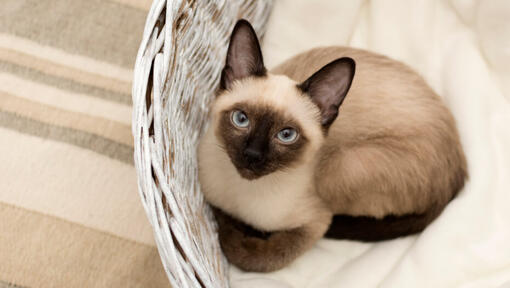 Personality
Incredibly intelligent, affectionate and opinionated, they are considered the extroverts of the feline world. Inclined to bond strongly to one person, and often very vocal with a loud, low-pitched voice (known as a 'meezer'), the Siamese is very much a 'Marmite' type of cat, appealing to a very specific sort of person! 
Due to their rather dependent nature and attachment to their person, Siamese often suffer from separation anxiety and may be better in pairs, or better still, in homes where someone is around most of the time.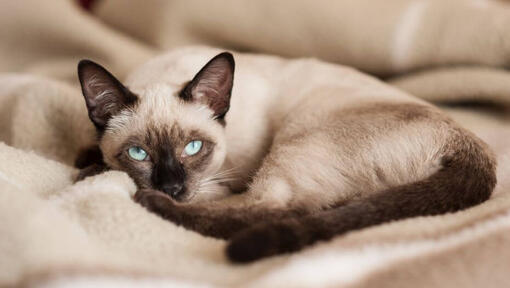 History and Origins
Country of Origin: Thailand
One of the first distinctly recognised breeds of Asian cat, the Siamese originates from Thailand, then called Siam, and in the 19th Century, was one of the most popular breeds across both Europe and North America. In 1884 the British Consul-General in Bangkok brought a pair of cats, Pho and Mia, back to Britain as a gift for his sister Lilian Gould, who went on to co-found the Siamese Cat Club in 1901. 
Recognised for their distinctive markings, the term Siamese is now used to refer to a variety of cats of the same colour pattern. The Siamese cat is known as the 'pointed pattern' and is caused by a mutation in the enzyme involved in melanin production. The mutated enzyme is heat-sensitive - in that it doesn't work at normal body temperatures but becomes active at the lower temperatures on the extremities of the body. This means the fur on those cooler areas is much darker than the fur on the warmer parts. Siamese kittens are born pure white or cream and as the fur grows and is affected by the enzyme, the coloured points develop.