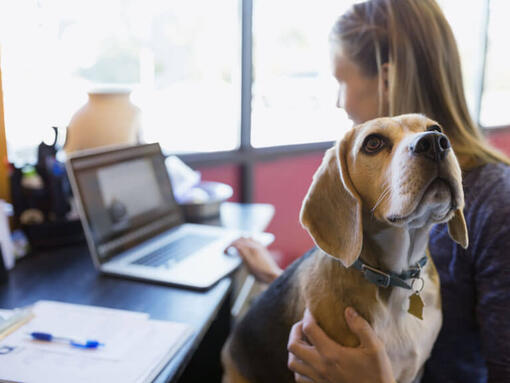 Pets at Work
Imagine a future where pets and people are even better together. A future where taking your pet to work is the norm for most people, not just a lucky few.
At Purina, we passionately believe that pets and people are better together.
We want more people to experience all the amazing benefits that pets bring: from improved health to happier workplaces. That's why we've made championing Pets at Work one of our 10 'Purina in Society Commitments'. We want to help make pet friendly workplaces a possibility for everyone.
Discover here how to set your own Pets at Work Scheme!
Pets at work
I'm an employer
Discover the six steps for setting up a Pets at Work scheme – and all the ways your people and your business will benefit.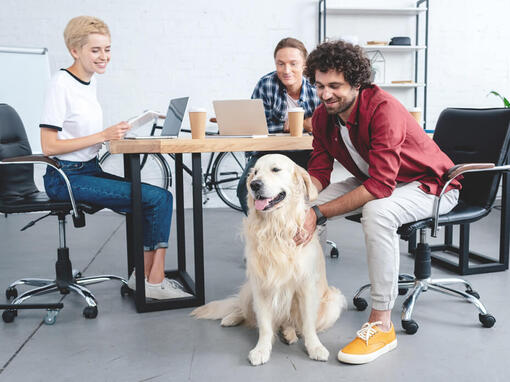 Pets at work
I'm an employee
Everything you need to know about getting a Pets At Work scheme up and running where you work – including suggestions for pitching the idea to your boss.
Key benefits
At Purina, we've welcomed pets into our offices since 2003. We've also carried out a research with other companies who've experienced the benefits of bringing people and pets together in the workplace. All this experience and research has given us real insight into the great things pets can offer companies and their employees.
Our research
In 2017 we conducted research* with thousands pet lovers across Europe to find out what they thought of Pets at Work.
40% of people with Pets at work say it enhances work-life balance
24% of people with Pets at work say it improves relationships in the workplace
45% of people with Pets at work say it creates a more relaxed atmosphere
50% of employees without a Pets at Work scheme would see it as a benefit
*The research for Purina was carried out by Engage Research as a Pets at Work Benchmark Study, Omnibus and Qualitative Research, in May 2016. European Survey with thousands pet lovers accross Europe in May 2017.
The Pets At Work (PAW) tail
Welcome to our world of work.
We are so proud that our owners' workplace is dog-friendly and that there is a growing community of pet-lovers who make us welcome at work everyday, we want to bark it from the rooftops! (Although we're not allowed on the roof, so maybe not). So settle down and we will tell you the whole tail, with a little help from our friends. Love, Purina Pets At Work Team.

Everyone at Purina passionately believes that people and pets are better together, whether at work or play. So what better way to turn this belief into reality than making us a part of their everyday office lives? Pets At Work practice has been established at Purina since 2003, with our Pets At Work policy in place since 2010, giving all employees the chance to bring their four-legged friends into the office. We now have nearly 50 canine colleagues in the PAW programme - as for our colleagues across the pond, some may think they are barking mad as they have attempted to break the world record by bringing 280 dogs into the office!

Since the PAW practice began over 12 years ago, we've seen so many benefits to having dogs in the office, from happier employees to a reduction in stress. These benefits don't just apply to us and our owners, but to other employees as well – as many agree the work environment is more enjoyable and the atmosphere more upbeat.
In order for newbies to join our pack, Purina's team of pet-loving experts developed a bespoke three stage induction programme to ease dogs and owners into the world of PAW. Judging by all of our wagging tails and the wide smiles of our owners and their friends - the PAW programme has gone down like a doggie treat. Let us take you on a walkie around our PAW programme, for you to find out the full story of how we made it such a barking success, across our workplace.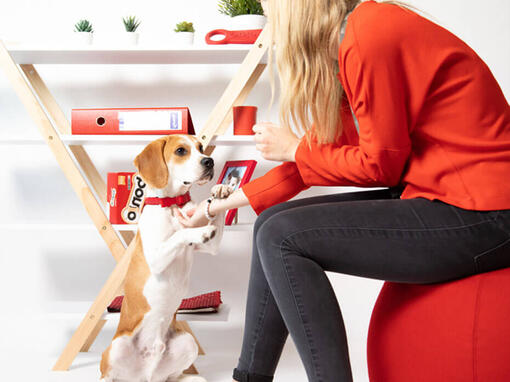 Pets at work
Interested in setting up Pets at Work in your workplace?
We want to use our expertise in allowing pets in our offices to help other companies do the same. If you are interested in making your workplace pet friendly, contact us and we will help you!