Dog suitable for owners with some experience
Extra training required
Generally healthy breed
Enjoys vigorous walks
Enjoys more than two hours of walking a day
Medium dog
Some drool
Requires grooming every other day
Chatty and vocal dog
Barks and alerts to visitors/anything unusual
Generally friendly with other dogs
Gets along with other pets with training
May need additional supervision to live with children
Needs a large garden
Can live in semi-rural areas
Can be left occasionally with training
Key Facts
| | |
| --- | --- |
| Lifespan: | 12 – 14 years |
| Weight:  | 23 – 25kg |
| Height:  | 46 – 56cm |
| Colours:  | Black and white, liver and white or either of these with tan markings |
| Size:  | Medium |
| UK Kennel Club Groups: | Gundog |
Ratings
| | |
| --- | --- |
| Family-friendly: | 5/5 |
| Exercise needs: | 5/5 |
| Easy to train: | 5/5 |
| Tolerates being alone: | 1/5 |
| Likes other pets: | 5/5 |
| Energy level: | 5/5 |
| Grooming needs: | 3/5 |
| Shedding: | 3/5 |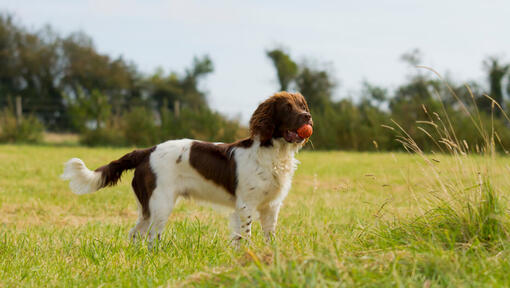 Personality
Naturally a busy, extroverted type, the Springer Spaniel is friendly, quick to learn and eager to please. Show varieties can be less active and appear calmer than working types, however all retain the desire to find items and carry objects in their mouths.  
If their needs are understood and met, they make great companion dogs for the active outdoor family.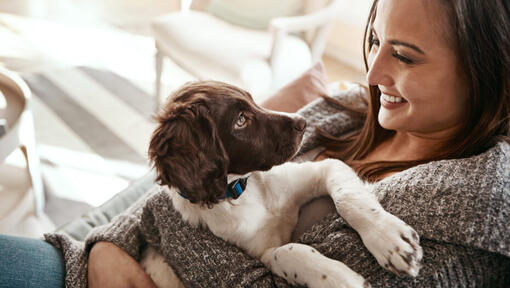 History and Origins
Country of Origin: England
The Springer Spaniel name comes from their action in the field, 'springing' game out of cover toward waiting guns, however the English Springer Spaniel also has a long history of retrieving shot game, making this an ever popular working breed, able to turn a paw to multiple tasks and with the required stamina and athleticism to see them through a long working day. 
Originally derived from similar breeds in Spain, the English Springer Spaniel remains closest to the 'Land Spaniel' prototype which eventually became refined and split into the other popular British Spaniel breeds.
Health and Common Issues
English Springer Spaniels are generally a hardy breed. However, as with many breeds, they can suffer from various hereditary eye disorders, and hip and elbow dysplasia (joint conditions that can be painful and lead to mobility problems). Eye testing and hip scoring of dogs prior to breeding is therefore important. A particular type of anaemia is also seen more frequently in the breed.  
The breed club monitor the health of the breed carefully and should be contacted for the most up-to-date information and details of any DNA or additional testing they recommend. Breed Clubs can be found on the Kennel Club website.
Exercise Needs
This is an energetic, outdoor dog, with plenty of stamina for either work or play. Several hours exercise per day is required although some of this should take the form of mental stimulation via scent games and retrieve work to help exercise this working dog's busy mind and body.  
They will enjoy being involved in family activities, and should be taught to settle quietly from a young age, avoiding the temptation to try to exhaust them – a task that will never be fulfilled! 
Space Requirements
English Springer Spaniels are economical dogs when it comes to housing and transportation and don't need a large indoor space, but are happiest when wet and muddy in the middle of the countryside. As such, these are very much rural dogs that will need long energetic walks with plenty of opportunities to run, sniff and explore.
Nutrition and Feeding
Your dog's diet needs to have the right balance of all the main nutrient groups including a constant supply of fresh water. It's important to conduct regular body condition scores to ensure you keep your dog in ideal shape and remember to feed them at least twice daily and in accordance with the feeding guidelines of their particular food.
Grooming English Springer Spaniels
The body coat of the Springer Spaniel is flat or wavy and of medium length, and the ears, chest, legs, tail and under carriage have moderate feathering. As a result of this feathering some amount of grooming is required. Some trimming will be necessary around the head, feet and ears. Extra grooming is required especially after a day out in the undergrowth, as the coat can and will pick up all sorts of twigs and grass. Pay attention to ears and between paw pads, as these areas can easily pick-up grass seeds and other foreign bodies.
Training English Springer Spaniels
This is a breed who will actively enjoy training, whether in traditional gundog activities or any of the wide variety of dog sports and activities now available. They lend themselves well to scent work of any kind, and would enjoy tracking, man-trailing or scent discrimination. Springers are still very much working dogs at heart and so need a 'job' to do – whatever that is – as a bored Springer Spaniel is difficult to live with. 
Responding best to positive, reward-based training, English Springers should be taught early on to retrieve and swap found objects happily, and to recall reliably as their busy noses can lead them anywhere.
Best Family Dog Breeds
The Springer Spaniel is a friendly affectionate dog who is great for an active outdoorsy family, who aren't afraid of mud and rain and love long country rambles. For less active families however they may be too demanding in their exercise requirements and while they would be happy to curl up in the pub after a long walk, they are certainly not a couch potato on a daily basis.  
While many dogs are traditionally thought of as being good with children, all dogs and children need to be taught to get on with and respect each other and be safe together. Even so, dogs and young children should never be left alone together and adults should supervise all interactions between them.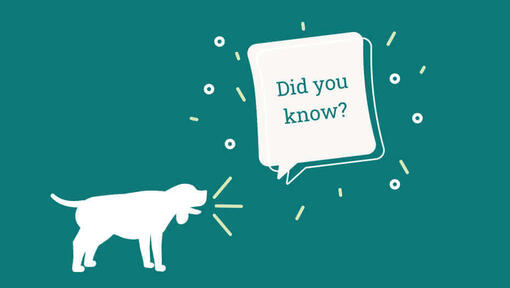 Did You Know?
Springer and Cocker Spaniels used to be the same breed, occurring in the same litters, with the larger puppies being the Springers and the smaller being the Cockers. They were split into separately recognised breeds in 1892 by the Kennel Club of Great Britain. 
Although originating from the 'Land Spaniels' Springer Spaniels are known for their love of water, and love a good swim or just a splash in a puddle or even their own water bowl.
Despite the name 'Springer Spaniel' only being given later on, there are painting with dogs that resemble the breed in the 16th century.
English Springer Spaniels have won the third most Best in Show awards at the Westminster Kennel Club Dog Show with an impressive 6 titles.
They're a favourite with celebrities including George W. Bush, Princess Grace and Oprah Winfrey.