FELIX® Soup
FELIX® Soup Tender Strips with Cod, Tuna and Plaice Wet Cat Food
FELIX Soup Tender Strips is an irresistible range of exciting recipes for your cat
No added artificial colourants, flavourings or preservatives
This cardboard is made with min. 65% recycled fibres
Features
FELIX Soup Tender Strips is an irresistible range of exciting recipes for your cat.
No added artificial colourants, flavourings or preservatives.
This cardboard is made with min. 65% recycled fibres
FELIX Soup Tender Strips is an irresistible range of exciting recipes for your cat. Your little rascal will love lapping up the delicious broth and getting his teeth stuck into the mouth-watering chunks cut into long thin strips. Each ready to pour pouch of Felix Soup Tender Strips is the perfect size to fuel your cat's mischief at any time of day and, with no added artificial colourants, flavourings or preservatives, you can feel good about serving it. Add some delicious variety to your cat's day with the irresistible FELIX Soup Tender Strips recipes, the perfect complement to their diet. Made with quality ingredients NEW FELIX Soup Tender Strips.
Ingredients
Meat and animal derivatives
Vegetable protein extracts
Fish and fish derivatives (cod 4%)
Minerals
Derivatives of vegetable origin
Various sugars
Yeasts.
Calories
23.7kCals per pouch
Nutrition & Analytical Constituents
Moisture: 87.5%; 
Protein: 7.5%;  
Fat content: 1.5%;  
Crude ash: 1.8%; 
Crude fibre: 0.2%.
 
Nutritional additives
Flavourings.
Feeding guide: For a 4kg cat, pour in a bowl and serve one pouch per day as a complement to other complete products from Purina. For your cat's health, please respect the feeding guide. Serve at room temperature. Always provide clean and fresh water. This product is a complementary meal with a high moisture content: part of your cat's daily water recommended intake will be supplied through the consumption of this product.
Soups
You may also like...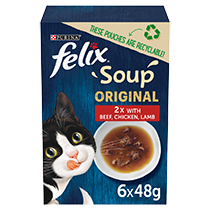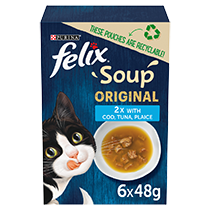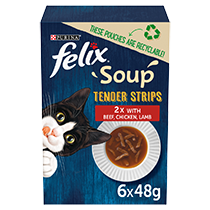 FELIX® Soup Tender Strips with Cod, Tuna and Plaice Wet Cat Food