Gourmet® Wet Cat Food
GOURMET® Gold Pate Ocean Fish Wet Cat Food
Made with tender pieces with Ocean Fish
100% complete and balanced nutritional pet food for adult cats (aged 1 to 7)
No added artificial flavourings, preservatives or colourants
Made with high quality ingredients
The cardboard and the cans contained in it are designed to be recyclable
Features
Made with tender pieces with ocean fish.
100% complete and balanced nutritional pet food for adult cats (aged 1 to 7)
No added artificial flavourings, preservatives or colourants
Made with high quality ingredients
The cardboard and the cans contained in it are designed to be recyclable
You don't want your cat to get bored with her meals so you always look for different food choices that she will enjoy.
That is why GOURMET Gold has created Pate, a delicious recipe to spoil her sophisticated palate with a unique taste experience. Tender mousses with beef, chicken, salmon and other exquisite flavours, carefully prepared to offer your cat the pleasure of a delicate and smooth sensation. Pate from GOURMET Gold, tempt your cat with a soft, velvety delight!
All GOURMET Gold recipes are made with high quality ingredients and have no added colourants, no added artificial flavourings and no added artificial preservatives.
Ingredients
Meat and animal derivatives
Fish and fish derivatives (ocean fish 4%)
Minerals
Derivatives of vegetable origin
Various sugars
Calories
104.65kCals/88.95kCals can
Nutrition & Analytical Constituents
Moisture: 77.5%
Protein: 10.5%
Fat content: 7.0%
Crude ash: 3.0%
Crude fibres: 0.05%
Nutritional additives
IU/kg:
Vit. A: 850;
Vit. D3: 130.
mg/kg:
Iron (II) sulphate monohydrate: (Fe: 9.8);
Calcium iodate anhydrous: (I: 0.24);
Copper (II) sulphate pentahydrate: (Cu: 0.80);
Manganous sulphate monohydrate: (Mn: 1.8);
Zinc sulphate monohydrate: (Zn: 17.6);
taurine: 530.

Flavourings.
Feeding guide
For an average adult cat (4kg), feed 4 cans per day in at least 2 - 3 separate meals.
The adult maintenance averages are based on moderately active cats at normal environmental temperatures. Individual needs vary and feeding should be adjusted as required to maintain your cat at a lean, healthy body weight.Serve at room temperature.
Fresh clean drinking water should be always available.
Pate
You may also like...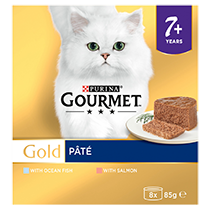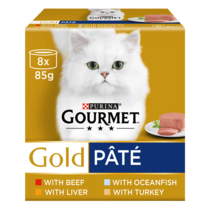 GOURMET® Gold Pate Ocean Fish Wet Cat Food