Playful and curious cat
Friendly but independent cat
Quiet cat
Average build cat breed
Requires grooming once a week
Non hypoallergenic breed
Needs some out-door space
May require familiarisation before living with children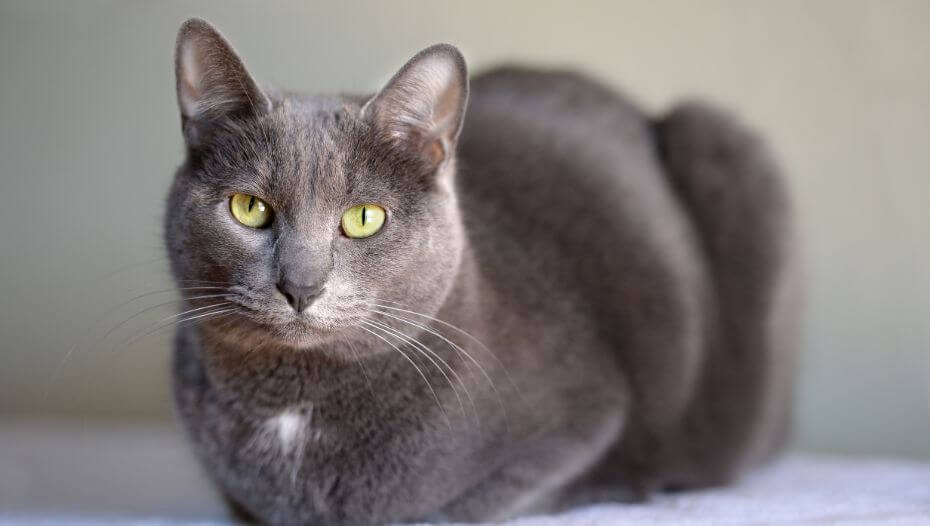 Personality
Korat cats have a quiet, sweet nature but are very intelligent and playful. They make ideal household pets and can be devoted to their human companions.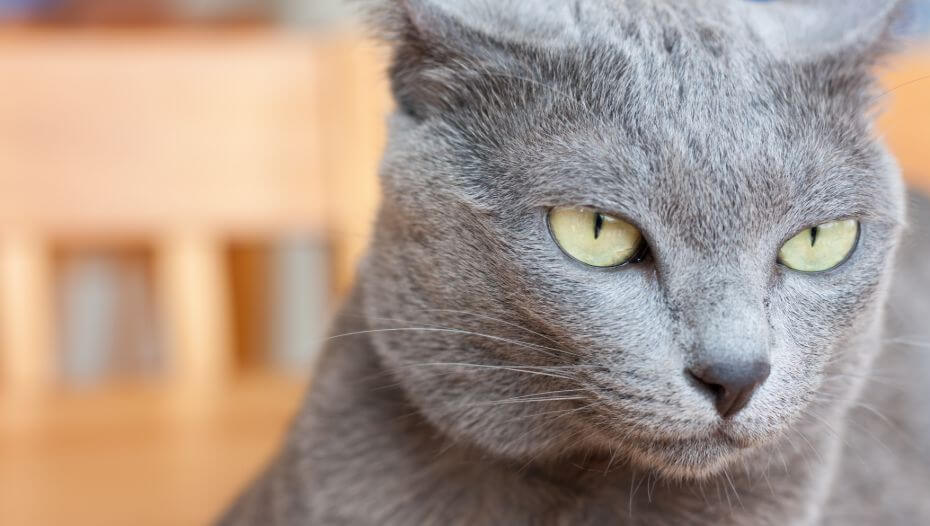 History and Origins
Country of Origin: Thailand
Other Names: Si-Sawat
The Korat cat breed is named after a province in Thailand. In Thailand, where the breed is often known as 'Si-Sawat' (meaning good fortune) - a pair of Korat cats were a traditional gift for a bride. A Korat cat may have been entered in a British cat show in the 19th century as a Blue Siamese cat. They first appeared in America in the 1950s and arrived in Great Britain from there in 1972. They are one of the few breeds that are only available in one colour, in this case silvery blue.
Health and Common Issues
The Korat cat is quite a long-lived cat with ages of 18 and 19 not uncommon. Korat cats are known to suffer from gangliosidosis, an inherited enzyme deficiency that affects the nervous system causing paralysis. There is a test for this and owners should check that the breeder's cats have been tested and are free from the problem before buying a kitten.
Nutrition and Feeding
Every cat is unique and each has their own particular likes, dislikes, and needs when it comes to food. However, cats are carnivores and every cat must obtain 41 different and specific nutrients from their food. The proportion of these nutrients will vary depending on age, lifestyle and overall health, so it's not surprising that a growing, energetic kitten needs a different balance of nutrients in her diet than a less active senior cat. Other considerations to bear in mind are feeding the right quantity of food to maintain 'ideal body condition' in accordance with feeding guidelines and catering to individual preference regarding wet or dry food recipes.
Grooming Korat
The Khao Manee cats coat is short and easy to care for. As with all cats, this breed needs regular vaccinations, parasite control and annual health checks.
Best Cat Breeds for Children
While this breed is not widely recognised as one of the best breeds for children, all cats are different and with the proper familiarisation may still be able to live with children.