The need-to-know
Benefits from an experienced owner
Needs high-level of enrichment including simulated hunting games and interactive play
Highly active and inquisitive cat
Sociable and dependent cat
Slightly talkative cat
Average build cat breed
Requires grooming once a week
Needs extensive outdoor space
Not ideal for family homes
Can be left alone all day
Needs a calm environment
Key Facts
| | |
| --- | --- |
| Lifespan: | 10 - 15 years |
| Weight:  | 2.7 - 4.5kg |
| Colours:  | Blue is the only colour the Korat comes in, though the degree of silver shading may vary.  |
Ratings
| | |
| --- | --- |
| Family-friendly: | 2/5 |
| Playfulness: | 3/5 |
| Intelligence: | 3/5 |
| Tendency to Vocalise:  | 2/5 |
| Likes Other Pets: | 5/5 |
| Grooming needs: | 2/5 |
| Shedding: | 3/5 |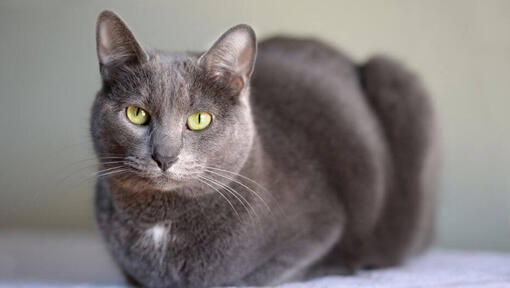 Personality
The Korat is an engaging and affectionate cat, inclined to 'help' owners with anything they are doing around the home but in an unobtrusive rather than irritating way. Whether you are doing a little light plumbing, or simply watch TV, the Korat will be by your side, on your lap or possibly, in your toolbox! Korats are also excellent problem solvers and not just at opening containers or cupboard doors. Korats have even been known to alter radio settings to a station more to their liking! Korat owners say that the breed is not only expressive and easy to read, but are adept mind readers and they know what you are thinking, often before you are thinking it!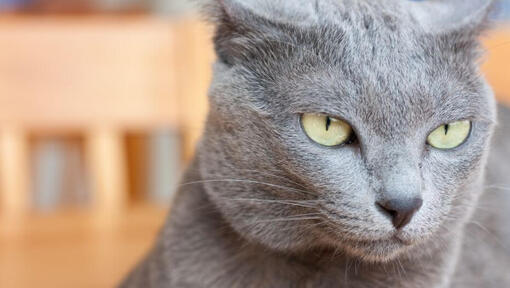 History and Origins
Country of Origin: Thailand
Other Names: Si-Sawat
Another of the ancient Thai breeds, the Korat is mentioned in the 14th century 'Cat-Book Poems', which describes their coat: 'the base of each hair, is the colour of a cloud' and that their eyes are: 'like dew when dropped on the leaf of a lotus'. Despite their ancient history in Thailand, the Korat wasn't imported to the US until the 1960's and the first UK litter was born in 1972. There is some suggestion that the Korat was imported and shown in the UK in 1896 but this cat, described as blue, and shown in the Siamese category, was disqualified for not being of the typical Siamese colouring!