Highly active and inquisitive cat
Sociable and dependent cat
Very talkative cat
Lean and elegant cat breed
Requires grooming once a week
Non hypoallergenic breed
Needs some out-door space
May require familiarisation before living with children
Personality
Like the Siamese, the Oriental cat breed is an intelligent, curious cat that makes its presence known. They love to talk to their human companions and expect a reply. They want to be part of the family and enjoy playing games like fetch with a ball of scrunched up paper. Oriental cats like to be kept amused and do not like to be left alone, so if you are out at work all day, getting another Oriental cat is probably a good idea.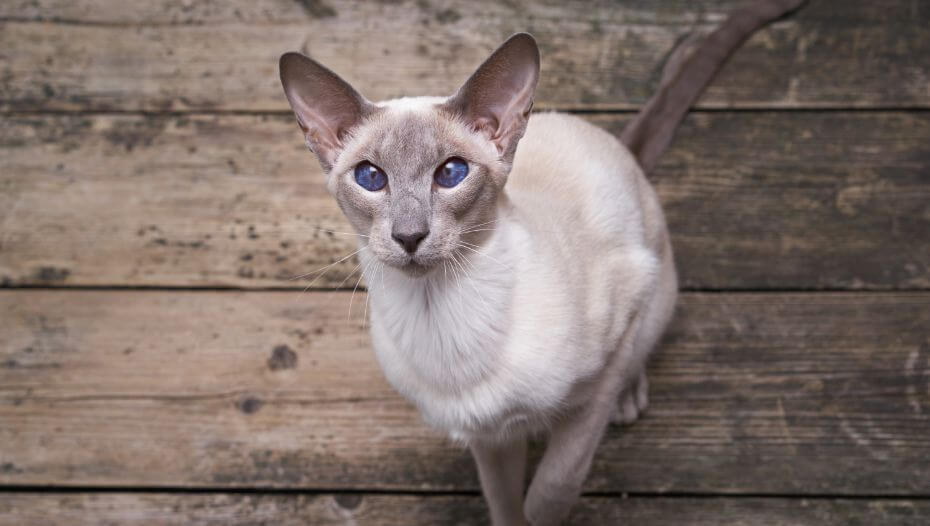 History and Origins
Country of Origin: USA/Britain
The Oriental cat is really a Siamese with a different colour coat and green eyes (except in the case of the Foreign White which has blue eyes). The shape and temperament are exactly the same as the Siamese. The Oriental cat breed was created by crossing Siamese cats with other breeds to produce different colours. Black 'Siamese' had been in existence for a long time but it wasn't until the 1950s that serious efforts were made to breed different colours and the black form is known as the Black Oriental cat. The next Oriental breed to be developed was the Havana, a chocolate colour 'Siamese' (not to be confused with the Havana Brown which is a separate American breed). Selective breeding has since produced many more colours and coat patterns.
Health and Common Issues
Oriental cats can live well into their teens. Although most Oriental Longhair cats live long and healthy lives, there are a number of disorders that seem to be associated with the Oriental cat family - those similar to the Siamese as they are closely related.
Nutrition and Feeding
Every cat is unique and each has their own particular likes, dislikes, and needs when it comes to food. However, cats are carnivores and every cat must obtain 41 different and specific nutrients from their food. The proportion of these nutrients will vary depending on age, lifestyle and overall health, so it's not surprising that a growing, energetic kitten needs a different balance of nutrients in her diet than a less active senior cat. Other considerations to bear in mind are feeding the right quantity of food to maintain 'ideal body condition' in accordance with feeding guidelines and catering to individual preference regarding wet or dry food recipes.
Grooming Oriental Short Hair
The short glossy coat of the Oriental cat breed does not require a lot of grooming but they do enjoy the attention that grooming brings. As with all cats, annual health checks, vaccination and parasite control are advisable.
Best Cat Breeds for Children
While this breed is not widely recognised as one of the best breeds for children, all cats are different and with the proper familiarisation may still be able to live with children.