The need-to-know
Dogs suitable for experienced owners
Extra training required
Generally healthy breed
Enjoys vigorous walks
Enjoys more than two hours of walking a day
Large dog
Some drool
Requires grooming every other day
Chatty and vocal dog
Barks, alerts and may be physically protective/suspicious of visitors
Could have issues with unknown dogs but gets along with known dogs
May need additional training to live with other pets
May need additional supervision to live with children
Needs a large garden
Best suited to countryside
Generally healthy breed
Alaskan Malamutes can suffer from: 
- Hip dysplasia 
- Cone degeneration which is where the back of the eye degenerates which can lead to day blindness. 
- Alaskan Malamute polyneuropathy which causes reduced stimulation of the nervous system, nerve degeneration and muscle deterioration. 
- Hypothyroidism where the thyroid gland is underactive and does not product enough thyroid hormone. This can result in low energy levels, weight gain and skin problems. 
- Chondrodysplasia, which is where cartilage and bone do not develop properly in growing dogs.
- Hereditary cataracts which is a condition where the lens in the eye becomes cloudy and this can result in blindness.
- Idiopathic polyneuropathy¹ which affects a dog's nervous system.
 
Priority Kennel Club health schemes and testing: 
- Hip dysplasia screening scheme 
- Eye screening scheme
¹ A. Shores et al, 'Idiopathic Polyneuropathy in Alaskan Malamutes', June 2008, Journal of Internal Veterinary Medicine 
Key Facts
| | |
| --- | --- |
| Lifespan: | 12–15 years |
| Weight: | 34–39kg |
| Height: | 58–64cm |
| Colours: | White and light grey to black, and from gold to red and liver, with markings |
| Size: | Large |
| Kennel Club group: | Working |
Ratings
| | |
| --- | --- |
| Family-friendly: | 4/5 |
| Exercise needs: | 5/5 |
| Easy to train: | 4/5 |
| Tolerates being alone: | 1/5 |
| Likes other pets: | 2/5 |
| Energy level: | 5/5 |
| Grooming needs: | 3/5 |
| Shedding: | 5/5 |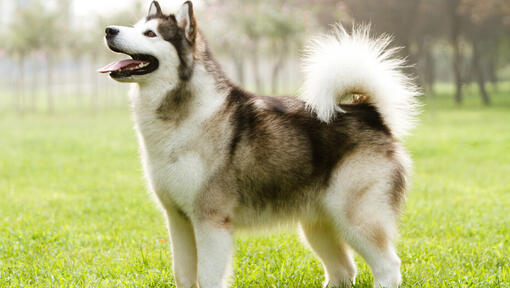 Personality
The Malamute dog is an affectionate, friendly dog who is devoted to their family, though not the ideal breed for a first-time owner as they can be challenging to own. As well as their almost insatiable need to run, they love to dig and howl, are often escapologists, and can have a high prey-drive for small, furry creatures – be they squirrels, cats or even small dogs. For owners who understand them and can give them what they need to be healthy and happy however they make outstanding and head-turning companions.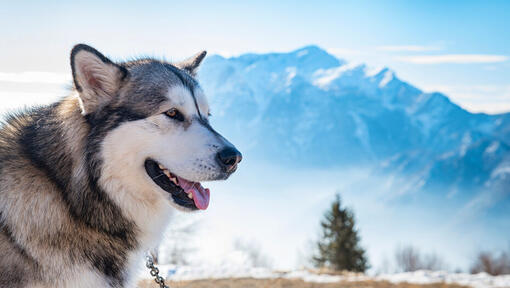 History and Origins
Country of Origin: United States
The Malamute is one of the oldest and strongest of the northern sled dogs and was beloved of the Mahlemut people of Alaska for whom the breed took their name. It is unclear just how old the breed is but there is history that suggests that they have been working in Alaska for over 5000 years. Their size, strength and stamina meant that they were used to transport heavy loads - and a team of dogs would have been able to drag half a ton across challenging terrain for hundreds of miles. When they weren't needed as sled dogs, they would be employed as livestock guards and used to help hunt moose or bear.
When outsiders began to arrive in Alaska, the sport of sled-racing become popular. The Malamute wasn't best suited for this as they were built to pull heavy loads over long distances rather than for speed. This led to outsiders crossing the Malamute with smaller faster dogs and the original breed went into sharp decline. Fortunately enough, there were parts of Alaska too remote for visitors, and enough dogs remained to recreate the breed and by 1936 the breed was recognised by the AKC and their future secured.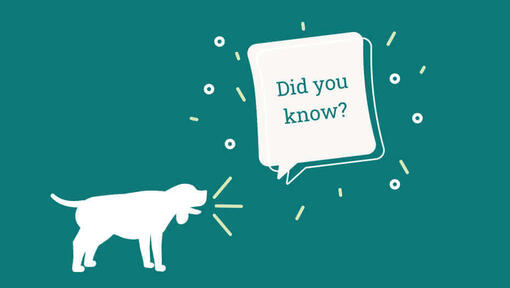 Did You Know?
Along with the lighter Siberian Huskies, Alaskan Malamutes were involved in The Serum Run of 1925 when 150 sled dogs transported diptheria antitoxin across Alaska coering 674 miles in just over 5 days, saving the small town of Nome and the surrounding communities from an epidemic.
In World War 1, 450 Alaskan Malamutes were sent to France to deliver supplies to French army troops in mountain outposts.
Previously they were used to deliver mail and transport supplies for the early settlers in Alaska.
Alaskan Malamute's were used in the Gold Rush to haul food and supplies over mountain passes.
This breed was used to sniff for mines, carry weapons and act as search and rescue dogs in World War II.