Dogs suitable for experienced owners
Extra training required
Generally healthy breed
Enjoys active walks
Enjoys more than two hours of walking a day
Large dog
Some drool
Requires grooming every other day
Quiet dog
Barks, alerts and may be physically protective/suspicious of visitors
Might not like other dogs
May need additional training to live with other pets
May need additional supervision to live with children
Needs a large garden
Best suited to countryside
Can be left occasionally with training
Key Facts
| | |
| --- | --- |
| Lifespan: | 10–15 years |
| Weight: | The weight range is 34–50kg |
| Height: | Adult males stand at 64–70cm and females at 58–64cm |
| Colours: | Red-fawn, sesame, brindle, and white |
| Size: | Large |
| Kennel Club group: | Utility |
Ratings
| | |
| --- | --- |
| Family-friendly: | 5/5 |
| Exercise needs: | 4/5 |
| Easy to train: | 2/5 |
| Tolerates being alone: | 1/5 |
| Likes other pets: | 1/5 |
| Energy level: | 4/5 |
| Grooming needs: | 4/5 |
| Shedding: | 5/5 |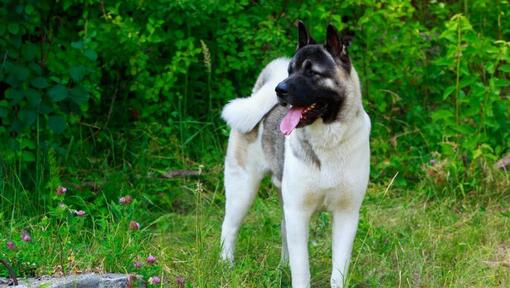 Personality
Not unexpectedly, Akita are strong dogs – in body and character – and are not recommended for the novice owner. They need experienced handling and early and ongoing socialisation and training. They are, however, very loyal to their own family, while aloof and reserved - and generally suspicious - of strangers. Courageous, they make good but often silent watchdogs - a trait that was much admired in their homeland. Their hunting and protective instincts are strong and this must be remembered at all times.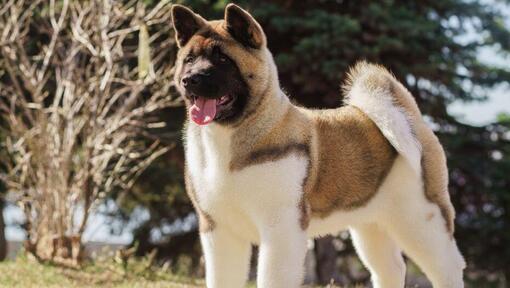 History and Origins
Country of Origin: Japan
The Akita, the largest of all the Japanese breeds, was originally bred in the province of Akita in the 1600 and was originally developed as a highly successful fighting dog. In the late 19th century however, other breeds were imported into the fighting scene making the Japanese breeds suffer in popularity. As dog fighting fell out of favour, the Akita needed to find other jobs to do in order to survive, and managed this effortlessly by multi-tasking as a hunting dog, a guard dog, a police dog, a show dog and a much-loved companion.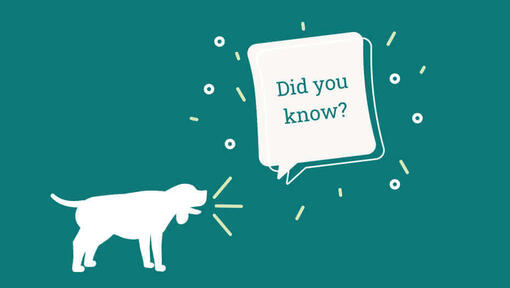 Did you know?
The most famous Japanese Akita was Hachi, the loyal companion of a Tokyo professor Eizaburo Ueno. Each day Hachi would accompany his master to the train station and would also be waiting for him when he got back from work. On 25th May 1925, Professor Ueno died in his office but for the next nine years and until his own death, Hachi made the lonely journey back and forward to the station waiting for his master who never came. There is a statue at the station in his memory.