The need-to-know
Dog suitable for owners with some experience
Extra training required
Generally healthy breed
Enjoys active walks
Enjoys one to two hours of walking a day
Medium dog
Some drool
Requires grooming once a week
Chatty and vocal dog
Barks and alerts to visitors/anything unusual
Generally friendly with other dogs
Gets along with other pets with training
Great family dog
Needs a large garden
Can live in semi-rural areas
Can be left occasionally with training
Generally healthy breed
Beagles are generally a robust breed but can suffer from: 
- Hip dysplasia 
- Lafora's epilepsy which is an inherited condition where carbohydrates cannot be broken down reulsting in toxin build up and nervous signs.
- Meningiti which is a painful condition where the tissue surrouding the spinal cord and the brain become inflamed.  
- Hypothyroidism where the thyroid gland is underactive and does not product enough thyroid hormone, and can result in low energy levels, weight gain and skin problems. 
- Intervertebral disc disease a condition where there us abnormality in the discs which act to cushion the bones in the spine.  
- Ear infections
- Cherry eye which is where a gland within the third eyelid pops up in the corner of the eye.  
- Musladin-Lueke Syndrome which is a genetic condition which can affect development of puppies.
- Neonatal cerebellar cortical degeneration which is a disease affecting the brain that causes neurological signs.

Priority Kennel Club health schemes and testing:
- DNA test for Musladin-Leuke Syndrome and Lafora's epilepsy which tests whether or not a dog has the potential to be affected by these conditions.
Key Facts
| | |
| --- | --- |
| Lifespan: | 12-15 years |
| Weight: | 10-11kg |
| Height: | 33-40cm |
| Colours: | Tricolour (black, tan and white); blue, white and tan; badger pied; hare pied; lemon pied; lemon and white; red and white; tan and white; black and white; all white. These colours can also be mottled, with the exception of all white |
| Size: | Medium |
| Kennel Club group: | Hound |
Ratings
| | |
| --- | --- |
| Family-friendly: | 5/5 |
| Exercise needs: | 4/5 |
| Easy to train: | 1/5 |
| Tolerates being alone: | 1/5 |
| Likes other pets: | 3/5 |
| Energy level: | 4/5 |
| Grooming needs: | 1/5 |
| Shedding: | 3/5 |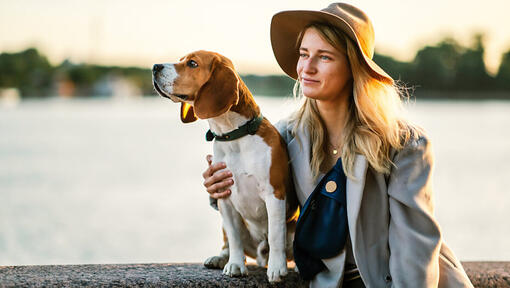 Personality
This is a happy, easy-going dog who is full of life and fun to be around. Beagles are good natured and, as they were bred to be pack animals, will get along with most other dogs. They love children but need to be exposed to cats at an early age in order to develop good relationships with them and may never be safe with strange cats or small furries. The Beagle is a good watchdog, barking at anything unusual, although once the burglar is indoors, the Beagle may prefer a game with him! The Beagle suits an owner or family who want an active, affectionate, cheerful dog who loves getting involved in games and activities but who are able to cope with their selective attitude to obedience and lack of reliable recall.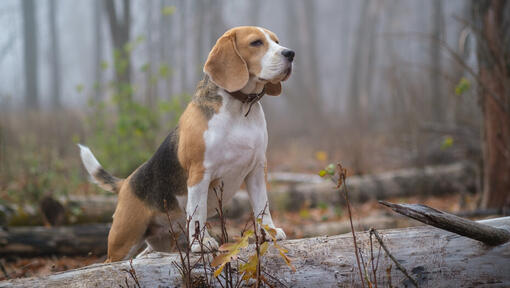 History and Origins
Around the mid-16th century, hounds began to be classified according to their purpose, i.e. sight hounds, scent hounds, etc. Around this time a small hound, bred to kill rabbit and hare, was assigned the name 'Begles', a French term meaning 'gape throat.' This referred to the animals' tendency to 'tongue', i.e. bay as a pack. The anglicised version where these dogs have their origins of course, is 'Beagle'. The breed owes its ancestry to the Foxhound, the Harrier and a small bloodhound known as a 'Kerry Beagle.'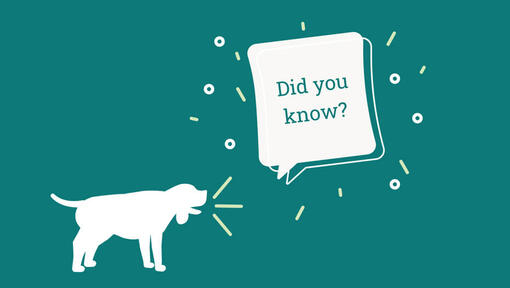 Did you know?
The Beagle is one of the healthiest of pedigree dog breeds, and this coupled with his good nature has not always been good for them, as it has sadly led to the breed being widely used in vivisection and animal experiments. As the Beagle is such a manageable size, and has such an incredible nose, they have found work around the world as a drugs and food sniffer dog in many airports. They are extremely successful in this work – and their appealing look means they don't frighten the passengers. The most famous Beagle of all is Snoopy – who, while they may not look like a Beagle, has made the breed very popular.