The need-to-know
Dog suitable for owners with some experience
Basic training required
Need to be aware of potential health issues
Enjoys active walks
Needs under an hour of walking a day
Small dog
Minimum drool
Requires grooming every other day
Chatty and vocal dog
Barks, alerts and may be physically protective/suspicious of visitors
Could have issues with unknown dogs but gets along with known dogs
May need additional training to live with other pets
May need additional supervision to live with children
Needs a small garden
Can happily live in the city
Can be left occasionally with training
This breed may encounter health problems
As with many small breeds, the Chihuahua can suffer from:
- Patellar luxation
- Legg-Perthes disease
- Tracheal collapse
- Hydrocephalus which is a condition where fluid builds up around the brain and can cause damage.
- Patent ductus arteriosus which is where dogs are built with an extra vessel which can cause problem.
- Mitral valve disease which is where the heart valves become diseased and don't work properly.
- Keratoconjunctivitis sicca (dry eye) which is a painful condition where the tear gland stops working properly. 
- Dental problems including decay and tooth loss.

Priority Kennel Club health schemes and testing: 
None but there are several recommended schemes that the Kennel Club recommends which can be found here. 
Key Facts
| | |
| --- | --- |
| Lifespan: | 10–18 years |
| Weight: | 1.8–2.7kg |
| Height: | 15–23cm |
| Colours: | The Chihuahua has two coat types: short-haired and long-haired and comes in a variety of colours including solid colours such as: black; white; fawn; chocolate; grey or silver and tricolours such as: chocolate, black or blue with tan and white. They may also be spotted; brindle; merle as well as other markings |
| Size: | Small |
| Kennel Club Group: | Toy |
Ratings
| | |
| --- | --- |
| Family-friendly: | 5/5 |
| Exercise needs: | 1/5 |
| Easy to train: | 4/5 |
| Tolerates being alone: | 1/5 |
| Likes other pets: | 2/5 |
| Energy level: | 3/5 |
| Grooming needs: | 2/5 |
| Shedding: | 2/5 |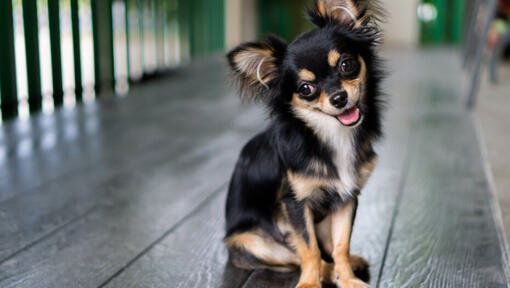 Personality
The Chihuahua tends to bond closely with one or two people, with whom they will be curious, lively and intelligent, as well as deeply and constantly affectionate. However, without adequate socialisation, the breed will not take kindly to strangers and can appear nervous, yappy and even snappy. Chihuahuas must be socialised as early as possible or they will become anxious in new environments and will not get along with strangers, children and other household pets.
The Chihuahua will suit an owner who may have little space in their homes but still want a lively, affectionate companion who will be able to come everywhere with them as this is not a dog who is easily able to tolerate owner absences.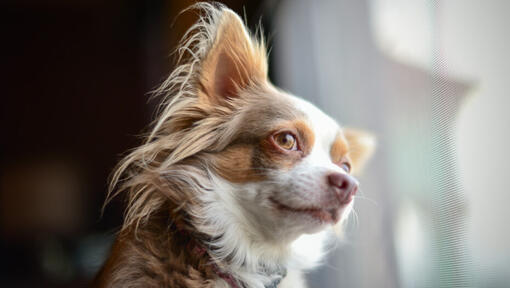 History and Origins
A small dog, called a Techichi, was an important part of Toltec and Aztec cultures. Techichi were the pets of the wealthy and were cremated with the dead in order to take on the deceased's sins so that the person could enter the next world without angering the gods. The dogs were also supposed to guide the deceased through the underworld and fight off evil spirits. Some believe that the Chihuahua is the product of breeding between the Techichi and a small, hairless dog from Asia.
The Chihuahua is a state in Mexico and it's from this state that the modern Chihuahua dog breed was first exported to America. Theory has it that the modern breed developed from the ancient strains of the Techichi, mixed with small dogs of Mexico, Arizona and Texas.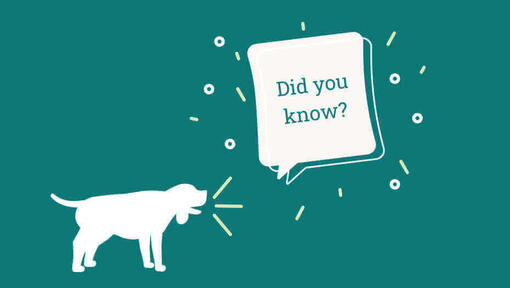 Did you know?
The Chihuahua is famous for being the smallest dog in the world.
Their popularity has soared recently as the preferred and pampered pet of celebrities and this has led to irresponsible breeding.
Chihuahua's shiver a lot but that doesn't always mean they're cold, they also do it when they're excited or scared too!
The current smallest dog living is a Chihuahua called Milly, standing at just 9.65cm tall!
In terms of brain size in comparison to body, the Chihuahua has the biggest brain of all dog breeds.