Dog suitable for non-experienced owners
Basic training required
Generally healthy breed
Enjoys active walks
Needs under an hour of walking a day
Small dog
Some drool
Requires grooming daily
Quiet dog
Barks and alerts to visitors/anything unusual
Generally friendly with other dogs
Gets along with other pets with training
May need additional supervision to live with children
Needs a small garden
Can happily live in the city
Can be left occasionally with training
Key Facts
| | |
| --- | --- |
| Lifespan: | 10–16 years |
| Weight: | 4–7.5kg |
| Height: | 20–28cm |
| Colours: | Black and white, brindle, brindle and white, gold and white, gold brindle, gold brindle and white, gold with black mask, grey and white, solid black, solid gold |
| Size: | Small |
| Kennel Club group: | Utility |
Ratings
| | |
| --- | --- |
| Family-friendly: | 4/5 |
| Exercise needs: | 2/5 |
| Easy to train: | 3/5 |
| Tolerates being alone: | 3/5 |
| Likes other pets: | 4/5 |
| Energy level: | 2/5 |
| Grooming needs: | 2/5 |
| Shedding: | 3/5 |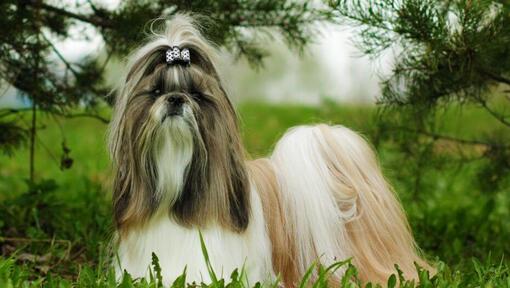 Personality
The Shih Tzu is an affectionate, playful and intelligent dog. As a breed they can be independent and wary of strangers. They enjoy learning and like to please, but while intelligent they can sometimes give the impression that they think training is simply beneath them. With patience and consistency, they will enjoy learning and can become surprisingly obedient.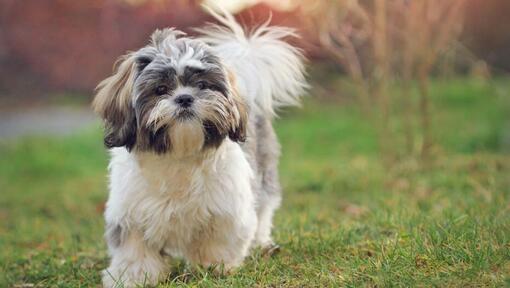 History and Origins
Country of origin: Tibet
The Shih Tzu we know and love today is itself an ancient crossbreed having been created within the walls of the Forbidden City in the 17th century from crossing the Lhasa Apso from the monasteries of Tibet with an early form of the Pekingese.
The resulting dogs, called Lhasa Lion Dogs, remained hidden away from the eyes of the West until the 20th century when the Peking Kennel Club was formed and the Lhasa Lion Dogs were shown for the first time alongside the Lhasa Apso.
It wasn't until the 1930s that these dogs found their way to England and once again they were shown alongside the Lhasa Apso, but it was clear they were quite different, and so the types that had the rounder skull and short muzzle became known as the Shih Tzu and a breed in their own right.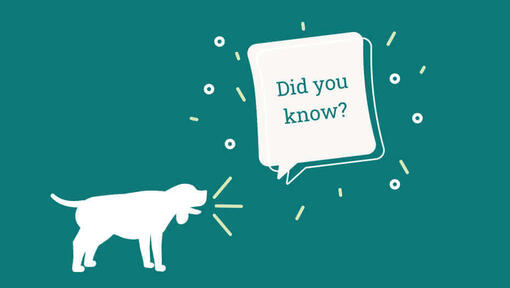 Did You Know?
An original Chinese breed standard for the Shih Tzu must be the most romantic ever written. It says (among other things) that they should have the head of a lion, the face of an owl, the eyes of a dragon, the tongue of a peony petal, teeth like grains of rice, ears like palm leaves, the back of a tiger, the tail of a phoenix and the movement of a goldfish.
Despite originating in China in the 17th century (or perhaps even earlier) the breed was hidden from the West, and was largely unknown until the 20th century.
They're also known as "chrysanthemum-faced dogs" because of the way the hair on their face grows in every direction.
All Shih Tzu's alive today can be traced back to just 14 dogs that were used to rebuild the breed after they were nearly wiped out during the first half of the 20th century.
Some have a white spot on their head which is known as the "Star of Buddha". The legend goes, Buddha was travelling with his Shih Tzu companion when robbers tried to attack him, but then the tiny dog transformed into a fearsome lion and chased the thieves away. Buddha kissed the dog upon the forehead in thanks, giving it a little white mark.