Dog suitable for owners with some experience
Extra training required
Need to be aware of potential health issues
Enjoys active walks
Enjoys one to two hours of walking a day
Small dog
Minimum drool
Requires grooming once a week
Chatty and vocal dog
Barks and alerts to visitors/anything unusual
Could have issues with unknown dogs but gets along with known dogs
May need additional training to live with other pets
May need additional supervision to live with children
Needs a small garden
Can happily live in the city
Can be left occasionally with training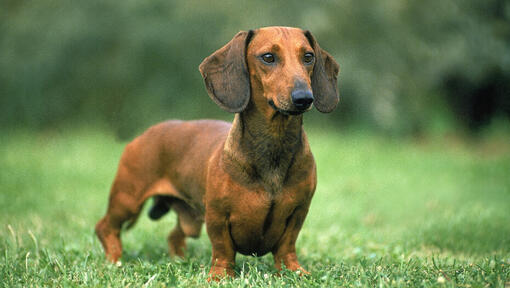 Personality
This dog can be very independent and needs kind, consistent, patient training. Early socialisation is required in order to acclimate Dachshunds to children, strangers and other animals. They are a breed that becomes quite attached to their family and usually one family member in particular, but they can be reserved with strangers.
History and Origins
Dachshunds can be traced back to 15th century Germany. However, Dachshund-type dogs have appeared in ancient Egyptian and Mexican art and remains of a similar dog were found with shipwreck remnants in Italy, dating back to the 1st century AD. The German breed standard was set in 1879 and the breed club established in 1888. Dachshunds were exported to Great Britain with Prince Albert and became popular in Britain and America throughout the 19th century.
Health and Common Issues
The most common health problem seen in the Smooth Haired Dachshund is related to their body shape, making them prone to spinal disorders. Heart disease is also relatively common in the breed. As with many other breeds, various inherited eye disorders can be seen, and breeding dogs should be routinely eye tested.
Exercise Needs
This dog needs a minimum of half an hour daily exercise. Before letting him off-lead, do ensure his recall is reliable, as his hunting instincts can drive him to run off in pursuit of a scent or quarry. Bear in mind that Dachshunds were bred to 'go to ground' and can dig under many types of fencing, so check your garden's security.
Nutrition and Feeding
Toy-sized dogs have a fast metabolism, meaning they burn energy at a high rate, although their small stomachs mean that they must eat little and often. Small-breed foods are specifically designed with appropriate levels of key nutrients and smaller kibble sizes to suit smaller mouths. This also encourages chewing and improves digestion.
Grooming Dachshund (Smooth-Haired)
Smooth-coated Dachshunds are low-maintenance; they should be groomed with a rubber glove once a week to remove dead hairs.
Best Family Dog Breeds
While many dogs are traditionally thought of as being good with children , all dogs and children need to be taught to get on with and respect each other, and be safe together. Even so, dogs and young children should never be left alone together and adults should supervise all interactions between them.