Dog suitable for non-experienced owners
Basic training required
Need to be aware of potential health issues
Enjoys active walks
Enjoys one to two hours of walking a day
Small dog
Some drool
Requires grooming every other day
Chatty and vocal dog
Barks and alerts to visitors/anything unusual
Could have issues with unknown dogs but gets along with known dogs
Gets along with other pets with training
May need additional supervision to live with children
Needs a small garden
Can happily live in the city
Can be left occasionally with training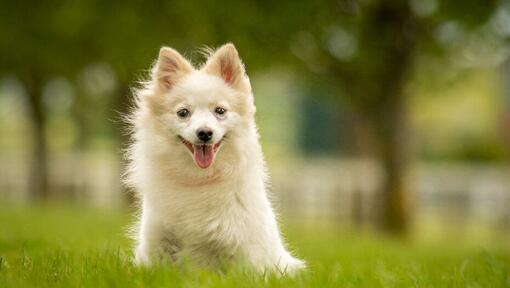 Personality
The German Spitz Klein is a happy, friendly dog. A confident, even-tempered companion, there should be no signs of nervousness or aggression. They are very active and alert and love human company, liking nothing better than to be included in any family activities.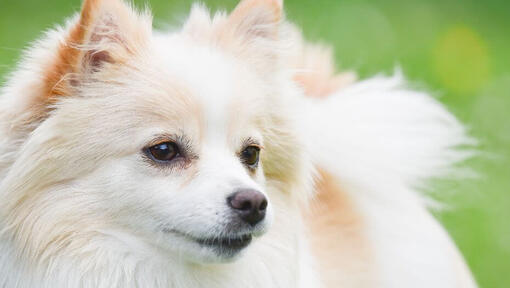 History and Origins
The German Spitz breed descends directly from the Nordic herding dogs, like the Samoyed, which were taken to Germany and Holland by the Vikings during the Middle Ages. These dogs then spread throughout Europe and were crossed with other herding/shepherd breeds, making the foundation of the Spitz type. By the 1700s, the Spitz became the fashion of British society and were bred smaller in Victorian times to produce the toy Pomeranian. The present-day German Spitz has two sizes in the UK and breeding between sizes is forbidden by the Kennel Club. However, German Spitz Klein will occasionally pop up in Mittel litters and vice versa because of the mixed ancestry.
Health and Common Issues
The German Spitz Klein is generally a relatively healthy breed. Like many breeds they can suffer from hereditary eye disorders and therefore eye testing prior to breeding is advised. Epilepsy and kneecaps that may temporarily slip out of place also occur in the breed.
Exercise Needs
The German Spitz Klein needs little exercise when compared with other larger breeds. About half an hour a day should suffice for an adult though he will happily accept more if it is offered. They do enjoy a run or a walk and will quite happily occupy themselves in the garden all day with their owners.
Nutrition and Feeding
Small dogs have a fast metabolism, meaning they burn energy at a high rate, although their small stomachs mean that they must eat little and often. Small-breed foods are specifically designed with appropriate levels of key nutrients and smaller kibble sizes to suit smaller mouths. This also encourages chewing and improves digestion.
Grooming German Spitz (Klein)
As a general rule, a thorough brushing several times a week will ensure the coat stays clean and knot-free. The hair should be brushed 'the wrong way'. Particular attention should be paid to the ears and elbows where knots can occur more quickly. Males tend to shed once a year and bitches twice a year: this is when most of the hair will be shed.
Best Family Dog Breeds
While many dogs are traditionally thought of as being good with children , all dogs and children need to be taught to get on with and respect each other, and be safe together. Even so, dogs and young children should never be left alone together and adults should supervise all interactions between them.