New puppies are full of mischievous energy, and their endless curiosity means they get their little noses into all sorts of trouble. Of course, that's how they learn but it's also how they get themselves into trouble!
An expandable dog pen can be a great help. You get peace of mind knowing exactly where your puppy is, that they can't wander off too far, and what they're playing with - and they have lots of room to play safely. 
Follow our helpful tips for everything that you'll need to give your playful puppy their perfect dog pen.
The basics of playpens
You should be able to find a puppy playpen at most good pet shops or you can buy them online. 
Look for an expandable pen that can grow with your puppy - and with high enough sides to stop your adventurous pup escaping! 
They come in various sizes - and often have additional panels you can put in as your puppy grows - so choose the right one for your puppy's breed or type.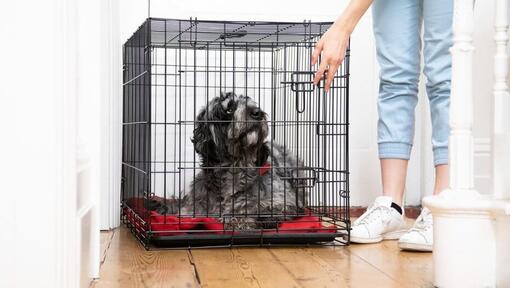 A puppy playpen should always have wire or slatted sides so your puppy is safely protected but they still get to see what's going on in the world around them, and can get used to the sights and sounds of their new home. Also, they can see that you are close by.
Puppy playpens can be used outdoors  in the garden as well as indoors, but keep an eye on the weather and never leave your puppy outdoors alone or in direct sun. Supervise your puppy all the time as you always do - and remember to take them out frequently to go to the toilet. If your puppy still hasn't mastered toilet training, watch out for any warning signs that they might need to go to the toilet. These can include looking restless, whining or squeaking, sniffing around, circling or squatting. The important thing is that while they're still learning, you don't put your puppy in a position where they make a mistake and soil their playpen.
Puppies can be bundles of energy, but they also need lots of sleep so put a comfy bed inside their dog pen to so they can nap whenever they need to. Growing up is thirsty work, so your puppy will always need access to clean drinking water. Remember, when they're in their puppy playpen, they can't get out and find a drink without your help, so make sure you put a bowl of fresh, clean water in with them so they stay hydrated while they play.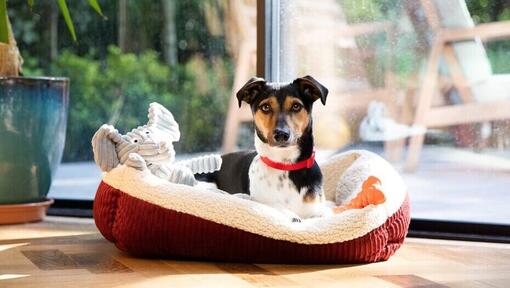 It can be a good idea to feed your puppy inside their dog playpen. This will give them peace and quiet to eat without being disturbed by other pets or children.
Most of the time, your puppy will be out and about with you - learning about their new world but a pen can be useful for relaxation time and keeping your puppy close by without you having to have your eagle eye on them all the time.
Toys and supplies for dog pens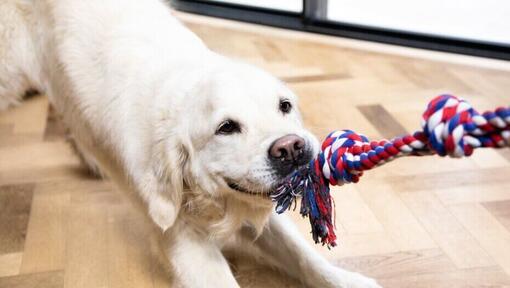 You want your puppy to enjoy their time in their puppy playpen so give them a range of toys to play with. Puppies explore with their mouths, and safe chew toys are a great way to distract your gnawing puppy away from your furniture and fingers!
These toys will also help their little puppy teeth grow big and strong for when they're older, will help them to learn and will also burn off some of that excited puppy energy.
Puppies can be bundles of energy, but they also need lots of sleep so put a comfy bed inside their dog pen so they can nap whenever they need to. As resting is incredibly important for your puppy's growth, it's likely they'll need several little sleeps throughout the day so you can use the playpen as a safe space to do that.
Your puppy won't need a puppy playpen forever, so don't worry about it being a permanent feature in your home. Once your new puppy has been housetrained and settled into their new home, you can start to allow them free access to more of the house without you having to watch them all the time. Until then, you can relax knowing the dog pen will help them stay safe and happy.
 
The benefits of using a puppy playpen
Using a puppy playpen comes with many benefits, for you and for your pup. You don't have to worry about what they're getting up to, whether they are ripping up some toys, or if they are sniffing out something they shouldn't. Let's delve into the benefits of using a puppy playpen. 
Reduces stress 
There is nothing better than knowing where your hyperactive puppy is at all times. You can see through the playpen and are able to see what they've got hold of. For them, they can also see you, so for them being in a semi-open and safe environment removes all feelings of anxiety, and it allows you to move around freely without any worries. 
Offers more freedom 
For many owners, having a puppy playpen gives them a larger free area to allow their puppy to play, relax and rest in. Playpens come in all shapes and sizes so if you want more space, you can choose one that encompasses the space you're after. Or if you need one that needs to fit in an exact area, then there are puppy playpens for that too! 
Easy to clean
Your puppy will be sure to love having their own little playpen space, but accidents do happen. Luckily a puppy playpen is very easy to clean, so for those moments, you don't have to worry about any difficulties when it comes to cleaning up after your puppy. 
Keep them contained
When you are going through the toilet training stages of puppyhood it's always a good idea to keep an eye on them. Especially if you're busy during the day, so being able to keep them contained in a safe environment is a bonus. A playpen gives your puppy to roam around and explore without getting into trouble, or munching on any house plants. If you live in an apartment, having a puppy playpen makes life for your puppy much easier too. You can keep them stimulated and entertained throughout the day, in an enclosed area, before taking them out for some exercise. 
That's our short guide on the benefits of a puppy playpen, they are great additions to your household, along with the fluffy friend of course! So, if you are toying with the idea of investing in one for your puppy, then we think this guide will have given you all the answers necessary. Next, find out our puppy toilet-training tricks with this easy-to-follow guide.
New puppy? Read these next: