Benefits from an experienced owner
Needs high-level of enrichment including simulated hunting games and interactive play
Highly active and inquisitive cat
Independent but friendly
Slightly talkative cat
Average build cat breed
Requires grooming once a week
A bit of both indoor and outdoor space
Great family cat
Can be regularly left for a few hours
Great for a relaxed home
Key Facts
| | |
| --- | --- |
| Lifespan: | 9 - 15 years |
| Weight:  | 2.7 - 4.5kg |
| Colours:  | Originally only seen in a sandy wild-cat reddish brown, the Abyssinian may now sport a variety of colours, see the GCCF and CFA websites for further details. |
Ratings
| | |
| --- | --- |
| Family-friendly: | 3/5 |
| Playfulness: | 5/5 |
| Intelligence: | 5/5 |
| Likes Other Pets: | 5/5 |
| Grooming needs: | 3/5 |
| Shedding: | 3/5 |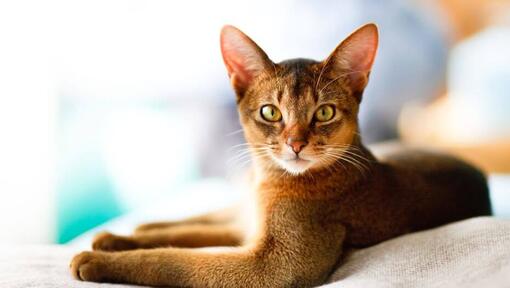 Personality
Whilst not a lap-cat, as this is not a feline to curl up and relax much, the Abyssinian is a very friendly, curious and inquisitive cat, who will delight in helping or supervising any activity you happen to be involved in. Owners will need to actively enjoy and be amused by a cat who wishes to get involved in household tasks, and be ready to play lengthy games to keep this cat happy and satisfied with life. 
Described as intensely loyal and playful, this is a cat who will require owners who are at home a lot of the time, you do not want an Abyssinian to amuse themselves without supervision!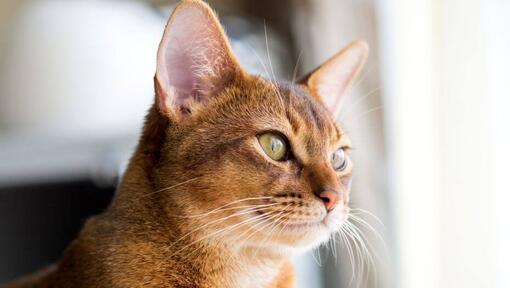 History and Origins
Country of Origin: Southeast Asia
Other Names: Abys, Bunny cat
Although named after the country now known as Egypt, and apparently one of the oldest known breeds, the Abyssinian did not originate from Egypt at all. Studies by geneticists show that the most likely origins for this breed are the coast of the Indian Ocean and parts of Southeast Asia. They gained the name due to the first of these cats imported to the UK being brought from Egypt, and they do closely resemble cats depicted in ancient Egyptian paintings and sculptures. They were first shown in the UK in 1871 at Crystal Palace and it seems that they were brought back to the UK following the departure of British troops from Abyssinia in 1868.