The need-to-know
Benefits from an experienced owner
Needs high-level of enrichment including simulated hunting games and interactive play
Highly active and inquisitive cat
Independent but friendly
Slightly talkative cat
Lean and elegant cat
Requires grooming once a week
A bit of both indoor and outdoor space
Not ideal for family homes
Can be regularly left for a few hours
Needs a calm environment
Key Facts
| | |
| --- | --- |
| Lifespan: | 9 - 15 years |
| Weight:  | 2.3 - 4.5kg |
| Colours:  | The Devon Rex comes in any colour or colour combination, with or without white markings and in a variety of patterns. |
Ratings
| | |
| --- | --- |
| Family-friendly: | 2/5 |
| Playfulness: | 4/5 |
| Intelligence: | 4/5 |
| Tendency to Vocalise:  | 3/5 |
| Likes Other Pets: | 4/5 |
| Grooming needs: | 3/5 |
| Shedding: | 1/5 |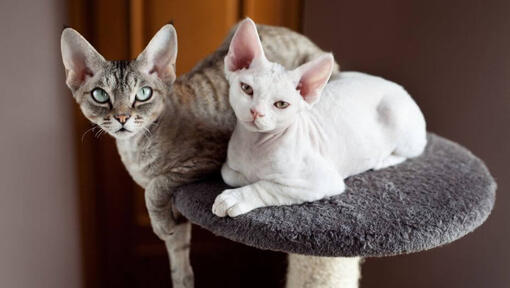 Personality
The Devon Rex is incorrigible, curious, mischievous, and highly active. They want to be involved in whatever you are involved in, no matter how inappropriate that may be. They are hugely people oriented, and will adore curling in your lap or around your shoulders, to quietly supervise you as you read or cook or even use the loo… they really don't care! 
Whilst not a particularly vocal cat, if they feel they are being ignored they will chirp and chirrup away until you pay attention. This is not a cat to leave unsupervised for long as they climb well and can be destructive if bored or lonely.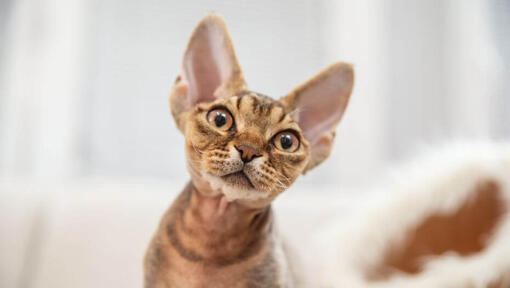 History and Origins
Country of Origin: Devon, UK
The Devon Rex first appeared in 1960 as a curly coated kitten in a litter of strays in Buckfastleigh, Devon. This kitten was kept and named Kirlee, and his owner, aware of the Cornish Rex and the work going on to preserve that gene, offered Kirlee as a stud to contribute to that project. However, it turned out that the gene causing Kirlee's curled coat was not the same gene as caused the Cornish Rex coat, and so work was undertaken to preserve the Devon Rex genes as a separate breed. All Devon Rex cats can trace their ancestry back to Kirlee who sadly died in a car accident in 1970.