The need-to-know
Great for first-time cat owners
Needs high-level of enrichment including simulated hunting games and interactive play
Highly active and inquisitive cat
Sociable and dependent cat
Slightly talkative cat
Larger stockier cat breed
Requires grooming every day
Needs extensive outdoor space
Not ideal for family homes
Can be left alone all day
Great for a relaxed home
Key Facts
| | |
| --- | --- |
| Lifespan: | 12 - 15 years |
| Weight:  | 5.8 - 10kg |
| Colours:  | Comes in any colour except chocolate, lilac or Siamese patterns and can have any number of white markings to the paws, chest, belly or face. Eyes can be any colour. |
Ratings
| | |
| --- | --- |
| Family-friendly: | 2/5 |
| Playfulness: | 3/5 |
| Intelligence: | 3/5 |
| Tendency to Vocalise:  | 4/5 |
| Likes Other Pets: | 4/5 |
| Grooming needs: | 4/5 |
| Shedding: | 4/5 |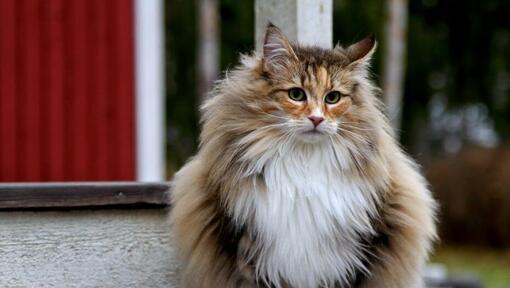 Personality
Gentle and friendly, but not constantly demanding of attention, a Norwegian Forest cat or 'Wegie' is happy to entertain themselves if no one is home, and equally satisfied with curling up beside their people when they are there. They can be reserved with visitors and are not particularly lap-cats (often because they can be prone to overheating) but will enjoy affection and physical contact from their people.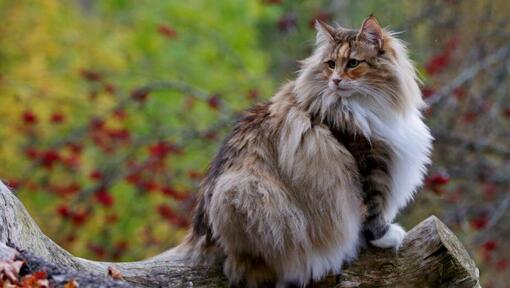 History and Origins
Country of Origin: Norway
Believed to originate in Scandinavia and referred to as the Skogkatt in its homelands, the Norwegian Forest Cat is mentioned in Viking legend and mythology. Their wild and rugged appearance, with a sturdy build and thick, weatherproof coat means these cats would easily have coped with the Scandinavian climate, and with traveling as ships cats. At risk of dying out in the early 20th Century, breeders worked hard to save them, putting in place a special breeding program in the 1970's to protect the breed. They received royal recognition from King Olaf, who designated them the official cat of Norway!