The need-to-know
Great for first-time cat owners
Enjoys playing games and is active at home
Playful and curious cat
Independent but friendly
Slightly talkative cat
Average build cat breed
Requires grooming once a week
Needs extensive outdoor space
Great family cat
Can be regularly left for a few hours
Great for a relaxed home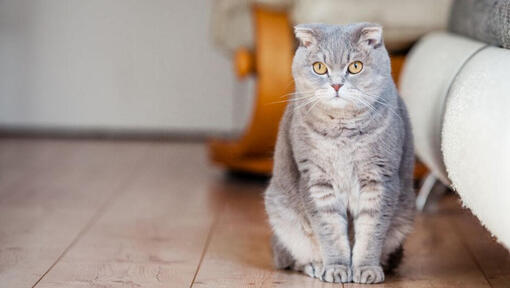 Personality
The Scottish Fold's ancestry lies with farm cats, and as you may imagine, a Scottish farm cat needed to be a rugged and hardy animal. Although the show example has come a long way since those days, this is still a robust, tough natured cat. They are easily adaptable to most situations, not worried about loud or busy homes but equally at home in a quiet, single person's abode. They are said to have a sweet disposition and a tiny voice which is used very rarely.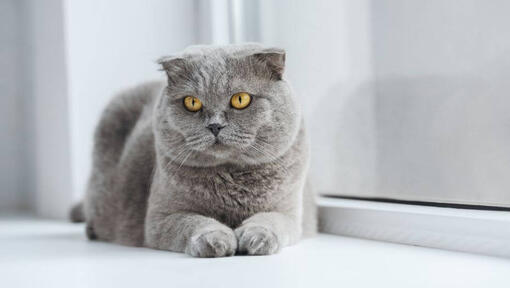 History and Origins
Country of Origin: Scotland
The Scottish Fold is named for the unique folded ears, a natural mutation which was first spotted in Scotland in the 1960's. Whilst some breeders loved the appearance, numerous veterinary surgeons and British cat show judges determine it to be an undesirable deformity, which would prevent the cat from cleaning its own ears and is associated with cartilage problems. When folded-eared cats were bred to one another, deformities of the spine, hind legs and tail appeared therefore the Governing Council of the Cat Fancy (GCCF) decided against allowing the registration of the Scottish Fold. 
The Cat Fanciers Association (CFA) in the US does recognise and register the Scottish Fold.  
Scottish Fold litters will have both normal and folded eared kittens, and it is impossible to tell which will be which until around 4 weeks of age, and not guaranteed until around 12 weeks of age. Only folded eared examples can be shown, which makes them very popular, however the normal eared variety are vital to breeding programs as folds must be bred to normal ears to avoid health problems as much as possible.