Playful and curious cat
Sociable and dependent cat
Average build cat breed
Requires grooming once a week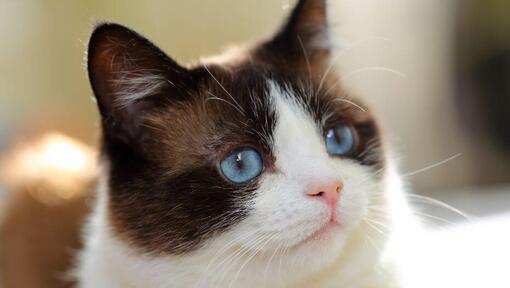 Personality
The Snowshoe cat is an intelligent animal and loves to be around people. It is vocal but not as loud as the Siamese, talking instead in a soft melodic voice. They do need company so if you are out all day getting two litter mates may be the answer. They are playful and can be taught to fetch and do need toys and games for amusement. Snowshoe cats also enjoy water, particularly running water, and may on occasion swim. They are very active and have a fondness for perching and high places.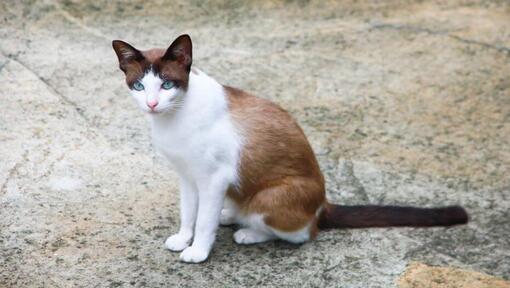 History and Origins
Country of Origin: USA
The Snowshoe cat came from the characteristic white paws of this breed. The Snowshoe cat is an American breed resulting from crossing Siamese with American Shorthairs during the 1960s. The Snowshoe cat has Siamese style points combined with white paws and white spotting. Snowshoe kittens are born all white and only begin to show their colours and markings after several weeks. No two kittens have the same markings. This breed is increasing in throughout America but is still rare elsewhere.
Health and Common Issues
No common inherited problems have been identified in the breed, however the Snowshoe cat breed is not common outside the USA. As with all breeds, Snowshoe cats benefit from protection against disease through vaccination and need regular parasite control and annual veterinary health checks.
Nutrition and Feeding
Every cat is unique and each has their own particular likes, dislikes, and needs when it comes to food. However, cats are carnivores and every cat must obtain 41 different and specific nutrients from their food. The proportion of these nutrients will vary depending on age, lifestyle and overall health, so it's not surprising that a growing, energetic kitten needs a different balance of nutrients in her diet than a less active senior cat. Other considerations to bear in mind are feeding the right quantity of food to maintain 'ideal body condition' in accordance with feeding guidelines and catering to individual preference regarding wet or dry food recipes.
Grooming Snowshoe
The Snowshoe cat does not require special grooming but will enjoy the attention that comes with it.
Best Cat Breeds for Children
While this breed is not widely recognised as one of the best breeds for children, all cats are different and with the proper familiarisation may still be able to live with children.