The need-to-know
Dogs suitable for experienced owners
Extra training required
Generally healthy breed
Enjoys vigorous walks
Enjoys more than two hours of walking a day
Medium dog
Some drool
Requires grooming every other day
Chatty and vocal dog
Barks and alerts to visitors/anything unusual
Could have issues with unknown dogs but gets along with known dogs
May need additional training to live with other pets
May need additional supervision to live with children
Needs a large garden
Can live in semi-rural areas
Can be left occasionally with training
Generally healthy breed
The Canadian Eskimo dog is generally a robust dog but can be prone to:
- Hip dysplasia 
- Gastric dilatation volvulus

Priority Kennel Club health schemes and testing: 
None but there are several recommended schemes that the Kennel Club recommends which can be found here. 
Key Facts
| | |
| --- | --- |
| Lifespan: | 10-15 years |
| Weight:  | 30-40kg for males and 18-30kg for females |
| Height:  | 58-70cm for males and 50-60cm for females |
| Colours:  | Black and white, grey and white, red and white, sable and white and solid white or solid black  |
| Size:  | Large |
| UK Kennel Club Groups: | Working |
Ratings
| | |
| --- | --- |
| Family-friendly: | 5/5 |
| Exercise needs: | 4/5 |
| Easy to train: | 5/5 |
| Tolerates being alone: | 2/5 |
| Likes other pets: | 5/5 |
| Energy level: | 5/5 |
| Grooming needs: | 3/5 |
| Shedding: | 5/5 |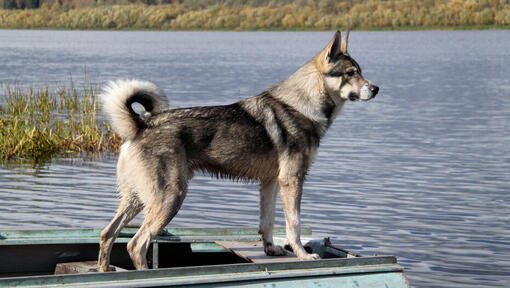 Personality
A specialist working breed rather than average every day companion, the Canadian Eskimo Dog is bred to pull weights of up to 80kg, over 70 miles per day in harsh Arctic conditions. They like life gregarious, in a gang of people and dogs, and they like things cold!  The average pet dog owner will struggle to provide a life style the Canadian Eskimo dog will thrive in. Attempts to do so without being willing to lead a very different lifestyle will result in a destructive, loud and unhappy dog. In a group, with plenty of exercise however, the Canadian Eskimo is affectionate, playful and curious.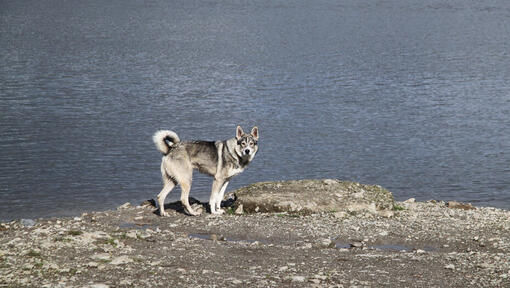 History and Origins
Country of Origin - Canada
 
Developed by the Inuit hunters of Canada and known as the Qimmiq or Kingmik by them, the Canadian Eskimo Dog worked with hunters to pull sleds, find seal breathing holes and hold at bay predators such as polar bears.  
Just as heavy horse numbers fell due to the advent of the traction engine, Eskimo dog numbers fell, from around 20,000 in the 1920s to perhaps 200 some 50 years later, as a result of the introduction of the Siberian Husky which was smaller and faster, and also due to the development of the snowmobile. With no need to use dogs for true sled work, and a preference for the faster Siberians for racing, numbers plummeted.  
Dedicated breeders set out to save the breed and as a result, the Canadian Kennel Club came together with the Canadian Eskimo Dog Association and Inuit Sled Dog International to protect and promote the breed. They remain a rare breed outside of Canada and the US even today.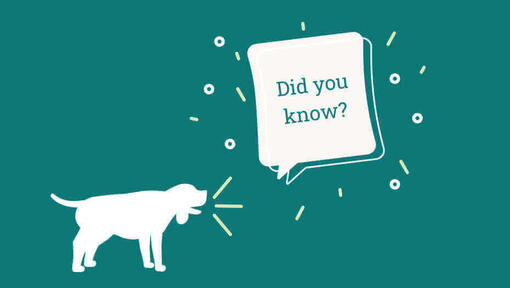 Did You Know? 
In 2015 a genetic study determined that the Canadian Eskimo Dog and the Greenland dog are genetically the same and distinct from the very similar looking Siberian Huskies, Alaskan Huskies and Alaskan Malamutes. The maternal mitochondrial DNA sequences were classified as haplotype A31 that indicates a common female ancestor. This haplotype is not found in other modern dogs, the nearest match was with the 1000-year-old remains of a dog from Florida.