The need-to-know
Dogs suitable for experienced owners
Extra training required
Potential health risks
Enjoys active walks
Enjoys one to two hours of walking a day
Large dog
Some drool
Requires grooming once a week
Chatty and vocal dog
Barks, alerts and may be physically protective/suspicious of visitors
Could have issues with unknown dogs but gets along with known dogs
May need additional training to live with other pets
May need additional supervision to live with children
Needs a large garden
Can live in semi-rural areas
Can be left occasionally with training
This breed has a higher risk of health issues
Dogue de Bordeaux are a brachycephalic breed; problems associated with this condition include:

- Brachycephalic obstructive airway syndrome: a condition in brachycephalic breeds (those with a short nose and squashed face) where breathing is obstructed and can lead to reduced ability to exercise, or even severe respiratory distress.
- Skin inflammation/infection: brachycephalic breeds have a short nose and a normal amount of facial tissue. This means there is often excess skin around their face which leads to skin folds. The skin inside these folds can become sore and infections are prone to develop. 
- Eye ulcers: ulcers are painful erosions on the surface of the eye. They are more common in brachycephalic breeds due to their conformation, as their eyes tend to be more bulbous.

The Bordeaux breed can also suffer from: 
- Hip dysplasia 
- Elbow dysplasia
- Gastric dilatation volvulus
- Dilated cardiomyopathy¹ which is a condition where the heart muscle becomes progressively weak and cannot work properly
- Lymphoma² which is a cancer of some of the cells that make up immune system

Priority Kennel Club health schemes and testing: 
- Hip dysplasia screening scheme 
- Elbow dysplasia screening scheme
¹M. Borgarelli at el, 'Prognostic Indicators for Dogs with Dilated Cardiomyopathy', 2006, Journal of Internal Veterinary Medicine 
²C. Pittaway et al, 'Incidence and risk factors for the diagnosis of lymphoma in dogs in UK primary‐care practice', 2018, Journal of Small Animal Practice
Key Facts
| | |
| --- | --- |
| Lifespan: | 8–12 years |
| Weight: | 45–50kg |
| Height: | 58–68cm |
| Colours: | The coat of the Dogue de Bordeaux is short and quite soft to the touch, and can be all shades of fawn |
| Size: | Giant |
| Kennel Club group: | Working |
Ratings
| | |
| --- | --- |
| Family-friendly: | 5/5 |
| Exercise needs: | 5/5 |
| Easy to train: | 2/5 |
| Tolerates being alone: | 2/5 |
| Likes other pets: | 1/5 |
| Energy level: | 2/5 |
| Grooming needs: | 4/5 |
| Shedding: | 3/5 |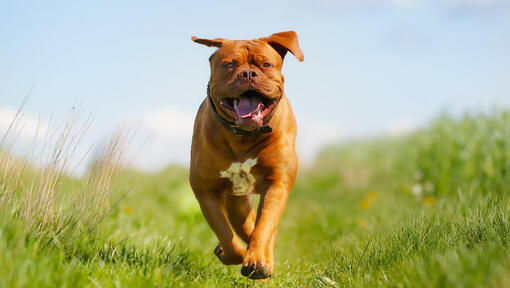 Personality
The Dogue de Bordeaux is a devoted companion that bonds closely with their family and will protect them and their territory if they feel it is threatened. Well-bred, socialised and trained, they are good with children and will accept other household pets if introduced to them when young. They may be aloof - or even positively discouraging - with strangers. They love to please and need to be trained in a consistent and calm manner as they can be surprisingly sensitive.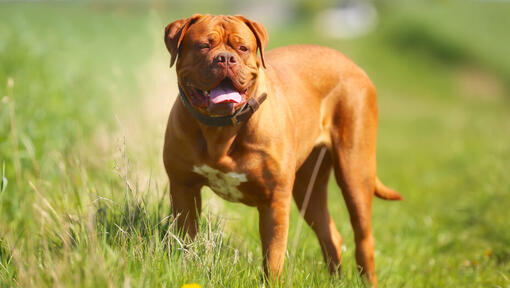 History and Origins
Country of Origin: France
The precise origin of this breed is unknown with some thinking that is it was originally an ancient Roman breed while others suggest it is descended from the Tibetan Mastiff and the Greek Molossus. Others say it has always been a French dog that has slowly been developed over 2000 years. Whatever their history, the Dogue de Bordeaux started their working life as a highly successful fighting dog and was pitted against bulls, bears and other dogs. As well as being a fighter, the Dogue turned their paws to other roles and over the years has been a war dog, a guard dog, a hunting dog and even a cattle driving dog. It was this latter role that saved the breed after the French Revolution when most noble dogs met the same fate as their noble masters. Those working as mere 'butcher's dogs' (who may indeed have been the more peaceable individuals), survived and were later able to re-establish the breed. As part of this re-establishment, they were crossed with the Bulldog which reduced their size.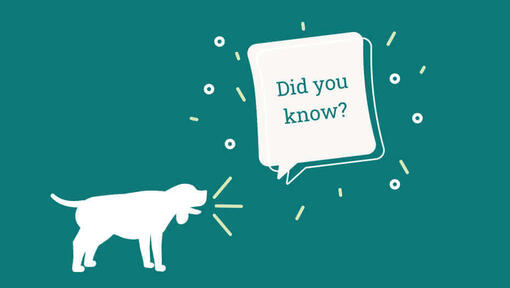 Did You Know?
The Dogue de Bordeaux found fame in Hollywood starring opposite Tom Hanks in Turner and Hooch. Tom Hanks spent a lot of time playing with the four different dogs who played Hooch so that they would be comfortable with him when they were filming - and apparently Tom Hanks even learnt how to use a clicker! Even then Tom later said it had been one of his most difficult parts because the dogs just did pretty much what they wanted to and it was up to Hollywood's best loved actor to just react to whatever happened!
They're also known as 'French Mastiffs' 'Bordeaux Bulldogs' and 'Bordeaux Mastiffs'.