Dogs suitable for experienced owners
Extra training required
Need to be aware of potential health issues
Enjoys active walks
Enjoys one to two hours of walking a day
Large dog
Some drool
Requires grooming once a week
Chatty and vocal dog
Barks, alerts and may be physically protective/suspicious of visitors
Could have issues with unknown dogs but gets along with known dogs
May need additional training to live with other pets
May need additional supervision to live with children
Needs a large garden
Can live in semi-rural areas
Can be left alone with training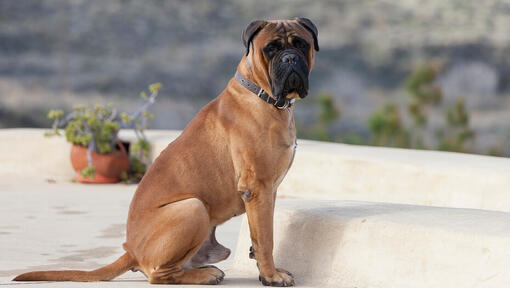 Personality
These dogs are very protective of their family and other household pets, and so have to be socialised from an early age. The Bullmastiff will only accept strangers if they are introduced to them by someone they trust. Other visitors/strangers will be quickly halted in their tracks. It is not really a breed for the novice owner, due to its strength, stubbornness and over-protective nature.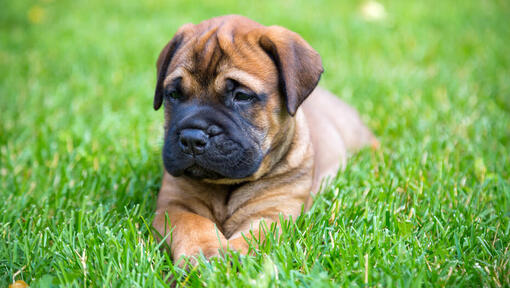 History and Origins
The Bullmastiff dog breed was originally called the 'Gamekeeper's Night Dog' as they were used to catch poachers. The base stock of the Bullmastiff was 60% English Mastiff and 40% Bulldog. They were created in the late 1800s. When the need for gamekeepers and the Bullmastiff declined they were used in sport. Someone would run off into the undergrowth and, after a short time, a muzzled Bullmastiff would be released to see if the person could be found. They were not trained to maul or kill, but to overpower their target.
Health and Common Issues
As with many breeds, Bullmastiffs can suffer from various hereditary eye disorders, and hip and elbow dysplasia (joint conditions that can be painful and lead to mobility problems). Eye testing and hip scoring of dogs prior to breeding is therefore important. They are also prone to a particular bladder condition and ligament problems in the knee (cruciate disease).
Exercise Needs
This dog should be carefully controlled until at least 12 months old. Too much exercise too young can lead to bone and joint problems in later life. They do enjoy exercise and games with the family, and a couple of hours of exercise daily will keep an adult Bullmastiff content.
Nutrition and Feeding
Large breed dogs, as well as having large appetites, benefit from a different balance of nutrients including minerals and vitamins compared to smaller-breed dogs. The Bullmastiff is prone to bloating and stomach problems; smaller, more frequent meals can help minimise this risk.
Grooming Bullmastiff
Grooming the Bullmastiff is relatively easy, as the coat is short and low-maintenance. A grooming mitt is all that is required to remove any dead and loose hair.
Best Family Dog Breeds
While many dogs are traditionally thought of as being good with children , all dogs and children need to be taught to get on with and respect each other, and be safe together. Even so, dogs and young children should never be left alone together and adults should supervise all interactions between them.