Dog suitable for owners with some experience
Extra training required
Generally healthy breed
Enjoys active walks
Enjoys one to two hours of walking a day
Small dog
Some drool
Requires grooming daily
Chatty and vocal dog
Barks and alerts to visitors/anything unusual
Generally friendly with other dogs
Gets along with other pets with training
May need additional supervision to live with children
Needs a small garden
Can happily live in the city
Can be left occasionally with training
Key Facts
| | |
| --- | --- |
| Lifespan: | 10-16 years |
| Weight:  | 5-6kg |
| Height:  | Adult dogs are 34-37cm tall, females 30-34cm |
| Colours:  | White |
| Size:  | Small |
| UK Kennel Club Groups: | Utility |
Ratings
| | |
| --- | --- |
| Family-friendly: | 4/5 |
| Exercise needs: | 3/5 |
| Easy to train: | 3/5 |
| Tolerates being alone: | 2/5 |
| Likes other pets: | 4/5 |
| Energy level: | 3/5 |
| Grooming needs: | 3/5 |
| Shedding: | 3/5 |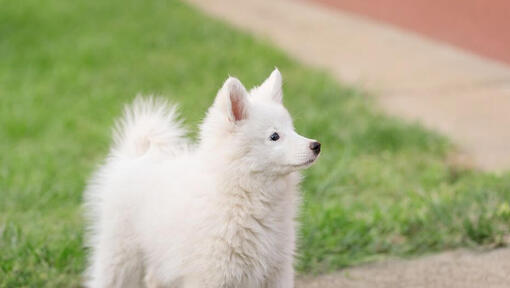 Personality
The Japanese Spitz is affectionate and loyal to loved ones and familiar friends, but may be a little reserved with those they don't know well. Typical of the spitz type, this is an alert, lively breed who will bark if they hear anything unusual or startling.  
They enjoy the company of family, and are generally a gregarious type, getting on well with other family pets and other dogs, though as with all dogs, should be socialised well as puppies. If you want to find out more about dog socialisation, check out our handy article.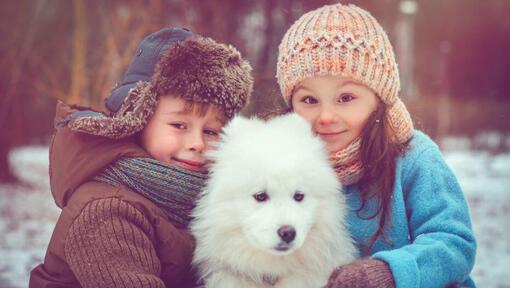 History and Origins
Country of Origin: Japan
Although the spitz type has been around in the northern hemisphere for some considerable time, the Japanese Spitz is a relatively modern breed that has found a niche as a lively household companion and also an eye-catching show dog. It is thought their ancestors arrived in Japan first in the form of smaller Samoyeds via Mongolia and then later in the form of white coated German Spitz dogs. It's also possible that some American Eskimo dogs from Canada added to the mix along with some Russian Spitz in the 1930's, and these all contributed to this new breed which was finalised by the Japan Kennel Club in 1948.  
The UK didn't see the Japanese Spitz imported until the 1970s and they were recognised by the Kennel Club in 1977.
Health and Common Issues
The Japanese Spitz is generally a healthy breed. In common with many small breeds they may suffer kneecaps that temporarily slip out of place (patella luxation).
Exercise Needs
Although not a particularly large dog, the Japanese Spitz is a fit, active animal who will need an hour or more of dog exercise per day. They will enjoy training for fun, and puzzle solving games that exercise their clever, curious minds. Japanese Spitz do well at agility and other dog sports. 
Space Requirements
The Japanese Spitz does not require a lavishly sized home, but secure outside space for play and training and toilet trips is a must. Consider the proximity of your neighbours and how busy your location is, as the Japanese Spitz can be quite a barky dog, particularly if over-stimulated by constant passing traffic. You will need space to dry off a wet dog, and to groom them regularly. Suitable for most locations except where noise will be an issue.
Nutrition and Feeding
Small dog breeds, such as the Japanese Spitz, have a fast metabolism, meaning they burn energy at a high rate, although their small stomachs mean that they must eat little and often. Small-breed foods are specifically designed with appropriate levels of key nutrients and smaller kibble sizes to suit smaller mouths. This also encourages chewing and improves digestion. Discover more about how to offer your dog a balanced diet with our easy-to-follow guide.
Grooming Japanese Spitz
For such a bright white dog, Japanese Spitz dogs stay clean with a thorough brush through once dry and although bathing will need to be regular, their smaller size means this is not too difficult a task. 
The soft undercoat is very thick, and the stand-off topcoat is straight and longer around the neck, chest and shoulders, creating a 'mane'. The tail is well covered. Brushing the coat every other day will keep it tangle-free, but daily grooming is needed when the coat sheds. Always check paws and ears for seeds and foreign bodies after walks. You can find out more about dog grooming and daily care with our article. 
Training Japanese Spitz
The Japanese Spitz is a bright, intelligent dog with an independent streak so will need motivation in the form of positive reinforcement dog training, using treats and games to keep them interested. Pay particular attention to recall as Spitz types no matter how small, can be keen to go off hunting! 
Best Family Dog Breeds
Suitable for active families who have time to train and entertain, caution is recommended with very small children as it is with most breeds. This is a barky dog, and in a busy, loud household this could encourage nuisance barking so do keep this in mind. 
While many dogs are traditionally thought of as being good with children, all dogs and children need to be taught to get on with each other and be safe together. Even so, dogs and young children should never be left alone together and adults should supervise all interactions between them.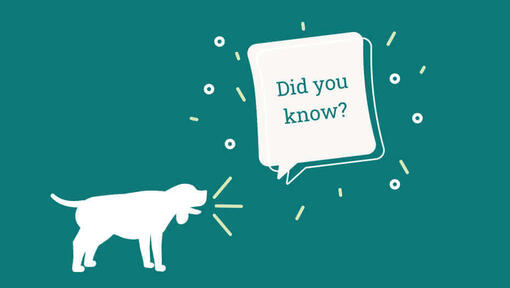 Did You Know?
The Japanese Spitz is sometimes nicknamed the Cloud Dog due to their fluffy white cloudlike appearance. They are also often described as having a 'self-cleaning' coat, referring to the fact that once dry, mud and dirt brushes off or drops off very easily.