Dogs suitable for experienced owners
Extra training required
Need to be aware of potential health issues
Enjoys vigorous walks
Enjoys more than two hours of walking a day
Giant dog
Some drool
Requires grooming every other day
Quiet dog
Barks and alerts to visitors/anything unusual
Could have issues with unknown dogs but gets along with known dogs
May need additional training to live with other pets
May need additional supervision to live with children
Needs a large garden
Can live in semi-rural areas
Can be left occasionally with training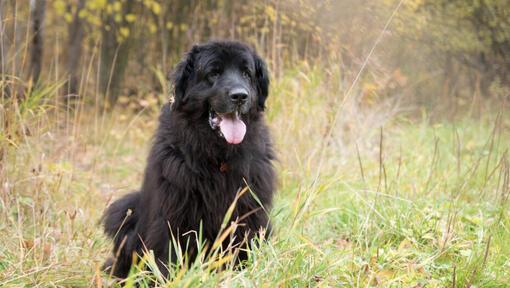 Personality
Newfoundland dogs are docile, gentle and make great family pets, getting on well with both people and other animals. They have a natural life-saving instinct, which can be a nuisance when they continually try to drag you out of the water! They are outgoing dogs, full of energy and said to be one of the friendliest breeds.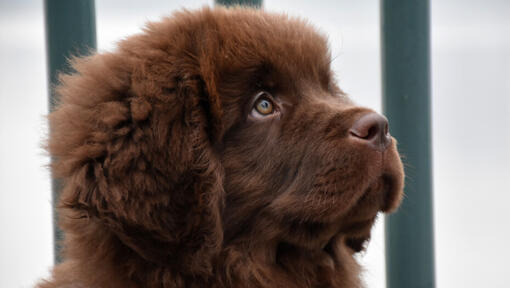 History and Origins
The Newfoundland dog is best described as being a gentle giant. They are large and heavy in both bone and coat. As puppies they look like a cuddly teddy bear but this stage does not last long as they grow very quickly. They can be black, brown or white and black (Landseer) in colour. The average adult male is 71cm in height and 64-69kg in weight; adult females are 66cm and 50-54.5kg.
Health and Common Issues
As with many dogs, the Newfoundland breed can suffer from hip and elbow dysplasia (joint conditions that can be painful and lead to mobility problems). They are also prone to a particular bladder condition and heart disease.
Exercise Needs
Newfoundland puppies should have all their exercise monitored while growing to ensure that no damage occurs to the bones and joints. They love water, swimming being one of their favourite forms of exercise. A fit, healthy adult needs at least an hour's daily exercise and will happily take more.
Nutrition and Feeding
Giant-breed dogs, as well as having giant appetites, benefit from a different balance of minerals and vitamins, supporting different joint and cartilage needs. The Newfoundland dog is prone to bloating and stomach problems; try feeding smaller, more frequent meals to help minimise the risk.
Grooming Newfoundland
The double coat is dense, oily and water-resistant and the needs a fair amount of grooming attention. Newfoundland dogs should be brushed daily, with particular attention being paid to the feathering on the legs, which can become entangled.
Best Family Dog Breeds
While many dogs are traditionally thought of as being good with children , all dogs and children need to be taught to get on with and respect each other, and be safe together. Even so, dogs and young children should never be left alone together and adults should supervise all interactions between them.