If your cat is displaying difficult or hard to handle behaviours, it may be time to call in a cat behaviourist. Find out all you need to know about how to find a reputable behaviourist, what to expect from your first appointment and more in this guide.
Often, they deal with difficult behaviours such as aggression, overgrooming and going to the toilet in areas they shouldn't around the house, but they can also advise on less serious issues too such as furniture scratching.
How to find a cat behaviourist
Most cat behaviourists work on vet referral only so if you're seeking help with your feline, this is a good place to start. We advise seeing a veterinary professional first to rule out any possible health concerns that could be related to their undesirable behaviour.
It's not a good idea to go to a cat behaviourist that hasn't been referred to you by your vet. There are many people making claims to be a pet behaviourist but they may not have the right qualifications or experience. By going through your vet, you'll ensure that they're registered with the right bodies, certified as a pet behaviourist and fully qualified to treat your pet.
Once you've received your referral, you may want to check out your recommended behaviourist's website (if they have one) and read testimonials and reviews to ensure that they're a good fit for you and your cat.
Prior to your visit to the vet, you may be curious about which cat behaviourists are in your area, you can use the CAPBT online tool to check.
What happens at a cat behaviourist appointment?
The most common practice with your first appointment is for the cat behaviourist to visit your home and see your cat and the environment in which they live. Alternatively, if this isn't possible, they may ask for photos, videos and floor plans instead.
During the appointment, they'll talk to you about your cat to get an understanding of their history, overall health and also ask you about their behaviour and what in particular is concerning you. Once they've got to grips with the issue, they'll provide tailored advice and instructions for you to follow, often in the form of a written report. This advice may include things such as changes to your home, new routines to try or acting in a different way toward your cat.
As most cat behaviourists work in tandem with your vet, they'll likely send a copy of the written report to them too and if necessary, work with them to see if there's anything they can advise from a medical standpoint. For example, if your cat's feeling particularly stressed, they may prescribe medication to help calm them down. After your first visit, your cat behaviourist may arrange a follow up appointment to check in on your progress.
How much does a cat behaviourist cost?
The price of a cat behaviourist can vary depending on their experience and region. It's worth bearing in mind that many cat insurance policies now cover consultations with behaviourists, so you should check to see if this is covered with your policy. That's our guide to cat behaviourists! Want to find out more about your cat's unique behaviour?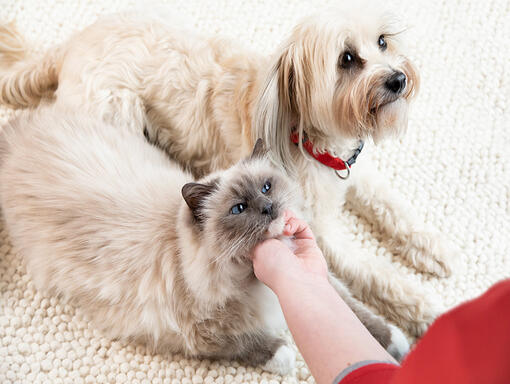 Find extra support for cat owners
We've put together a hub containing some of our best pieces of expert advice and tip on some key topics.