Purina One® Dry Cat Food
New
PURINA ONE® Dual Nature Salmon Dry Cat Food
Purina One® Dry Cat Food
New
Formulated with Spirulina to help support your cat's healthy natural defenses
Spirulina is a natural ingredient, a blue- green algae known for its unique and robust nutritional profile that contributes to many health benefits
Salmon is the #1 ingredient – a good source of protein and amino acids to help build and maintain strong muscles
Proven to reduce tartar build-up by up to 40%*
Helps support a healthy urinary tract thanks Omega 3 & 6
Helps maintain strong and healthy bones thanks to minerals and vitamin D
Reduced Carbon Footprint
Features
Formulated with Spirulina to help support your cat's healthy natural defenses    
Spirulina is a natural ingredient, a blue- green algae known for its unique and robust nutritional profile that contributes to many health benefits.    
Salmon is the #1 ingredient – a good source of protein and amino acids to help build and maintain strong muscles    
Proven to reduce tartar build-up by up to 40%*
Helps support a healthy urinary tract thanks Omega 3 & 6.    
Helps maintain strong and healthy bones thanks to minerals and vitamin D    
Reduced Carbon Footprint
With the expert nutrition of PURINA ONE DualNature, you can unlock the greatness of nature thanks to natural ingredients that support your cat's overall health, daily. As our first carbon-reduced range, it helps us reduce our carbon footprint and take steps towards a better tomorrow.
PURINA ONE DualNature has been specially formulated with natural spirulina which is a blue-green algae that grows in warm waters in subtropical and tropical areas in the world.  Spirulina is known for its unique and robust nutritional profile which helps support your cat's natural defences. 
Developed by Purina veterinarians and nutritionists, it is formulated with steam-cooked chicken to preserve all essential nutrients your cat needs. Nutritionally tailored for Adult cats. 
 
We are proud to say that PURINA ONE DualNature has reduced the carbon footprint of its products compared to 2019, by optimizing recipes, manufacturing methods, packaging and logistics. We will not stop here, and we'll constantly work to reduce them.
Verified by South Pole, an external and independent third party.
Ingredients
Salmon (including head, bone, meat)* (17.5%)
Dried poultry protein
Wheat*
Barley*
Soya meal
Corn*
Corn protein meal
Animal fats
Dried pea*
Dried chicory root* (2.0%)
Minerals
Pea protein
Digest
Dried yeast
Spirulina* (0.2%)
*natural ingredients
Nutrition & Analytical Constituents
Protein: 32.0%
Fat content: 13.0%
Crude ash: 7.5%
Crude fibre: 3.0%
Omega 3 fatty acids: 0.6%
Omega 6 fatty acids: 1.9%
Nutritional additives
IU/kg:
Vitamin A: 7900
Vitamin D3: 250
Vitamin E: 660

mg/kg:
Vitamin C: 120
Taurine: 330
Iron (II) sulphate monohydrate: (Fe: 48)
Calcium iodate anhydrous: (I: 0.7)
Copper (II) sulphate pentahydrate: (Cu: 5)
Manganous sulphate monohydrate: (Mn: 17)
Zinc sulphate monohydrate: (Zn: 44)
Sodium selenite: (Se: 0.05)
Antioxidants
Feeding guide
Cat weight - Daily feeding quantity (g)
2 - 4 kg    30 - 60g
4 - 6 kg    60 - 90g
6 - 8 kg    90 - 120g
The adult maintenance averages are based on moderately active cats at normal environmental temperatures. Individual needs vary and feeding should be adjusted as required to maintain your cat at a lean, healthy body weight. Fresh, clean drinking water should always be available. Sufficient consumption of water is necessary part of healthy, every day nutrition. 
Introduce PURINA ONE Dual Nature gradually over 7 days.
Dry Food
You may also like...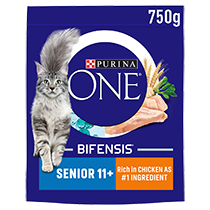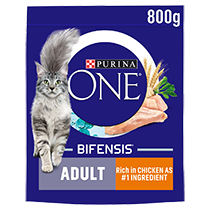 PURINA ONE® Dual Nature Salmon Dry Cat Food