Your dog is unique and they deserve a moniker just as special. We've put together the list so just go and find that unusual and unique dog name you're after.
You're getting a new puppy - congratulations! Now on to the fun task of finding the perfect name for your new best friend. But you don't want something obvious - your dog is as unique as you are. To help, we've done the research and put together some of the best unusual dog names out there. Here is a list of unique dog names you wish you had come up with yourself:
Male unusual dog names
1. Brooklyn
Is your dog's personality cool, tough and unapologetic? Brooklyn might be the unusual dog name you are after. It's a great fit for a dog matching this famous New York neighbourhood's vibe, but it can also be a truly clever tongue-in-cheek nickname for a pup that is the total opposite, a sweet and innocent blob of fur. However you choose to play the naming game, Brooklyn is a great name with a nice ring to it and you won't mind saying it again and again, even when your Brooklyn pup is giving you some attitude.
2. Brian
This is as unusual as dog names can get. No dog looks like a Brian and this is exactly the point. Just tell your friends they must meet Brian and the last thing they'll expect is a tail-wagging quadruped walking through the door. It also works great as a tribute to the vastly intelligent dog in Family Guy - Brian Griffin. So if you're a fan of his dry humour, this is the unusual dog name you're looking for.
3. Truffle
Rare, precious and very sought after, the valuable truffles can give you the inspiration you are after to find the perfect unique dog name. Plus, once you start saying it out loud a few times, it starts to really make sense as a pup name. Give it a go!
Female unusual dog names
4. Fifi
What a great name for a posh, elegant dog that oozes classy vibes. It's one of the most affectionate names out there and it suits perfectly a small or medium-sized pup with some personality. Fifi is definitely the one to keep in mind if you prefer the cute unusual dog names.
5. Ruby
This unusual dog name takes inspiration from a famous precious gem and is bound to give your treasured dog one of the most sophisticated names out there. Take a look at your dog and you'll instantly know if they are a Ruby.
6. Vesper
Vesper is an elegant and classy name you perhaps heard for the first time in the James Bond movie Casino Royale. For all the pup owners that love a good meaning behind their dog's name, this might be the one. Vesper means "evening star" in Latin and it's particularly suited to give a dark pup an extra aura of mystery and sophistication. Plus, it just sounds great whenever you say it out loud.
Famous unusual dog names
7. Einstein
Yes, we all think our canine friends are smart and nothing short of genius. The way they understand what we're saying and sometimes even how we're feeling can easily surpass some of our human peers' abilities. If that fits your new furball, your dog's unusual name should be Einstein.
8. Churchill
If you've got a serious, stately pup on your hands you should take a chance on Churchill. To try it out, call your dog by saying 'Churchill' out loud a few times. If you're getting their attention, chances are this is the winner.
9. Pollock
Jackson Pollock is the famous American painter known for creating his art by pouring and splashing paint onto his horizontal canvass. If you just brought your new puppy home and the first thing they do is find a pool of mud, dive right into it and then splash your pristine carpets and furniture with full enthusiasm, no need to look any further for that unique dog name.
Cute unusual dog names
10. Arrow
Is your new canine friend a dog on a mission, always going after their target even when fences or people are in their way? What a better dog name than Arrow then? Short and sweet, your dog will learn it's them you're shouting after in no time. It might not always stop an enthusiastic dog chasing their target, but this unique dog name will definitely match their dedication to get whatever they are after.
11. Happy
Does your tail-wagging companion need a name to match the good mood they bring into the room? Why not go straight for the feeling you had when you first held them into your arms. Happy is one of the sweetest monikers a pet can have - we say that's a winner.
12. Salty
Some dogs become easily agitated over the smallest things. For those dogs there is a perfect pet moniker. If your new dog is fussy and always putting on a show when things don't go their way, Salty is the unusual dog name to go for.
13. Bestie
Your new dog will definitely become your new bestie. It's just what dogs are for, right? So why not state the obvious? Bestie is short, cute and tells the whole world you're happy you found each other.
Colourful unusual dog names
14. Coconut
Coconut is the perfect name for those white and fluffy dogs, but you can also turn it into an unusual dog name and choose it for pups with dark fur too. Plus, you can always shorten it to the sweet nickname "Coco" whenever your dog deserves a good-deed petting.
15. Ivory
Ivory might seem a strange idea at first, but after all, you are looking for unique dog names. Take inspiration from the creamy-white material found in fine art or jewellery and give your dog a name worthy of their good looks. Plus, you can always shorten it to Ivy when you want to show your affection with a cute term of endearment.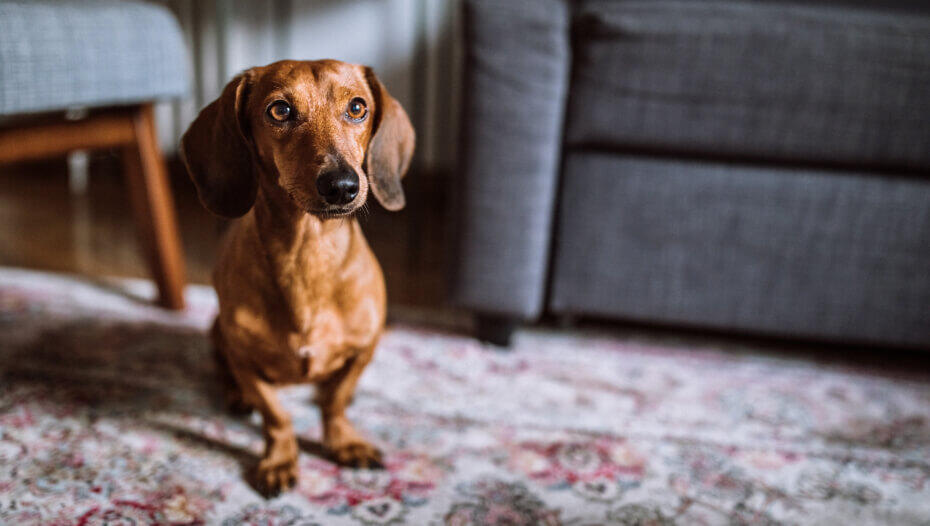 How to come up with an unusual dog name
Hopefully by now you have found plenty of unusual dog name ideas to choose from in our list. If you are still stuck, here are a few tips:
Get inspiration from everywhere
It might be your favourite colour, a hobby you love or a holiday destination you find fascinating - a good unusual dog name can be hiding in plain sight. Don't discount a food item just on principle. If chosen right, it might double up as a pretty amazing dog name. Oreo, Peanut or Pepper are definitely some of our favourites out there.
Research name meanings
Sometimes you just need to delve into all the different meanings a name can convey. You will find that Millie means "strength" in old German or that Gideon means "mighty warrior" in Hebrew. There are plenty of great name ideas out there once you get yourself familiar with their hidden meanings.
Don't be afraid of puns
Some of the best unusual dog names are memorable because they are funny. A puppy that loves to bark can definitely be a Bark Twain. And who can say that Sherlock Bones is not an amazing dog name for a pup that loves exploring.
Ultimately, just keep your mind open and when in doubt, ask your pup. They'll either give you a happy tail-wag or completely ignore you, but you'll definitely know how they feel about their new name.
Are you looking for more puppy stuff? Discover the useful guides we put together for all the new dog owners in need of sound advice from training to puppy sleep arrangements and everything else in between.