Highly active and inquisitive cat
Friendly but independent cat
Average build cat breed
Requires grooming once a week
Outdoor cat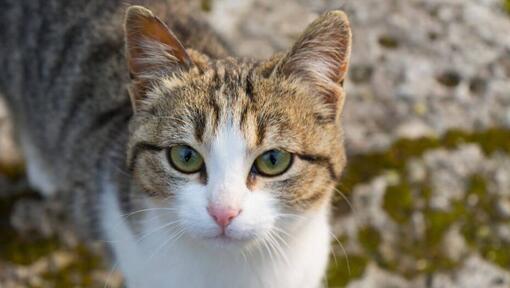 Personality
The American Wirehair cat is friendly and laid-back. It is relaxed, sweet natured, gentle and playful, enjoying toys, and games with its owner. This is not a particularly talkative cat breed.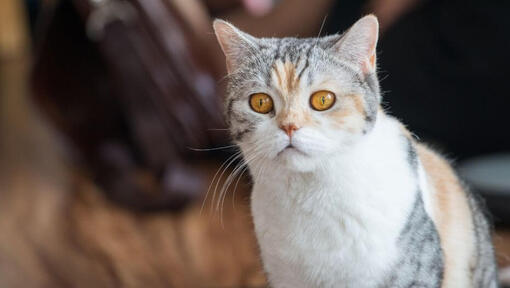 History and Origins
Country of Origin: America
The American Wirehair cat breed began as a spontaneous mutation in a litter of New York farm cats in 1966 when one wirehaired kitten (named Adam) was produced among normal coated littermates. All American Wirehair pedigree cats can be traced back to Adam. The American Wirehair cat has become popular in the USA and Canada, but is little known elsewhere and is not a recognised show breed in the UK.
Health and Common Issues
American breeders claim that the American Wirehair cat is a robust breed with few health problems. This cannot be confirmed in the UK population due to a lack of numbers.
Nutrition and Feeding
Every cat is unique and each has their own particular likes, dislikes, and needs when it comes to food.  However, cats are carnivores and every cat must obtain 41 different and specific nutrients from their food. The proportion of these nutrients will vary depending on age, lifestyle and overall health, so it's not surprising that a growing, energetic kitten needs a different balance of nutrients in her diet than a less active senior cat. Other considerations to bear in mind are feeding the right quantity of food to maintain 'ideal body condition' in accordance with feeding guidelines and catering to individual preference regarding wet or dry food recipes.
Grooming American Wirehair
The American Wirehair breed's coat requires little attention and can actually be damaged by grooming. As with all cats, this breed needs regular vaccinations, parasite control and annual health checks.
Best Cat Breeds for Children
While this breed is not widely recognised as one of the best breeds for children, all cats are different and with the proper familiarisation may still be able to live with children.