Dog suitable for owners with some experience
Basic training required
Potential health risks
Enjoys gentle walks
Enjoys one to two hours of walking a day
Medium dog
Some drool
Requires grooming every other day
Chatty and vocal dog
Barks and alerts to visitors/anything unusual
Could have issues with unknown dogs but gets along with known dogs
Gets along with other pets with training
Great family dog
Needs a small garden
Can happily live in the city
Can be left occasionally with training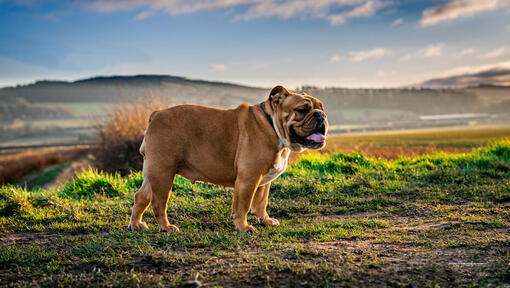 Personality
This is a family dog that loves children and will even learn to get along with other pets if introduced to them at an early age. The Bulldog is a bit too friendly to be a good guard dog but would defend a family member in need. He can be peaceful, pensive, goofy, stubborn, and have a well-developed sense of humour.
History and Origins
Bulldogs come from the ancient breed of Bullenbeissers, a mastiff-like dog used for guarding and attacking wild animals in Assyria, Greece, Egypt and Rome. The Bullenbeisser came in various sizes. In England, the originally huge Bullenbeisser was bred to be a smaller dog and during the reign of King John (13th century) began its career as a bull baiter. Over the years, an ideal dog for bull baiting was created. Thankfully, baiting and dog fighting were outlawed in England in 1835, and Bulldog owners began selective breeding to eliminate the more aggressive elements of the breed and establish a good-natured family pet.
Health and Common Issues
The most common health problems encountered in the Bulldog relate to their very flat face, which results in obstruction of their airways and a difficulty in breathing. Over-exercising and over-heating is therefore to be avoided. They are also prone to skin infections, eye problems and hip and elbow dysplasia (joint conditions that can be painful and lead to mobility problems).
Exercise Needs
Bulldogs should never be exercised in the heat of the day. Two relatively short walks, at a steady but not terribly brisk pace, should be adequate.
Nutrition and Feeding
Your dog's diet needs to have the right balance of all the main nutrient groups including a constant supply of fresh water. It's also important to conduct regular body condition scores to ensure you keep your dog in ideal shape and remember to feed him at least twice daily and in accordance with the feeding guidelines of his particular food.
Grooming Bulldog
The coat should be groomed with a rubber grooming mitt to remove loose and dead hairs and the folds may need cleaning. If the breed has a recessed screw tail, care should be taken to keep the tail base from becoming moist, as this will lead to bacterial infections. Another grooming measure that must be taken is the cleaning of tearstains and wrinkles.
Best Family Dog Breeds
While many dogs are traditionally thought of as being good with children , all dogs and children need to be taught to get on with and respect each other, and be safe together. Even so, dogs and young children should never be left alone together and adults should supervise all interactions between them.