Dog suitable for non-experienced owners
Basic training required
Need to be aware of potential health issues
Enjoys gentle walks
Needs under an hour of walking a day
Small dog
Some drool
Requires grooming every other day
Quiet dog
Welcomes everyone happily
Generally friendly with other dogs
Gets along with other pets with training
Great family dog
Needs a small garden
Can happily live in the city
Can be left occasionally with training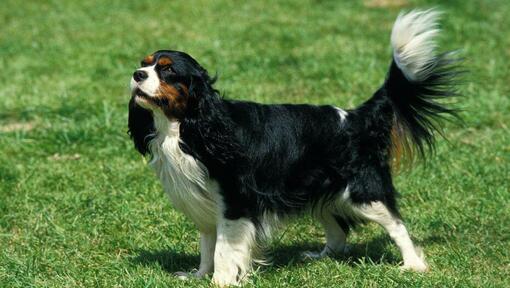 Personality
A gentle, happy and loving dog, the King Charles Spaniel is a rewarding companion dog. He can be reserved with those he doesn't know, but with friends and family, he is most affectionate. He gets along with other dogs and pets, and enjoys the company of old and young alike, but children must be careful around him, as his size makes him vulnerable to accidental injury.
History and Origins
Originating from working gundogs, the Toy Spaniel dog was miniaturized to be the companion dog of aristocratic ladies and it is from this centuries-old type that the King Charles Spaniel dog breed descends. Crossed with Oriental toy breeds, such as the Pug and Japanese Chin, he has the large eyes, domed skull and flattened face that was popular with toy dogs from the Far East. His most famous fan, of course, was King Charles II, after whom he takes his name.
Health and Common Issues
Syringomyelia, a serious, painful neurological condition, has been reported in some King Charles Spaniels. In common with many small breeds, the King Charles Spaniel may suffer slipping kneecap(s), and those with a very flat face may also experience respiratory problems.
Exercise Needs
A small breed, the King Charles doesn't need very much exercise and will be happy with half an hour's daily walking, though he will accept more if you can offer it. They enjoy games with their owners, and they are clever dogs who also enjoy training.
Nutrition and Feeding
Toy dogs have a fast metabolism, meaning they burn energy at a high rate, although their small stomachs mean that they must eat little and often. Small-breed foods are specifically designed with appropriate levels of key nutrients and smaller kibble sizes to suit smaller mouths. This also encourages chewing and improves digestion.
Grooming King Charles Spaniel
The medium/long silky coat will need grooming two or three times a week, paying particular attention to the feathering (longer hair) on the ears, legs and tail, which will tangle if neglected.
Best Family Dog Breeds
While many dogs are traditionally thought of as being good with children , all dogs and children need to be taught to get on with and respect each other, and be safe together. Even so, dogs and young children should never be left alone together and adults should supervise all interactions between them.