The need-to-know
Dogs suitable for experienced owners
Extra training required
Generally healthy breed
Enjoys vigorous walks
Enjoys one to two hours of walking a day
Large dog
Some drool
Requires grooming daily
Chatty and vocal dog
Welcomes everyone happily
Generally friendly with other dogs
Gets along with other pets with training
May need additional supervision to live with children
Needs a large garden
Can live in semi-rural areas
Can be left occasionally with training
Key Facts
Height:

The usual height of a Labradoodle depends on the size of the parents used so can vary widely, going from 30cm to 70cm
Labrador Retriever: 55-57cm
Poodle – Standard: over 38cm
Miniature: 28-38cm

Colours:
The usual colours of a Labradoodle can vary as well, depending on the parents' coat colours
Labrador: Black, yellow or liver/chocolate. Yellows range from light cream to red fox
Poodle: All solid colours
UK Kennel Club Groups:
Gundog (Labrador Retriever) and Utility (Poodle)
Ratings
| | |
| --- | --- |
| Family-friendly: | 5/5 |
| Exercise needs: | 5/5 |
| Easy to train: | 4/5 |
| Tolerates being alone: | 4/5 |
| Likes other pets: | 4/5 |
| Energy level: | 5/5 |
| Grooming needs: | 4/5 |
| Shedding: | 3/5 |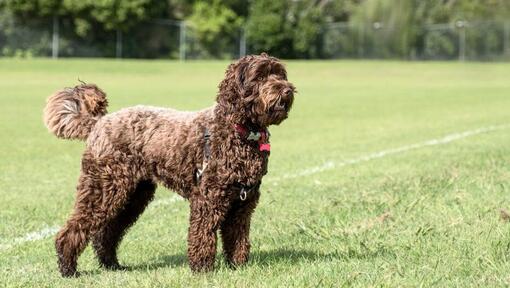 Personality
Like most crossbreeds, the personality of a Labradoodle depends on the parents and how they have been bred and reared.
The Labrador Retriever is an active, friendly, loving dog who thrives on human companionship, wanting nothing more than to please their owners (except perhaps eat and jump in any water they can find!). They are ideal pets where there are children about and they get on well with other household animals. Labradors are a very happy breed, extremely affectionate, constantly wagging their tails and always on the go. They are easily trained, being eager to learn and to please and can turn their paw to just about anything. They are total foodies however - which helps with their training but not their waistlines!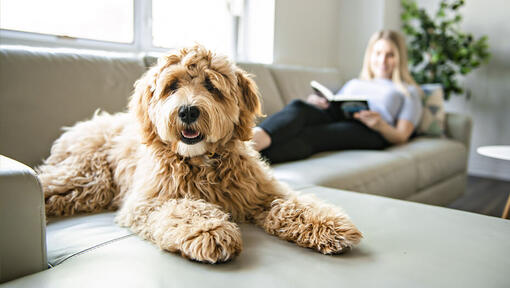 History and Origins
The Labradoodle is one of the best-known and established of the 'designer crossbreeds'. It originated in Australia in the 1970s when the Australian Guide Dog Association received an enquiry from a lady in Hawaii requesting a Guide Dog that wouldn't cause her allergies to flare up. She chose Australia because the animal health arrangements meant that a dog bred there could come straight into her home in Hawaii without having to spend time in quarantine.
The Association were already using Labradors as guide dogs, and so they needed to cross one with a non-shedding breed. They imported a white Standard Poodle from Sweden that had excellent working bloodlines - and the first (intentional) Labradoodle litter was born.
Since then they have been bred - both responsibly and irresponsibly - in the quest to find a friendly, non-shedding family dog. This has been done with varying degrees of success - and indeed some Labradooodles have excelled as assistance dogs around the world, and those who are enamoured of them hail them as the perfect large companion dog (as long as they get enough exercise!).
While there are breed clubs in the UK and all over the world, the Labradoodle currently isn't recognised by any international kennel clubs.
The two breeds that go into the formation of the Labradoodle are the Labrador Retriever and the Standard Poodle.
Labrador Retriever
Country of Origin: Canada
The Labrador Retriever breed originated not in Labrador, but on the coast of Newfoundland in the 17th century. They were trained to bring in the fishing nets through the icy waters for the fishermen and, in the early 19th century, were brought to Poole Harbour in Great Britain. Due to their lovely personality the fishermen started getting offers from Englishmen to buy them. The breed also had working abilities which made them instantly successful as a gundog. The Earl of Malmesbury became fascinated by these dogs, known at that time as Saint John's Dogs, and he started breeding them, calling them Labrador Dogs. Today Labradors are still used as working gundogs as well as being beloved family pets.
Standard Poodle
Country of Origin: Germany
The original Poodle is the Standard Poodle, a water retrieving dog. Their unusual haircuts were not about fashion, but rather a way for owners to make sure their dogs didn't get waterlogged and become too heavy to swim easily in lakes. While keeping the vital organs and joints protected, much of the rest of their hair was shaved off. The Miniature and Toy Poodles were created purely as smaller versions of the original Poodle for owners who didn't want such a large dog but were enchanted by their personalities and enthusiasm for all kinds of work.
The Labradoodle can have any combination of the two breeds in their appearance, behaviour and temperament.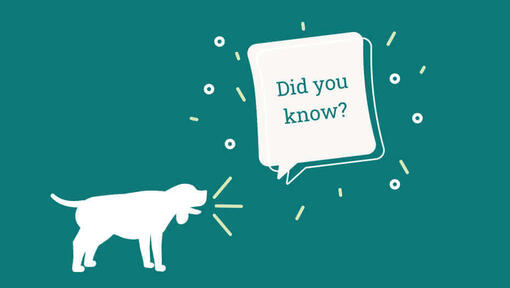 Did You Know?
Labradoodles make great therapy dogs. Their warm personality is often a match for people with autism or physical disabilities.