Dog suitable for non-experienced owners
Extra training required
Need to be aware of potential health issues
Enjoys vigorous walks
Enjoys more than two hours of walking a day
Large dog
Some drool
Requires grooming once a week
Quiet dog
Welcomes everyone happily
Generally friendly with other dogs
Gets along with other pets with training
Great family dog
Needs a large garden
Can live in semi-rural areas
Can be left alone with training
Key Facts
| | |
| --- | --- |
| Lifespan: | 10 – 14 years |
| Weight: | 25 – 36kg |
| Height: | 55 – 57cm |
| Colours: | Black, yellow and chocolate/liver |
| Size: | Large |
| Kennel Club group: | Gundog |
Ratings
| | |
| --- | --- |
| Family-friendly: | 5/5 |
| Exercise needs: | 5/5 |
| Easy to train: | 5/5 |
| Tolerates being alone: | 2/5 |
| Likes other pets: | 5/5 |
| Energy level: | 5/5 |
| Grooming needs: | 4/5 |
| Shedding: | 5/5 |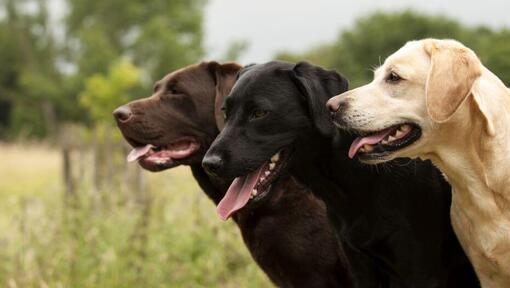 Personality
The Labrador Retriever is an active, friendly, loving dog who thrives on human companionship, wanting nothing more than to please their owners (except perhaps eat and jump in any water they can find!). They are ideal pets where there are children about and they get on well with other household animals. Labradors are a very happy breed, extremely affectionate, constantly wagging their tails and always on the go. They are easily trained, being eager to learn and to please and can turn their paw to just about anything. They are total foodies however - which helps with their training but not their waistlines!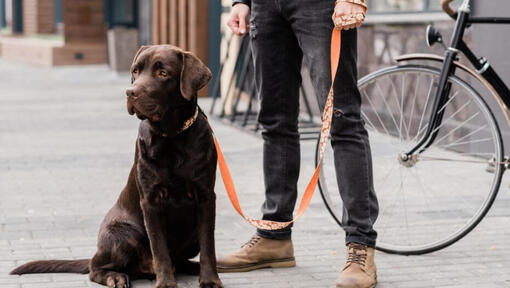 History and Origins
Country of Origin: Canada
The Labrador Retriever breed originated not in Labrador, but on the coast of Newfoundland in the 17th century. They were trained to bring in the fishing-nets through the icy waters for the fishermen and, in the early 19th century, were brought to Poole Harbour in Great Britain. They were so attractive and with such appealing personalities that the fishermen had umpteen offers from Englishmen to buy them. The breed with their working abilities was instantly successful as a gundog. The Earl of Malmesbury became fascinated by these dogs, known at that time as Saint John's Dogs, and he started breeding them, calling them Labrador Dogs. Today, Labradors are still used as working gundogs as well as being beloved family pets.
Health and Common Issues
As with many breeds, Labrador dogs can suffer from various hereditary eye disorders, and hip and elbow dysplasia (joint conditions that can be painful and lead to mobility problems). Eye testing and hip scoring of dogs prior to breeding is therefore important.
Exercise Needs
Labradors will adapt to the amount of time you can allocate for their exercise as long as they are kept active – a couple of hours a day being ideal for a healthy adult. They love long walks with a chance to run and play off the lead. Many Labradors become overweight because they are bought by families who want them for their reputation as the perfect dog with children, without realising that this is a working dog who needs a lot of exercise and training to stay happy and healthy.
As well as walks, a Labrador will revel in games and play with their owner as they are highly social and need to be involved in all family activities.
Space Requirements
The Labrador is a large, active breed who is at heart a country dog, and so needs a good-sized living space. As they are very active, they will appreciate a large garden and need access to the great outdoors for long walks.
Nutrition and Feeding
Large breed dogs, as well as having large appetites, benefit from a different balance of nutrients including minerals and vitamins compared to smaller-breed dogs. The Labrador is prone to bloating and stomach problems; smaller, more frequent meals can help minimise this risk.
Your dog's diet needs to have the right balance of all the main nutrient groups including a constant supply of fresh water. It's important to conduct regular body condition scores to ensure you keep your dog in ideal shape and remember to feed them at least twice daily and in accordance with the feeding guidelines of their particular food.
Grooming Labradors
Labrador coats are easy to maintain. The coat is thick and dense with a weather-resistant undercoat and is easy to maintain with a brush through once a week, and more regular attention when moulting. They do love water and mud however and so they may need more regular grooming to keep them clean. Watch out for grass seeds in the summer as they tend to charge around the countryside!
Training Labradors
Labradors are generally a joy to train as they are both clever and biddable and love working with their owner. Despite being generally unproblematic, they do still need training as they have a need to work and to keep their busy brains kept occupied. Plus, they can easily get overly-boisterous and even destructive if not given plenty of exercise and an outlet for their hard-wired breed behaviours.
Being a retrieving breed, it's especially important to train them using positive, reward-based methods to happily give up any 'prizes' they find that they might otherwise want to keep hold of!
Best Family Dog Breeds
There is a good reason why the Labrador has a reputation as being almost the perfect family dog. This is a breed who loves everyone and everything. Their only drawback is that they need a lot of exercise and so they need an active family who enjoy walking and games.
All dogs and children need to be taught to get on with and respect each other, and be safe together. Even so, dogs and young children should never be left alone together and adults should supervise all interactions between them.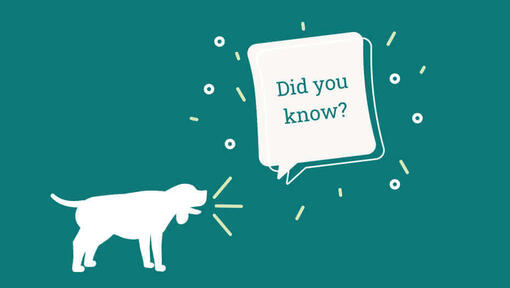 Did you know?
Originally Labrador Retrievers worked with fishermen and were bred to bring back fish-laden nets.
Labrador's have turned their paw to a whole host of dog careers, including: drug and explosive detection, search and rescue and even guide dogs!
They're one of the most popular dog breeds in the USA and UK.
You can get puppies of all colours (black, yellow and chocolate) in one litter.
The world's first diabetic alert dog was a Labrador called Armstrong!