Dog suitable for non-experienced owners
Basic training required
Generally healthy breed
Enjoys active walks
Needs under an hour of walking a day
Small dog
Some drool
Requires grooming daily
Quiet dog
Barks and alerts to visitors/anything unusual
Could have issues with unknown dogs but gets along with known dogs
Gets along with other pets with training
May need additional supervision to live with children
Needs a small garden
Can happily live in the city
Can be left occasionally with training
Personality
The Lhasa Apso dog is loyal and trustful. They get along well with children and other dogs. As a breed they can be independent and are wary of strangers, but with patience and consistency they can become relatively obedient. They are quite sensitive and so do not respond well to raised voices.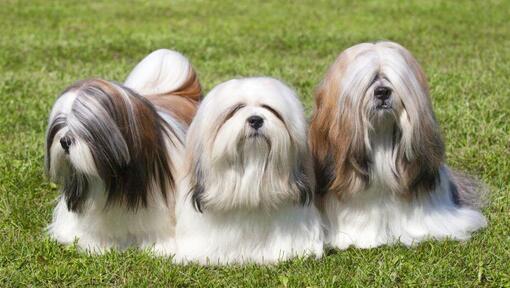 History and Origins
The Lhasa Apso dog breed was bred in Tibet, by the holy men and the nobles, for at least two thousand years. They were used as watchdogs in the temples and monasteries. The people of Tibet greatly respected these little dogs, as they believed they were the reincarnations of the holy lamas. They were never sold or bought but given as gifts, and it was considered a great honour to receive one.
Health and Common Issues
As with many breeds, there are hereditary eye disorders that may occur and so eye testing is recommended. They are also prone to certain skin conditions.
Exercise Needs
The adult Lhasa Apso dog needs a minimum of half an hour's daily exercise. They have plenty of energy, but are as happy to stay at home and play as they are to walk for miles and miles. They are perfectly content with several short walks every day.
Nutrition and Feeding
Small dogs have a fast metabolism, meaning they burn energy at a high rate, although their small stomachs mean that they must eat little and often. Small-breed foods are specifically designed with appropriate levels of key nutrients and smaller kibble sizes to suit smaller mouths. This also encourages chewing and improves digestion.
Grooming Lhasa Apso
The grooming requirements are considerable for the small Lhasa Apso. The topcoat is long, heavy and slightly rough to the touch. The undercoat is a little shorter and softer, and must be combed to prevent any mats and tangles forming. If the coat becomes too much, they can be kept short; a professional groomer, or the breeder, will advise on how this is carried out.
Best Family Dog Breeds
While many dogs are traditionally thought of as being good with children , all dogs and children need to be taught to get on with and respect each other, and be safe together. Even so, dogs and young children should never be left alone together and adults should supervise all interactions between them.