Dog suitable for non-experienced owners
Basic training required
Generally healthy breed
Enjoys active walks
Enjoys one to two hours of walking a day
Small dog
Minimum drool
Requires grooming once a week
Chatty and vocal dog
Barks and alerts to visitors/anything unusual
Could have issues with unknown dogs but gets along with known dogs
Gets along with other pets with training
May need additional supervision to live with children
Needs a small garden
Can happily live in the city
Can be left occasionally with training
Key Facts
| | |
| --- | --- |
| Lifespan: | 12-14 years |
| Weight:  | 4-6kg |
| Height:  | 25-30cm |
| Colours:  | Black, blue, chocolate with sharply defined tan markings or solid shades of red |
| Size:  | Small |
| UK Kennel Club Groups: | Toy |
Ratings
| | |
| --- | --- |
| Family-friendly: | 5/5 |
| Exercise needs: | 5/5 |
| Easy to train: | 3/5 |
| Tolerates being alone: | 2/5 |
| Likes other pets: | 2/5 |
| Energy level: | 4/5 |
| Grooming needs: | 3/5 |
| Shedding: | 2/5 |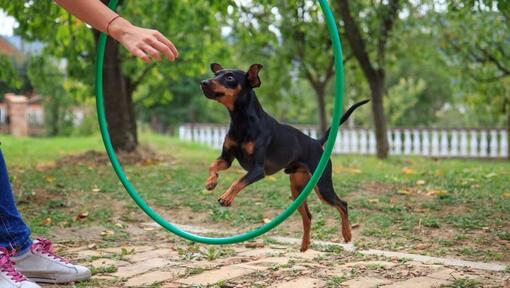 Personality
Pinscher means terrier, and despite being a member of the Toy dog group, the Miniature Pinscher is bold, fearless, busy and inquisitive. While devoted to their owners, they are not an easy-going lapdog. The Min Pin will alert you to anything they believe worthy of attention and will expect you to take action. A great watch dog for a quiet location but will probably find a hectic and busy home overstimulating and frustrating.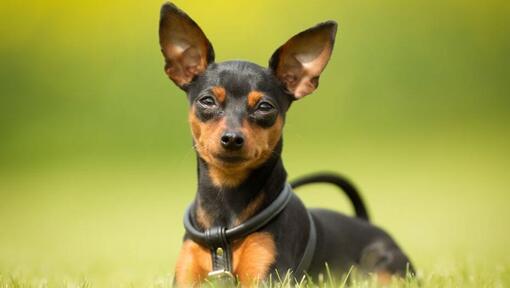 History and Origins
Country of Origin: Germany
Originally a working, ratting terrier type, the Miniature Pinscher was first officially recognised in Germany in 1895 and is the smallest of the three Pinscher breeds (the other two being the Dobermann to which the Min Pin is not actually related at all, and the German Pinscher). 
Since its rise in popularity as a companion and show dog, the Min Pin has been refined somewhat from the original working roots. Now a lighter, more elegant dog, none of their feist or fire has been lost – these little dogs still believe they can take on the world and win!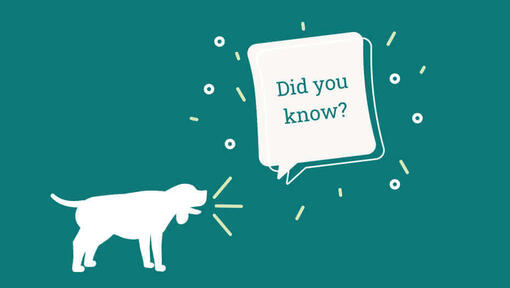 Did You Know?
The Minature Pinscher is not a Miniature Dobermann, in fact the Min Pin is more a Miniature of the German Pinscher, with the Dobermann being derived from several smaller breeds and increased in size!
Celebrity owners of Min Pins include singer-songwriter Carrie Underwood, NSYNCs Joey Fatone, and Paris Hilton.