The need-to-know
Dogs suitable for experienced owners
Basic training required
Generally healthy breed
Enjoys active walks
Needs under an hour of walking a day
Small dog
Minimum drool
Requires grooming once a week
Chatty and vocal dog
Barks and alerts to visitors/anything unusual
Could have issues with unknown dogs but gets along with known dogs
May need additional training to live with other pets
May need additional supervision to live with children
Needs a small garden
Can happily live in the city
Can be left occasionally with training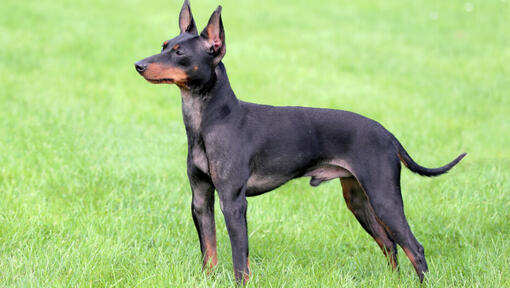 Personality
This little dog does possess a trace of the terrier temperament. On the whole they are affectionate, friendly and totally devoted to their family. They will quite happily live in either the town or country and get on well with older children. They should be socialised with other dogs, cats and children from an early age.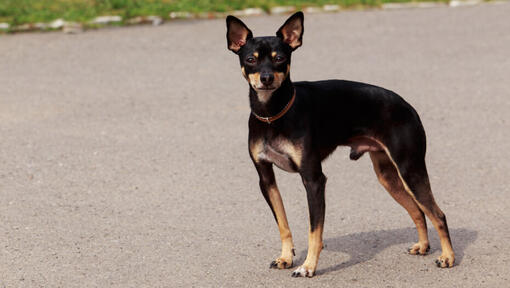 History and Origins
The English Toy Terrier dog breed was known as the Miniature Black
Tan Terrier up to the 1960s, and can be traced back to the black and tan terriers recorded in the 16th century. In England during the 1800s these terriers were very much in demand as ratters due to the increasing rat population brought about by the advancement of the industrial revolution. They were carried by gentlemen in their pockets on hunts and sent to ground as necessary to flush out foxes and so on. Contests between terriers and betting on how long it would take the dogs to kill a number of rats became popular. As the English Toy Terrier became ever more popular, and people wanted smaller dogs, a lot of interbreeding took place with the smallest of the litters being used for breeding.