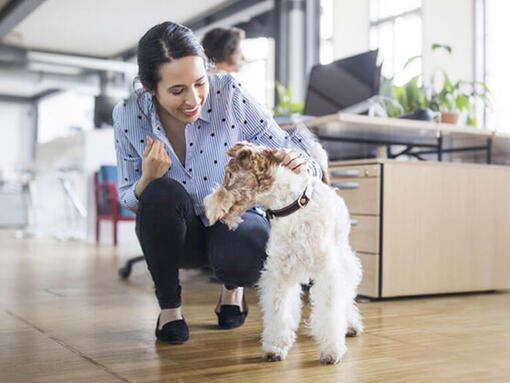 Promote pets in the workplace.
Bringing pets to work is proven to reduce stress and helps to improve mental health. Discover how we're making it easy for offices to become pet-friendly.
Our achievement to date
100% achieved
In 2020 we achieved our commitment, establishing our Pets At Work Program in 209 external  companies, who share the belief that we are better with pets!
In 2019, we established 111 external partner alliances and in 2020 we established 36 partner alliances (including all of our top ten markets).
In addition we have implemented the PetsAtWork program in our own offices in over 20 of our markets.  This includes 9 out of 10 main markets. 
Our point of view
Modern life today is increasingly complex. Factors such as urbanisation, commuting and time spent online make it harder to spend time with our pets.
As a leading pet care company, we want to support people so that they're able to enjoy all the benefits of pet ownership in the everchanging world in which we live. Having pets at work is one way in which we can enjoy the companionship of our pets all day.

We know that pets have a hugely positive impact on our mental and physical health and wellbeing, but longer working hours, increased on-the-go consumerism and the population moving from rural to a more urban lifestyle can make it difficult to accommodate pets into 21st century lives.
Our Pets At Work scheme gives all employees the chance to bring their four-legged friends into the office. We hope sharing our experience will inspire other companies to open their doors to dogs too! Find out more about our Pets at Work journey.
Did you know that according to studies, employees who bring pets to work show less signs of stress? Or that having pets in the office encourages a healthy work-life blend?
Pets in Purina offices
We strongly believe that people and pets are better together, and having pets at work is a clear demonstration of our passion for pets and the Purina values we all share. We put a lot of work into making the Nestlé Purina offices across Europe as pet friendly as possible.
Across many of our locations, our fourlegged friends are a regular feature in the office. This ranges from some offices allowing dogs to come in for a day or a week of the year, to an increasingly common practice of seeing dogs have a permanent place throughout our offices.
In the UK, we've had an established Pets At Work practice since 2003 and our UK head office became the first fully dog friendly Nestlé office in the world in 2015.
Join the Pets at Work Alliance
We're keen to share our experience and examples of how to set up a Pets at Work programme with others. As a result, we're inviting other companies and organisations to follow suit. Our goal is to create 200 alliances across Europe to join us and establish Pets at Work initiatives by the year 2020.
Thanks to our support, every company can become pet-friendly and benefit from our help to facilitate this transformation. From 'Dog Friendly' signage to dog behavioural assessments, we help companies to implement a successful and durable programme.
If you want to be part of the Pets at Work Alliance, or if you would like to receive more information, contact us at: pawallianceuk@purina.nestle.com
Building on Nestlé CSV
Just as we are committed to improving the lives of pets and the people who love them, our parent company Nestlé, is committed to enhancing quality of life and contributing to a healthier future for individuals and families, our communities and the planet.
Not only Pedigree Pets at Work
In Poland, Pets at Work officially started in March 2016 but our employees have been bringing their pets into the office since 2003. We have supported well-trained pedigree dogs to enter the workplace as well as adopted pets from shelters. In some cases, adopted dogs had been less well socialised, so coming to the office has helped them to conquer their fear of new people. These dogs have been able to regain their emotional stability as part of this programme. We see not only our employees' lives enriched but also their pets' well being improved. During 2019 and 2020, we recruited 7 external partners to the alliance. In Poland, research has shown that Purina is perceived as a leader in creating pet-friendly working environments.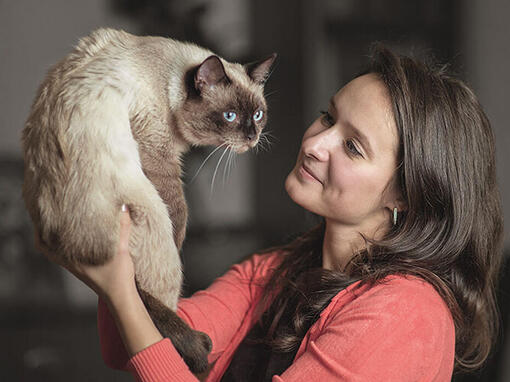 Our impact
Our commitments
We're dedicated to improving the lives of pets and those who love them, which is why we've made 10 commitments to achieve by 2023.