We offer a huge variety of complete and balanced diets to suit every dog at every life stage, whatever their unique nutritional requirements. Find out about our best dog food brands to suit your canine in this guide.
At Purina, we're proud to offer a wide range of complete and balanced diets to match a variety of age ranges and unique requirements. Our team of vets and nutritionists work tirelessly to create meals that not only provide your four-legged friends with everything they need to thrive, but are also completely delicious to ensure that every meal time is a tail-wagging occasion!
Keep reading to find out about our best dog food brands for each life stage and requirement.
Best dog food for puppies
During puppyhood, it's extremely important you give your canine companion the best dog food to ensure they get the optimal start to life. That's why feeding Pro Plan OptiStart is a great choice. This diet contains the nutrients in colostrum, which is the first milk produced by the mother and is very important for supporting the puppy's natural defences. This means the OptiStart diet is great for giving your pup a good start, and it also contains all the nutrients they need to help them grow up healthy and happy. What's more, this diet comes in a range of size variants from 'small and mini' right the way up to 'medium' and 'large', so you can be assured your little puppy's getting the best dog food that's tailored to their needs.
Another good option for your puppy's diet is our Beta food. Packed full of antioxidants to support natural defences, DHA for brain and vision development, and selected natural prebiotics for digestive health, the Beta puppy food has everything your growing puppy needs. Our Bakers range is another fantastic option to help your pup grow up fit and healthy, featuring added protein for healthy growth and muscle development, as well as vitamin D and minerals to support growing bones and teeth.
Whichever puppy food you choose from our range, you'll be sure to get a complete and balanced diet that supports your pup's needs. Browse our full range of puppy food in our online shop.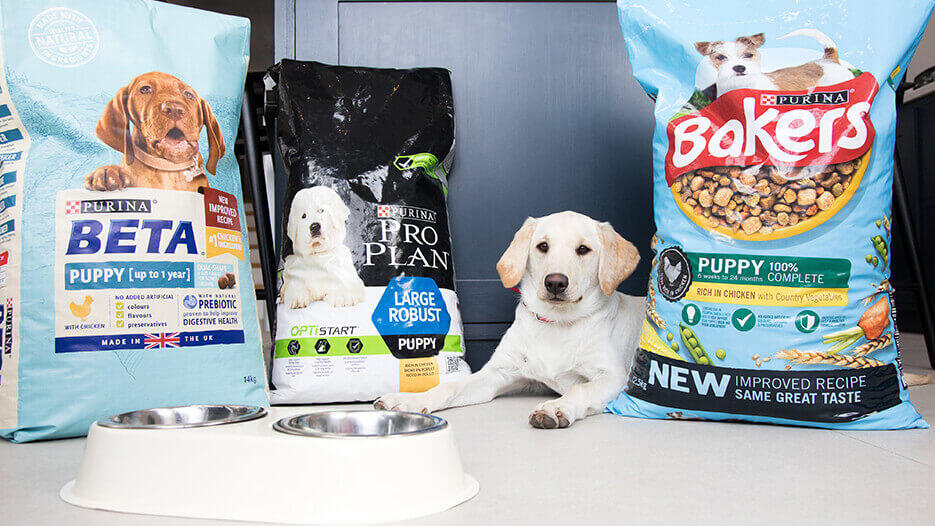 Best dog food for seniors
As your dog reaches their golden years, their needs start to change and you should alter their food to support them better. Our Beta Senior diet contains omega 3 fatty acids to support joint mobility, antioxidants to help with natural defences and natural prebiotics to aid digestive health, making it one of the best dog food brands for seniors.
Another great option is our Pro Plan Senior range. Containing OptiAge, a unique blend of nutrients to help keep dogs lively and alert, this diet has been scientifically formulated to improve mental sharpness, keeping your golden oldie playful and inquisitive. The diet also contains a lower level of fat to help prevent your dog gaining weight as they become less active, as well as high-quality proteins to support their muscle mass.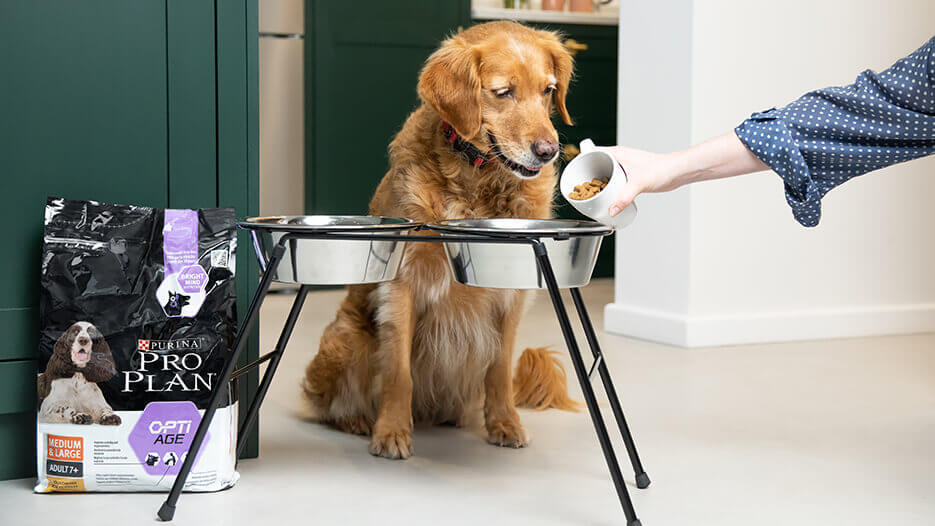 Best dog food for working dogs
We know that working dogs have important jobs to do, and they need a high energy content in their diet in order to meet their activity demands. If you're looking for the best dry dog food available for these energetic canines, we recommend the Beta Working Adult diet. This contains essential amino acids to support muscle health, as well as high levels of antioxidants to help active dogs stay in peak condition. What's more, it also contains high levels of protein and fat to fuel their energetic lifestyle.
Best dog food for sensitive tummies
Every dog is different, and just like us, some can be sensitive to certain ingredients in their food. For example, some dogs can be allergic or intolerant to dairy products, and others can have a reaction to wheat. The right diet in these situations depends on the specific problem, and your vet will be able to advise on the best course of action to take. Sometimes a grain-free diet is the answer, and in this case, your vet may recommend our Beyond range. Our Beyond Grain Free diets are made with natural, high-quality ingredients to support your pet's health.
Fat is another nutrient that can cause problems in certain situations – for example, some dogs are at risk of a condition called pancreatitis if they eat foods that are too high in fat. There are also other conditions such as colitis that are fibre responsive. Remember that if your dog does appear to be suffering from a stomach upset or any kind of adverse reaction to their diet, it's best to schedule a check-up with your vet and they'll be able to rule out any health problems and advise on the best thing to do.
Browse our full range of dog food for sensitive tummies in our online shop.
Best dog food for weight problems
Whether it's due to reduced activity with age or too many treats, many dogs can end up carrying too much weight. One of the best ways to tackle weight problems is with a good quality diet, specially tailored to meet your dog's needs. Bakers Weight Control is a tasty diet which doesn't compromise on flavour and contains 20% less fat when compared with standard adult dog diets. It also contains antioxidants for a healthy immune system, high-quality protein for muscle strength, fibre from whole grains to support healthy digestion, and vitamin D and essential minerals for healthy teeth and bones.
Want to check out our full range of diet dog food? Browse our shop today!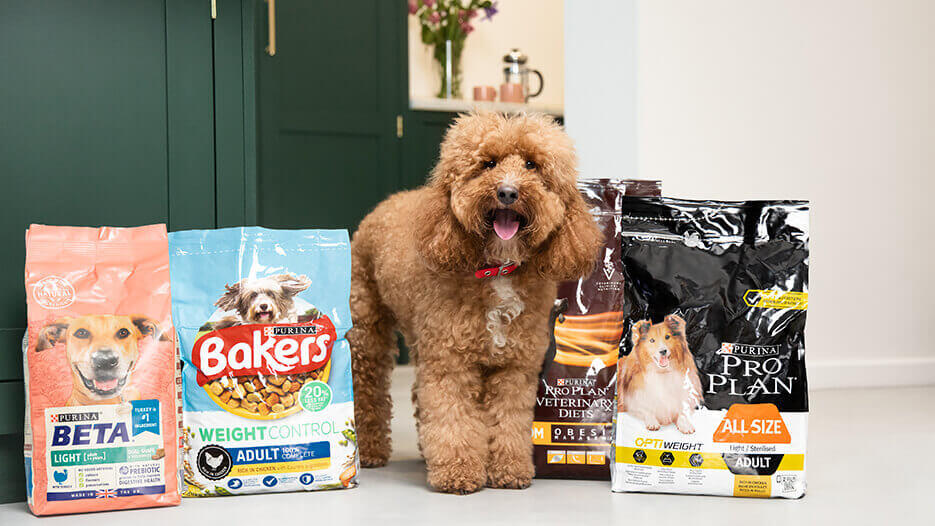 Best dog food for specific medical needs
If your dog has a specific health condition, nutritional management can often be a big help. We've created our Pro Plan Veterinary Diets range to support dogs with a number of health issues, from diabetes to skin problems and digestive conditions. If you're thinking about feeding a therapeutic diet, it's important that you only do this on your vet's recommendation, so schedule an appointment to discuss whether a particular diet will benefit your dog. It's also worth noting that your dog will require vet check-ups every 6 months or so when on a therapeutic diet.
Looking for a diet for a specific health condition? Take a look at the full range in our shop.
What's best, dry dog food or wet dog food?
This is a very old question which has concerned pet owners for many years. Ultimately, there's no right or wrong answer to this question – both wet food and dry food have their own advantages. Often, the best choice comes down to practicalities and the dog's preference.
Many dogs prefer wet dog food, potentially because it tends to smell stronger and this can make it taste better to our canine friends. Wet food also has a high water content, making it a great choice in situations where hydration is a concern – for example for dogs that aren't keen drinkers.
Dry food, on the other hand, has a higher energy content per gram because there isn't so much moisture in it. This means that your dog won't have to eat as much dry food to meet their energy demands, and it often works out cheaper. What's more, dry food can be more convenient for dogs who don't tend to eat a full meal at once, as it will not spoil as quickly as wet food.
If you're not sure what's best – wet dog food or dry dog food – contact your vet and they'll advise what suits your dog's specific requirements.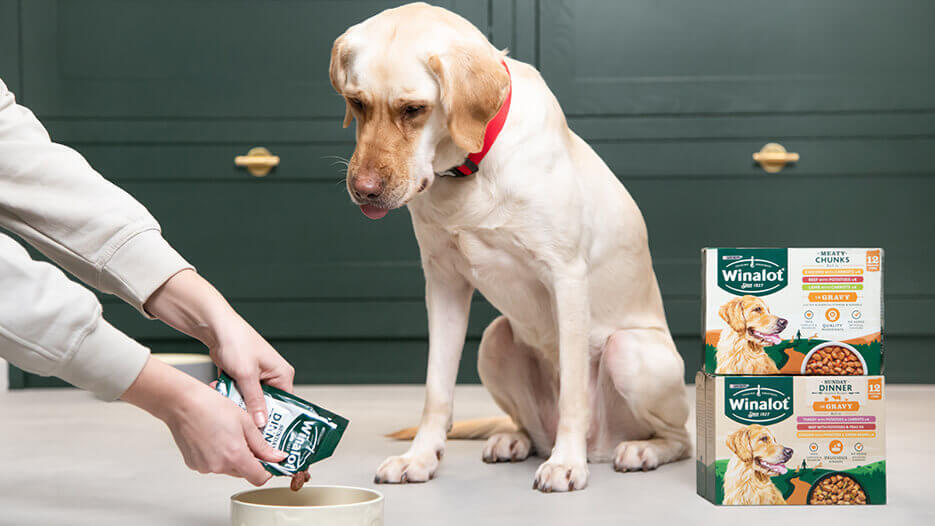 How to choose the best dog food for you and your pet
When choosing the best possible dog food, there are a few factors you should think about. We've put together this list so you know what to consider:
Your dog's needs: the age and activity level of your dog will affect your food choice, as will the presence of any special health needs.
Size and breed: if you're feeding dry food, there will be different options available for different sizes of dog. It's important to choose the most appropriate one for your dog, as the kibble size and energy content will best suit them.
Your dog's preference: your dog will likely have a preference between wet and dry food and between different brands. However, it's important to check that their favourite food also suits their digestion and health needs!
Check the ingredients: when picking the best dog food, you should check the ingredients. It's also important to look carefully at the wording of the product name – for example, by US regulations, "Beef Dog Food" would be required to contain at least 95% beef, but "Dog Food With Beef" would only need to contain 3%. Additionally, the higher up the ingredients list the meat is, the more the food will contain.
Make sure it's complete: complete diets will contain all the nutrients your dog needs, whereas 'complementary' foods are only intended to be a treat alongside their complete diet.
Those are our top tips for choosing the best dog food for you and your pet! If you choose a Purina diet, you can rest assured that you're purchasing a high-quality food. Our complete dog food options are all balanced, containing all the ingredients your dog needs to thrive. What's more, we have options for every life stage and lifestyle, so you can always find the best dog food for your pet.
Looking for more feeding advice? Check out our article on feeding your adult dog, next.