The need-to-know
Dogs suitable for experienced owners
Extra training required
Generally healthy breed
Enjoys vigorous walks
Enjoys more than two hours of walking a day
Large dog
Some drool
Requires grooming once a week
Chatty and vocal dog
Barks and alerts to visitors/anything unusual
Generally friendly with other dogs
May need additional training to live with other pets
Great family dog
Needs a large garden
Best suited to countryside
Key Facts
| | |
| --- | --- |
| Lifespan: | 10 years |
| Weight: | 15 – 18kg |
| Height: | 30 – 38cm |
| Colours: | A mottled black and white that appears slightly blue. Tan markings may also be seen |
| Size: | Medium |
| Kennel Club Groups: | Hound |
Ratings
| | |
| --- | --- |
| Family-friendly: | 5/5 |
| Exercise needs: | 2/5 |
| Easy to train: | 2/5 |
| Tolerates being alone: | 3/5 |
| Likes other pets: | 5/5 |
| Energy level: | 2/5 |
| Grooming needs: | 4/5 |
| Shedding: | 4/5 |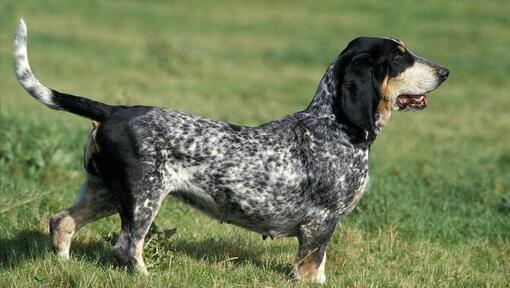 Personality
Described as sagacious and audacious, the Basset Bleu de Gascogne is very much a working hound. Never happier than when their noses is to the ground, tail up in the air following a scent. Reserved with strangers but affectionate to the point of comical with loved ones, this is a hound-lovers hound, suited to those who expect a dog to check all available options and consult a higher power before complying with a request! Provided the opportunity to follow scent, run and find hidden toys or treats, this is a happy, highly amusing dog to live with.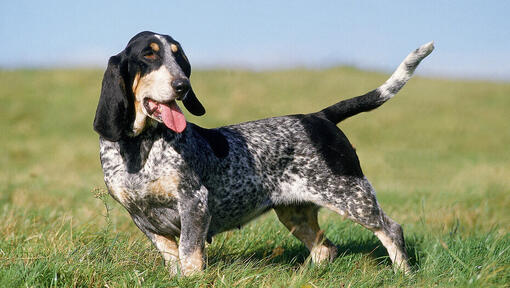 History and Origins
Country of Origin: France
France can lay claim to many hounds, and over the centuries have, it seems, provided a hound for every occasion! The Basset Bleu de Gascogne comes from the Gascogny region in the south-west of France. Mentioned in records as far back as the 12th Century, the 'bleu' hounds were used for hunting boar, wolf and deer. In 1911 it was realised that the Basset version of the breed had all but died out. Dedicated breed supporter Alain Bourbon set about recreating the breed, using the longer legged Bleu de Gascogne and any suitable Basset type bitches he could find, until he arrived at a true-breeding replica of the original Basset Bleu de Gascogne.
Saved from extinction but still remaining a rare breed, in 1980 there were just over 200 puppies born. The first Basset Bleu de Gascogne was brought to the UK in 1980, in 2013 just 11 were registered, so rather sadly this is still a numerically tiny breed.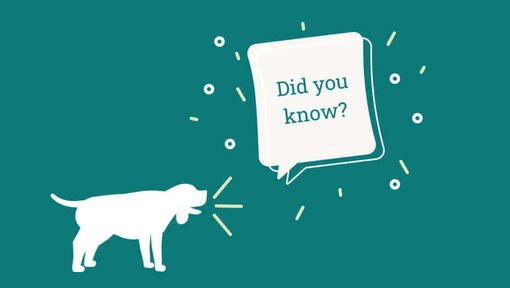 Did You Know?
France takes its scent-hounds very seriously, there is almost a type for each region, available in a variety of sizes, coat types and colours. The names are usefully descriptive, unlike many of the UK hounds who are named for some obscure gentleman or historic mansion.
The Basset Bleu de Gascogne translates to 'low, blue, from Gascogny'; the Grand Bleu de Gascogne translates to 'large, blue, from Gascogny'. When it comes to French hounds, a grasp of the language gives you all the physical descriptions you need. Petit means small, Briquet means middle sized, Grand means large, Basset means low, Griffon means hairy, Bleu means blue coloured, Fauve means tawny or fawn. If you like hounds, there is sure to be a French hound for you!