The need-to-know
Dog suitable for non-experienced owners
Basic training required
Generally healthy breed
Enjoys gentle walks
Needs under an hour of walking a day
Small dog
Minimum drool
Requires grooming every other day
Chatty and vocal dog
Barks and alerts to visitors/anything unusual
Could have issues with unknown dogs but gets along with known dogs
Gets along with other pets with training
Great family dog
Needs a small garden
Can happily live in the city
Can be left occasionally with training
Generally healthy breed
Bichon Frise dogs can suffer from:
- Patellar luxation
- Skin allergies
- Cataracts which is a condition where the lens in the eye becomes cloudy and this can result in blindness. 
- Bladder stones which are where minerals collect in the bladder forming stones which cause pain and discomfort.
- Portosystemic shunts which is a condition where the blood does not pass through the liver normally, which leads to toxin build-up.
- Diabetes mellitus which is a conditions where dogs develop very high sugar levels because they do not produce a normal amount of insulin.

Priority Kennel Club health schemes and testing:
- Eye screening scheme
Key Facts
| | |
| --- | --- |
| Lifespan: | 12 – 15 years |
| Weight:  | Adult males and females weigh approximately 3-6kg |
| Height:  | Adult males and females measure 23-28cm |
| Colours:  | White |
| Size:  | Small |
| UK Kennel Club Groups: | Toy |
Ratings
| | |
| --- | --- |
| Family-friendly: | 5/5 |
| Exercise needs: | 3/5 |
| Easy to train: | 5/5 |
| Tolerates being alone: | 1/5 |
| Likes other pets: | 4/5 |
| Energy level: | 5/5 |
| Grooming needs: | 4/5 |
| Shedding: | 2/5 |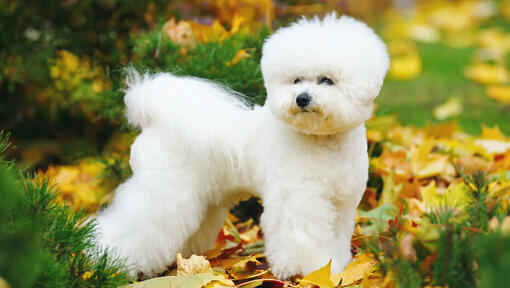 Personality
The Bichon Frise is an extroverted, lively, playful, friendly little dog whose size and image belie their intelligence and trainability. While they are good family dogs, they usually bond very closely to one person and will want to accompany them everywhere - and sometimes even protect them.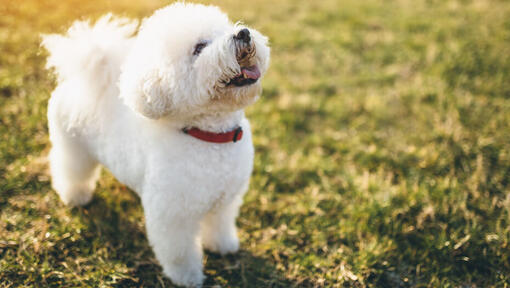 History and Origins
Country of Origin: Spain 
Bichon Frise is an old breed who by the 16th century had already found popularity in the Spanish courts. They originated on the island of Tenerife, where they were known originally as the Barbichon which means Little Barbet. The Barbet was a local water spaniel and so it is thought that the Bichon Frise was a cross between these working dogs and smaller Spanish lapdogs of the time. 
The Bichon Frise (then called the Bichon Tenerife) remained popular in the Spanish courts right through to the 19th century and even captivated the hearts of the French nobility as well. For some reason however they fell out of favour and they went from being dogs of nobility to being largely circus performers. Thankfully their appealing looks and their trainability meant that they excelled, finding a performing niche for themselves until French and Belgian breeders took an interest in them and worked to re-establish the breed and renamed them Bichon à Poil Frisé which means 'the bichon with the curly coat'.