Dog suitable for non-experienced owners
Basic training required
Generally healthy breed
Enjoys gentle walks
Needs under an hour of walking a day
Small dog
Minimum drool
Requires grooming every other day
Chatty and vocal dog
Barks and alerts to visitors/anything unusual
Could have issues with unknown dogs but gets along with known dogs
Gets along with other pets with training
Great family dog
Needs a small garden
Can happily live in the city
Can be left occasionally with training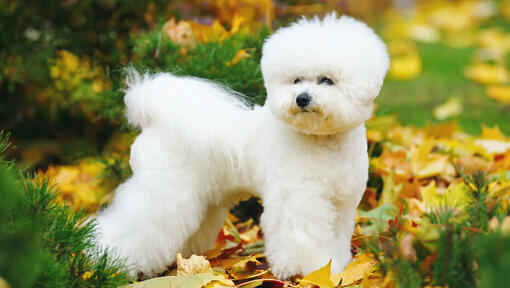 Personality
These lively, happy little dogs adore family life. They love to accompany the family on all outings but can be taught to be left alone occasionally. They socialise well and are fine in the company of other dogs and pets in the household.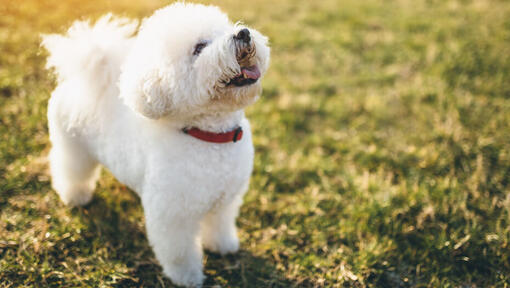 History and Origins
Centuries ago, the Bichon Frise dog breed was popular in France and Spain, and the Bichon has been depicted in portraits of the royal families of both countries. Bichon-type dogs were developed on different islands in the Mediterranean, and Tenerife is where the Bichon Frise is thought to have originated. The Bichon of Malta (known as the Maltese today) is a close relative. 14th-century sailors are thought to have taken them over to Europe from Tenerife.
Health and Common Issues
Bichon Frise dogs are generally very healthy little dogs. However, in common with many other breeds, they can suffer from some hereditary eye problems and kneecaps that may temporarily slip out of place (luxating patellas). They are also prone to developing watery eyes, and predisposed to a type of bladder stone.
Exercise Needs
Bichon Frise dogs will adapt readily to the amount of exercise available from the family circumstances, but half an hour should be considered the minimum daily requirement - along with a chance to exercise their brains!
Nutrition and Feeding
Small dogs have a fast metabolism, meaning they burn energy at a high rate, although their small stomachs mean that they must eat little and often. Small-breed foods are specifically designed with appropriate levels of key nutrients and smaller kibble sizes to suit smaller mouths. This also encourages chewing and improves digestion.
Grooming Bichon Frise
The non-shedding coat should be combed thoroughly every day. Trimming is required occasionally to prevent it becoming too long. To keep the show-ring appearance of a 'powderpuff', it is recommended to use a professional groomer every five to six weeks.
Best Family Dog Breeds
While many dogs are traditionally thought of as being good with children , all dogs and children need to be taught to get on with and respect each other, and be safe together. Even so, dogs and young children should never be left alone together and adults should supervise all interactions between them.