Dogs suitable for experienced owners
Extra training required
Need to be aware of potential health issues
Enjoys active walks
Enjoys one to two hours of walking a day
Giant dog
Some drool
Requires grooming every other day
Quiet dog
Welcomes everyone happily
Generally friendly with other dogs
May need additional training to live with other pets
May need additional supervision to live with children
Needs a large garden
Can live in semi-rural areas
Can be left occasionally with training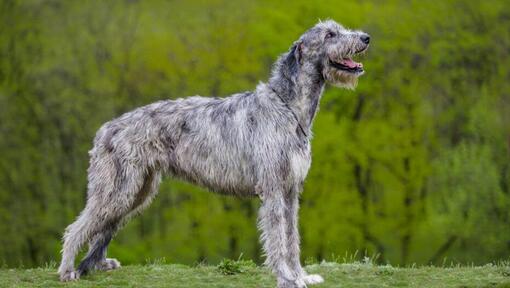 Personality
Friendly and kind, the Irish Wolfhound dog is the gentle giant of the dog world – but pups and young adults are energetic and boisterous so may not be ideal for a family with young children. He gets on well with other dogs, but some can be intimidated by his size. The sheer enormity of his eventual size makes him unsuitable for many families, but for those who can accommodate his needs, he is a devoted companion.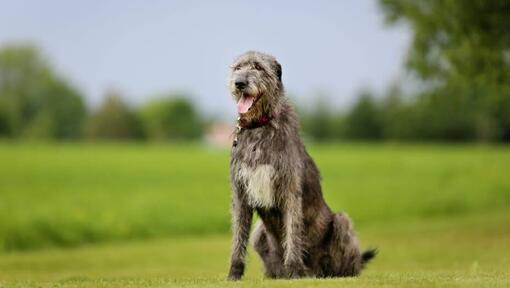 History and Origins
The Irish Wolfhound dog is an ancient breed. Large wolf dogs are documented as being in Ireland more than 2,000 years ago. The dogs of kings and noblemen, the Irish Wolfhound has a long, fascinating history, being used as a dog of war (removing warriors from horseback and chariots) as well as a hunter of wolves. The last wolf was killed in Ireland in 1786 and the breed's popularity went into a period of decline, exacerbated by the Great Famine in the 1840s, but he was revived by dedicated enthusiasts
Health and Common Issues
With a shorter life span than most breeds the most serious health problems that the Irish Wolfhound is predisposed to are an aggressive type of bone cancer and heart disease. Recognised inherited disorders include liver and eye conditions, but due to routine screening and careful breeding programmes these are relatively rare.
Exercise Needs
He may be huge, but the Irish Wolfhound is active and surprisingly fast and agile. A fully-grown, healthy adult Irish Wolfhound needs at least two hours' daily exercise. Great care should be taken not to over-exercise immature dogs, however, to avoid skeletal problems.
Nutrition and Feeding
Giant-breed dogs, as well as having giant appetites, benefit from a different balance of minerals and vitamins, supporting different joint and cartilage needs. The Irish Wolfhound is also prone to bloating and stomach problems; try feeding smaller, more frequent meals to help minimise the risk.
Grooming Irish Wolfhound
The Irish Wolfhound dog's rough, harsh coat is fairly low-maintenance, needing a brush through a couple of times a week.
Best Family Dog Breeds
While many dogs are traditionally thought of as being good with children , all dogs and children need to be taught to get on with and respect each other, and be safe together. Even so, dogs and young children should never be left alone together and adults should supervise all interactions between them.