Dogs suitable for experienced owners
Extra training required
Generally healthy breed
Enjoys vigorous walks
Enjoys more than two hours of walking a day
Large dog
Some drool
Requires grooming once a week
Quiet dog
Welcomes everyone happily
Could have issues with unknown dogs but gets along with known dogs
May need additional training to live with other pets
Great family dog
Needs a small garden
Best suited to countryside
Can be left occasionally with training
Key Facts
| | |
| --- | --- |
| Lifespan: | 10 – 12 years |
| Weight:  | 23 – 27kg |
| Height:  | 50 – 60cm |
| Colours:  | The harsh coat comes in steel grey with liver patches, solid liver, liver with white hairs, and white and brown |
| Size:  | Medium |
| UK Kennel Club Groups: | Gundog (Import Register) |
Ratings
| | |
| --- | --- |
| Family-friendly: | 5/5 |
| Exercise needs: | 5/5 |
| Easy to train: | 4/5 |
| Tolerates being alone: | 2/5 |
| Likes other pets: | 4/5 |
| Energy level: | 5/5 |
| Grooming needs: | 3/5 |
| Shedding: | 1/5 |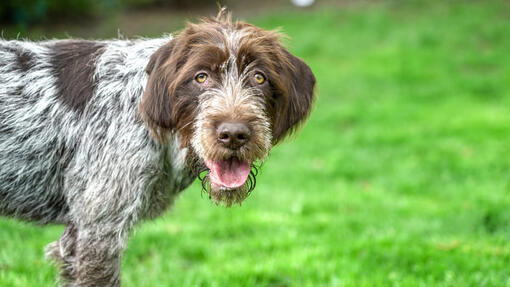 Personality
Slow to mature (taking around 4 years) the Korthals Griffon retains a joyous, puppy-like nature for most of their lives. They are sensitive, fun-loving and gentle, and require a sensitive and thoughtful trainer who has patience by the bucket-load. Harsh handling and the use of aversive methods will result in a dog who switches off and will refuse to work! Early socialisation with pets, livestock and people is necessary, along with teaching and maintaining a rock-solid recall, and stop cue. The hunting desire is very strong with this breed and owners must always keep this in mind and be ready to manage their dog carefully.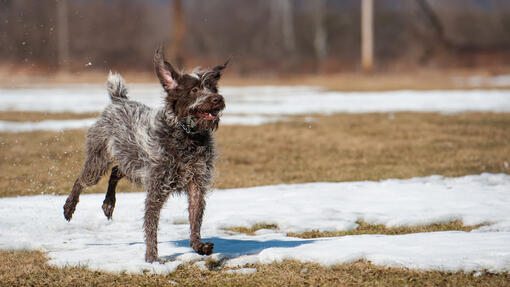 History and Origins
Country of Origin: Germany
Developed by, and taking their name from the Dutchman Eduard Karel Korthals, the Korthals Griffon is a rough-haired multi-purpose Hunt/Point/Retrieve breed (HPR) designed to fulfil multiple roles in the hunting field. At the time hunters were not particularly concerned with the appearance of the dog, as long as their conformation was sound and the dog could easily be seen in cover – they were far more concerned with working ability. Korthal's goal was a rough coated working dog that bred true – in other words, puppies could be expected to resemble their parents – and worked well on all types of terrain, all game and all-weather conditions, a tall order indeed!
Korthals created his breed from the existing pointing dogs from France, Belgium and Germany, and almost certainly culled (removed from his breeding programme) anything that did not make the grade. In a short time, he produced a stable type that worked well, and at the invitation of Prince Albrecht zu Solms-Braunfels, he was invited to take over the training of the Prince's Pointers. He took five young Griffons with him and continued his breeding program, started the first Stud Book in 1872 and eventually from around 600 pups, registered 62 in the Stud Book.
Korthals died at the early age of 45, but his work was continued by his friends in Germany, Holland, France and Belgium. The dogs proved popular for working on pheasant, grouse, woodcock and snipe but also for tracking boar and other large, wounded game such as deer.
It is likely that Korthals Griffons were first shown at Crufts in 1892, certainly 'Griffons' are mentioned in the schedule, but they were also shown 4 years earlier at Barn Elms in 1888.
Very few Korthals Griffons exist in the UK today, with the first four reintroduced in 2001/2002, and the breed is on the Import Register where they will remain until they are seen in the show ring in larger numbers. Most of the Korthals Griffons in the UK are working dogs as well as pets, as the breed retains an excellent working ability and strong desire to hunt.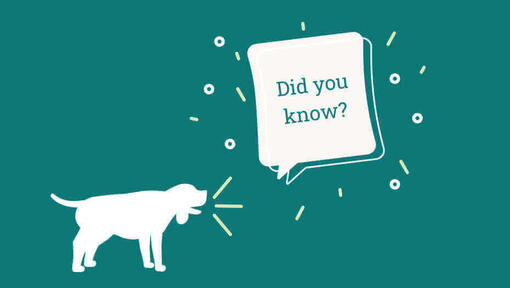 Did You Know?
Unlike many breeds whose origins are somewhat lost over time, the Korthals Griffon is well documented, so much so that we know the names of the 8 dogs chosen by Eduard Korthals who are the ancestors of the modern breed. They are; males: Janus, Hector, Satan and Banco; females: Vesta, Donnar, Mouche and Junon.