Most owners would love to spend every moment possible with their dogs but, unfortunately, this often just isn't practical. For many of us, it's inevitable that at some stage you'll need to leave your dog alone and, at this point, you may be wondering, 'how long can you leave a dog alone?' Can they manage a full working day? Or will they need you to pop back at lunch to let them out to the toilet?
At Purina, we've got all the answers you're looking for! Keep reading to find out all you need to know about how to leave your dog alone safely, and discover our top tips for making sure your pup is happy when you're out.
How long can you leave a dog alone?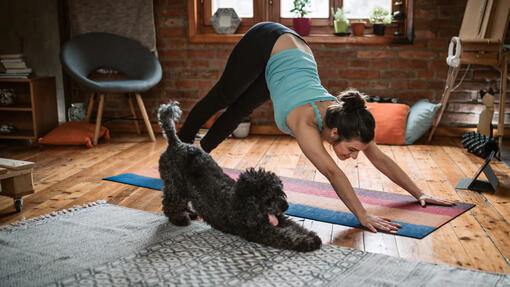 Each individual pup will vary, but the general rule is to only leave adult dogs alone for four consecutive hours. Dogs are social animals, often craving regular human attention and, without it, they become bored and lonely.
Additionally, it's important to note that fully grown dogs can usually only hold their bladder for between six to eight hours, so you'll need to account for this when leaving them alone. And, while you're away, you'll need to make sure they always have access to fresh, clean drinking water too.
How long can you leave a puppy alone for?
Young puppies under six months shouldn't really be left alone for more than two hours. And it's a good idea to build up the time they spend alone gradually to prevent separation anxiety from setting in. When you do leave your puppy alone, it's a good idea to crate train them, or leave them in a puppy-proofed room. This is because putting puppies in a crate or puppy-proofed space will stop them from chewing everything in sight and will also protect them from potential harm.
Ideally, you shouldn't leave a puppy in their crate for more than a couple of hours at a time during the day, as too much time in the crate may cause them to become stressed.
How long can you leave a senior dog alone?
Around two to four hours. The time you can leave a senior dog alone will depend on if they have any health issues and how often they need to pee (senior dogs will normally need to toilet more often).
Should I get another dog to keep my dog company?
Getting another dog should never be seen as an alternative to human companionship, as most dogs will value human interaction, even if they live with another dog. And, although dogs are generally social animals, there are some individuals who don't like the company of other dogs, and prefer being on their own, which means that getting another dog to keep your current one company may backfire and result in bullying or conflict.
What should I do with my dog if I work all day?
The whole working day is much too long to leave your dog home alone, so you'll need to make arrangements for your pup to be looked after or checked in on during this time. If you can go home at lunchtime, make sure you do so to let them out in the garden to toilet, or to take them on a nice walk to break up their day. If this is not possible, you could hire a dog walker instead. And, if your pup is sociable with other dogs and people, doggy day-care can be an excellent option, as this will mean your dog will have the opportunity to play throughout the day, and there will also be someone around to keep an eye on them. Make sure you do your research before selecting a dog walker or doggy day-care, and look for those with good reviews and positive recommendations. Also, think about your individual pup, and how often they will need to be checked, as well as the mental and physical stimulation they require (as well as cuddles and fuss!). When you get home in the evening, don't forget to give your dog lots of fuss, as they'll probably have missed you!
Can I leave my dog home alone for the weekend?
No, you should never leave your dog home alone for such a long period of time. If you're going to be away for the night and can't take your pup with you, you'll need to arrange for someone to look after your dog for you. Friends and family are the ideal solution, but if this isn't possible, look into kennels or a dog sitter (again make sure you do your research before taking your pup to a kennels or hiring a dog sitter). Dog sitters are a great idea for dogs that like their home comforts, as they'll normally come and visit your dog in their own home while you're away.
Tips for leaving a dog home alone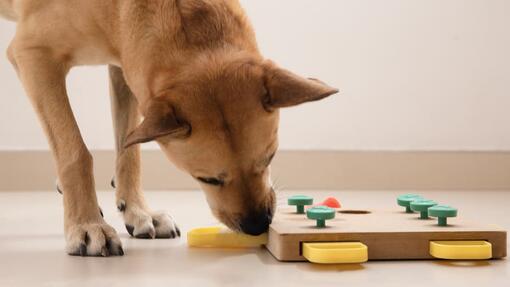 If you're leaving your dog home alone, it's a good idea to make some preparations before you leave, so they won't miss you too much when you're gone:
Make sure they've had enough exercise: Take them for a decent walk before you go so they'll be more likely to snooze and won't be bored.
Use food-dispensing toys: These will keep them entertained in your absence and could help to avoid destructive behaviours.
Get a pet camera: These are a great idea to help give owners peace of mind that their pup is safe, not distressed and not getting up to any mischief!
Check out our article on preparing your dog to be left alone for more handy tips.
That's our guide to how long you can leave a dog alone for! Remember to never leave your dog alone for a prolonged period of time, as it's ultimately not fair for them. If you need to go away for a long period (e.g. a whole working day or overnight), luckily there's now a great range of options available including dog walkers, sitters, day-care, kennels and even pet hotels, to ensure your pet is well cared for when you have to leave them alone.
Want to find out the answer to better understand your dog? Find out how often you should walk your dog, next.
Explore our dog food brands: