Dog suitable for owners with some experience
Basic training required
Generally healthy breed
Enjoys active walks
Enjoys one to two hours of walking a day
Small dog
Some drool
Requires grooming every other day
Chatty and vocal dog
Barks and alerts to visitors/anything unusual
Could have issues with unknown dogs but gets along with known dogs
Gets along with other pets with training
May need additional supervision to live with children
Needs a small garden
Can happily live in the city
Can be left occasionally with training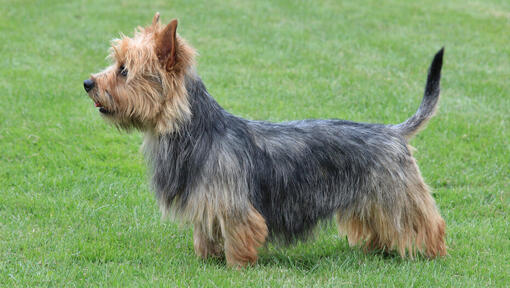 Personality
Friendly and outgoing, the Aussie is keen to please and revels in human contact and praise, and so is generally easy to train – unlike some terriers! He is not aggressive, but will stand his ground if challenged by another dog. This is not a yappy breed, but he will bark if he considers circumstances warrant it.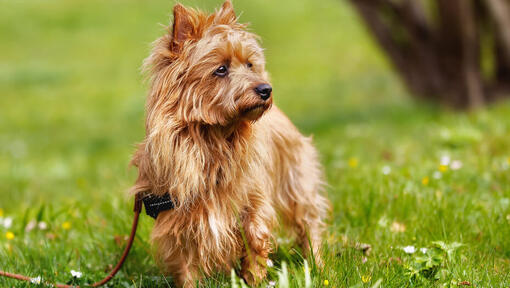 History and Origins
The Australian Terrier dog breed was created in the early 19th century to work in rugged conditions, hunting snakes and rodents on ranches and down gold mines, and being an all-purpose farm dog. The breed was created from terriers imported from northern England and Scotland – including the forebears of the Dandie Dinmont Terrier, Skye and Yorkshire, and the old Black and Tan Terrier and Scotch Terrier. The result was the Australian Terrier dog, which had its first breed club established in Australia in 1887. Official recognition was granted by the Kennel Club of Great Britain in 1936, and in 1958 the American Kennel Club accepted them.
Health and Common Issues
The Australian Terrier dog breed is generally a healthy breed with few specific breed related problems.
Exercise Needs
About an hour's exercise is needed a day, though he will happily accept more – after all, this dog was a working terrier as well as a companion! As well as walks and games, they enjoy agility, obedience, and other canine sports.
Nutrition and Feeding
Small dogs have a fast metabolism, meaning they burn energy at a high rate, although their small stomachs mean that they must eat little and often. Small-breed foods are specifically designed with appropriate levels of key nutrients and smaller kibble sizes to suit smaller mouths. This also encourages chewing and improves digestion.
Grooming Australian Terrier
An Australian Terrier dog in top condition will lose very little hair. They are easy to groom and have a weather- resistant coat that is around 6.35cm long. The undercoat is short and soft. They should be brushed and combed at least once a week and the ears checked for hair that may block the canals. Hair should be plucked if necessary, not clipped.
Best Family Dog Breeds
While many dogs are traditionally thought of as being good with children , all dogs and children need to be taught to get on with and respect each other, and be safe together. Even so, dogs and young children should never be left alone together and adults should supervise all interactions between them.