Purina is highlighting the benefits of pets at work to mark World Mental Health Day on 10th October
Research commissioned by Purina shows 81% of brits believe pet-friendly workplaces are happier workplaces
Pets at work are often considered a key perk by Millennial and Gen Z employees – the same age group who acquired the highest percentage of new pets during the pandemic 
Bringing their canine companions into the office can help owners reduce some of the costs of dog ownership at a time when many might be struggling 

On World Mental Health Day, Petcare company Purina is calling for more business to become pet-friendly, as research reveals that inviting dogs into the workplace could improve employee mental wellbeing. 
According to research commissioned by Purina1, more than three-quarters of Brits (81%) believe pet-friendly workplaces are happier ones, with dog-friendly work environments found to be the perk that Brits said had the biggest positive impact on their overall wellbeing. 
One in five people (20%) ranked it higher than other common perks such as free breakfasts, a complementary bar and free childcare at the office. Dog-friendly offices can bring extra benefits too, with a quarter (24%) saying it improves human relationships in the workplace.
40% of participants said they felt it enhances work-life balance, which can be pivotal in a post-covid world where more businesses are shifting to hybrid ways of working. Employees could also see cost-savings through bringing pets to work, even just for one or two days a week – providing some potentially vital relief during the cost-of-living crisis.  
Purina believes pets and people are better together. Its Pets At Work (PAW) scheme has been running since 2003 and provides support and materials for companies wanting to open their doors to canine colleagues, including a toolkit based on their own experiences. Its offices began welcoming furry friends nearly 20 years ago, with employees reporting a wealth of benefits in their personal and professional mental wellbeing because of this scheme.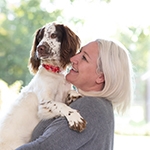 My dogs are pivotal to my mental health. Being able to bring my dogs into work means I have a more positive, relaxed time at work. Not only that, but my colleagues do too! It's a great way to talk to more people because pets are such a conversation starter. People love to come over and stroke Max if they're feeling overwhelmed. Our research shows that canine colleagues can be a huge help in tackling workplace stress and anxiety, and they've certainly helped mine.
"Allowing pets in the workplace also enables employers to offer an additional attractive benefit to employees. So many people, especially in the Millennial and Gen Z age groups, acquired a new furry friend during the pandemic. Being able to bring their dogs to work can help owners keep the costs of dog ownership down, by reducing the need for as much time spent with dog walkers or in doggy day care". 
1. Research conducted by 3Gem from 25th – 27th September 2019 across 2,000 nationally representative UK adults (over 18).