Getting lost in all the different flavours and formulas cat food comes in? No worries! We've broken down the process of choosing the best cat food into easy steps.
If you're a cat owner, choosing the best cat food can quickly get overwhelming given all the options available. There is dry cat food, wet cat food, grain-free cat food, not to mention all the different flavours and special formulas. Leaving it up to your cat to decide on the flavour is fair game, but when it comes to other requirements, pet will count on you to select the best cat food brands and products. In this article, we aim to help make the decision a bit easier. Here is what you need to know in order to choose the best food for your cat.
What nutrients do cats need?
Before we dive into the specific types of cat food, it's worth noting how important it is to read the label on your cat's food bag. For a healthy, happy cat, make sure the food you're offering them is a high-quality, complete diet as this will have the right balance of nutrients, including proteins, essential fatty acids, carbohydrates, minerals and vitamins. Proteins will form a large bulk of their nutrient intake as cats are carnivores. Find out more about feeding your cat a balanced diet with our article.
How to choose the best cat food for your pet
There are many things to consider when choosing your pet's food. Everything from your cat's age, health and nutritional needs will play a big role in your decision. Here is what you need to know.
1. Home-made cat food versus commercial cat food
Cat owners might look forward to preparing lavish dinners for their beloved pet, thinking that the best cat food has to be home-made. Although home-made cat food is no doubt prepared with a lot of love and care, it is often difficult to consistently achieve the right balance of nutrients. This is why it's better to opt for quality commercial cat food that has been specifically designed by experts, carefully taking into consideration your cat's needs.
2. Cat food for your pet's specific life stage
The best cat food is tailored to your pet's age. Kittens or senior felines need a slightly different balance of nutrients to adult cats.
Kitten food
The best kitten food is specially formulated to contain very high levels of protein for growth and higher levels of calcium, magnesium, phosphorous, zinc and iron to help build strong bones and teeth. Vitamins that help support their immune system are also important. Here are a few kitten food options to consider:
Adult cat food
When it comes to adult cat food, you've got plenty of options and flavours to choose from. If you want to spoil your cat with an indulgent meal, our Gourmet range of luxury cat food is full of delectable flavours of beef, chicken, salmon or tuna. Gourmet Perle range offers a variety of fine morsels in savoury sauces ready to entice your cat's taste buds. Purina's Beyond cat food has a strong emphasis on natural ingredients, give this range a go.
Senior cat food
For cats already in their golden years, the best cat food will probably be a specially-formulated senior diet. These will often be lower in calories, as older cats tend to be less active. Plus, the meat content might be higher to make the food smell and taste stronger, as these senses can reduce with age. The balance of vitamins and minerals will often be different too, and a senior diet may contain extra Vitamin E to support their immune system. Try our Felix range of senior cat food made with the highest quality ingredients or Purina One's 11+ Cat Food Rich in Chicken unique nutritional formula with Bifensis that helps support your cat's defences.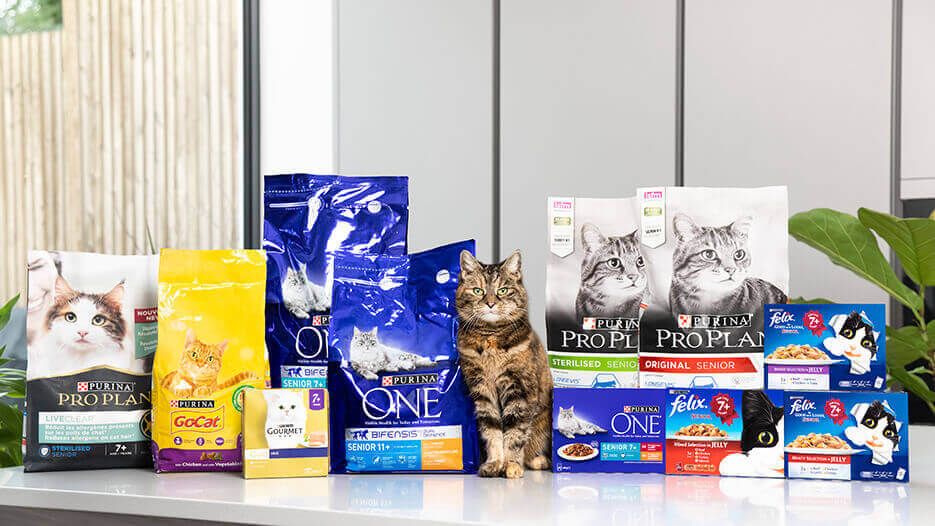 3. Cat food for specific health conditions
Is your cat suffering from a particular health condition? Feeding the right diet might be an important part of their treatment or management plan. With any of these diets, we recommend speaking to a vet for advice to help make sure there are no other obvious medical causes for any signs your pet is showing.

4. Dry or wet cat food formula
Another choice cat owners have to make, when trying to find the best cat food, is what formula to go for, wet or dry?
Wet cat food is a firm favourite of many felines thanks to the stronger smell and softer texture. This is also a good way to help boost water intake. Choose the best wet cat food for your pet by browsing our Purina ranges, including the Felix Sensations meals made with flavourful jellies or the tasty Beyond Mousse Rich in Chicken recipe.
Dry cat food has that satisfying crunch, and comes with a longer shelf life. Plus, it's easier to measure for controlled portions and can help keep your cat's teeth and gums healthy. From Beyond's Rich in Salmon dry cat food made for 100% complete and balanced nutrition to Purina One DualNature dry food packed with essential nutrients, choosing the best dry cat food becomes easy with our expertly-crafted formulas.
5. Cat treats
If you've already got the main meal sorted, it's time to think about cat treats. The best cat food brands know how to treat felines right, so you may want to swap the occasional table scrap for a carefully-designed cat treat that is as tasty as it is nutritious. If you're not sure what to choose, check out our Felix Play Tubes cat treats that come with unique rolling shapes, dual flavours and different sizes. If you're after a feline pick and mix, why not try Felix Goody Bag treats available in delicious chicken, turkey and cheese flavours.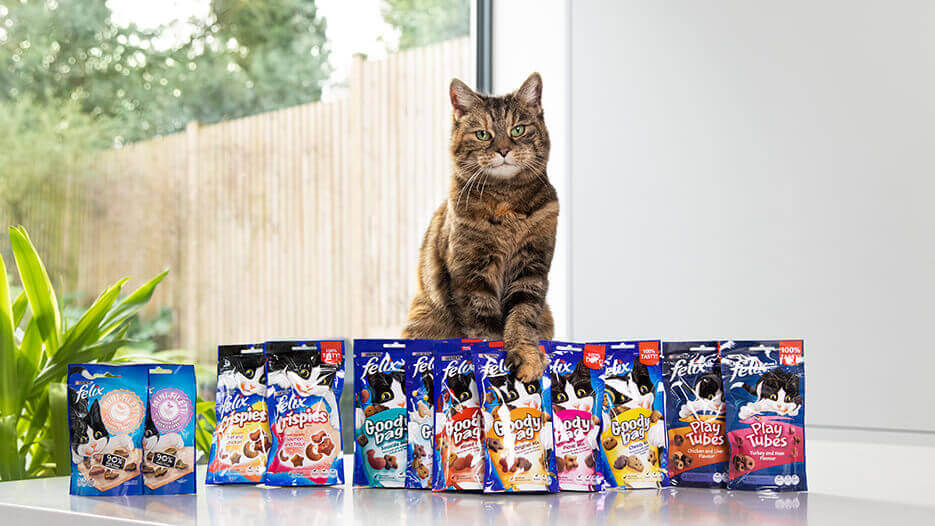 Now that you know what is the best cat food for your pet, have you considered 'what do cats drink?' Find out next in our article.
Explore our cat food brands: