The American continent has given us so many incredible pups. From adorable companions to fearless explorers, the American dog breeds list is full of canine friends that will steal your heart in a second.
From amazing breeds you can almost picture living their best life on a ranch in the Midwest to brave pups taking on the icy waters of the Atlantic and trusted four-legged friends keeping US presidents company in the White House, here are the American dogs you'll want to have in your life right now.
14 American dogs you'll fall in love with in a heartbeat
Boston Terrier
This gorgeous terrier comes from Boston, Massachusetts originally, but has found loving homes all over the world. Their gentle disposition and gentleman looks are the defining traits of this amazing American dog breed. But there's so much more under that cute tuxedo coat. Welcome a Boston Terrier into the family and you'll have a playful, loyal friend for life.
Alaskan Malamute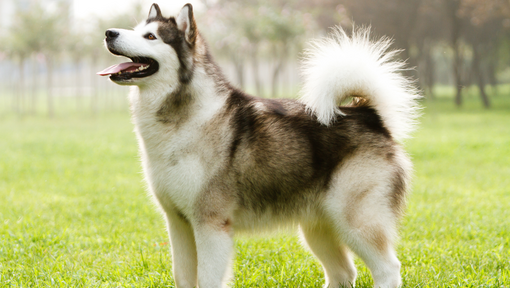 Harsh weather conditions are child's play for this hard-working American dog. The Alaskan Malamute was developed to carry large loads over long distances, but don't be fooled by their size and toughness.
Deep down they're a sweetheart, always looking for an excuse to play with their favourite humans and show them their devoted affection. Be ready for plenty of outdoor adventures though, as these dogs are full of energy and love for nature.
American Eskimo
Dog Contrary to what their name implies, the American Eskimo dogs hail from lower latitudes. They first appeared in the American Midwest in the mid-1800s and since then have charmed the whole planet with their snow-white coats and irresistible smile. This fluffy beauty is smart, easy to train and impossible to miss, which is why the Eskies were once great performers in travelling shows. These days, they're more likely to keep their 'shows' private, at home with their human family as their main audience.
Chesapeake Bay Retriever
The Chesapeake Bay retriever is a brave hunter and an excellent swimmer, exactly what the duck hunters needed in the icy waters of the Atlantic back in the day. The genetic mix that gave us this beautiful red-coated dog includes equally amazing breeds such as the Newfoundland dogs and Labrador. So, if you're looking for an outdoor partner to explore the world with, the Chesapeake Bay retriever is your fellow.
American Staffordshire Terrier
Nothing makes the American Staffordshire Terrier happier than knowing they're part of the family, no matter what. These dogs love their people and will go at great lengths to protect them. No wonder that the most decorated dog in American history was Sergeant Stubby, a Staffordshire that earned the nickname the World War I hero for their courageous spirit.
Rat Terrier
This eye-catching American breed of dogs was made for the farm life. Chasing rodents and hunting small game was just another day in the life of this loyal pup back in the early 1900s. President Theodore Roosevelt himself loved the fearless and feisty Rat Terriers so much, he made sure to have one by his side in the White House. They're a funny, active pup, extremely loyal to their family, but a bit wary of strangers, so it might take them a while to warm up to your guests.
Australian Shepherd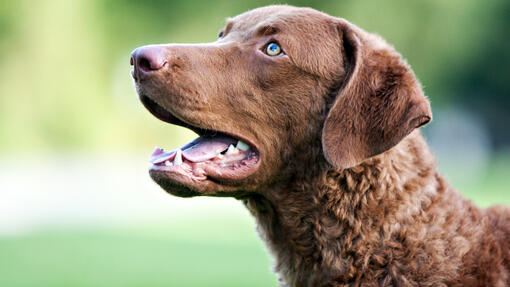 You might be wondering why is an Aussie on our list of American dog breeds? Despite the name, the handsome Australian Shepherd was developed on the American continent to work side by side with ranchers and look after their livestock.
These days you might still find them on a farm, but the Australian Shepherd is ready to take any job that requires focus and intelligence. They have been successfully used as therapy dogs and drug-detecting canines. These pups are smart, loyal and perfect for an active household.
Redbone Coonhound
This red beauty has ancestors that can be traced all the way back to colonial times when Scottish and Irish immigrants brought their trusted hounds with them to the New World. The Redbone Coonhound is the ultimate friend, super-loyal and protective. But they do need a fair bit of exercise and tend to love to hear themselves bark. So, you might want to warn the neighbours!
American Water Spaniel
The American Water Spaniel is adored in their home state of Wisconsin. They're amazing swimmers and fearless hunters, so whatever dog sports you've got in mind for this fellow, they're up for a challenge. Their signature brown, curly coat is waterproof – perfect if you're looking for a swimming partner. Here are even more American dog breeds you'll love instantly:
Plott Hound
Chinook
Toy Fox Terrier
Catahoula Leopard Dog
Boykin Spaniel
We hope you found your best friend on this list of amazing American dogs. But if you want to know what other beauties are out there in the world, here are the most wonderful Japanese dog breeds that will love to keep you company. Or venture all the way to China to discover the impressive Chinese dogs and their stunning looks.
Explore our dog food brands: