Whether they're digging in the sand or splashing in the salty waters, it's clear that most of our dogs love the beach. But, it can be difficult to find beaches that allow our four-legged friends to accompany us. Keep reading to find out our top 5 dog-friendly beaches in the UK.
All dog owners know that for truly memorable holiday moments the entire family has to join in on the fun, including the four-legged members. If you've got your heart set on a seaside vacation, but dread the thought of having to leave your dog behind, no worries. There are plenty of sandy shores that welcome pets running free onto their golden sands or dipping in their blue waters.
When it comes to dog-friendly beaches, the UK has some award-winning gems you can share with your favourite pet all year round. These are some of the most impressive holiday destinations for dogs and their human families.
1. Woolacombe Beach – Devon
If award-winning coastlines are your favourite seaside escape, Woolacombe Beach's golden sands stretching alongside the gentle Atlantic waves should be top of your list. Having been named 'UK's Best Beach' by TripAdvisor, this dog-friendly beach is a paradise destination that will keep you and your dog relaxed and enjoying life for the whole duration of your holiday.
A few dog restrictions might apply during peak season, but if you want the entire three miles of uninterrupted coastline for you and your dog to explore, a good tip is to plan your visit between October to April, wait for the low tide and let your dog enjoy the full expanse of this unforgettable sandy beach.
2. Porthmeor Beach – Cornwall
This gorgeous Cornish beach will make you think you've somehow stumbled across a tropical island on your journey through Cornwall. The dog-friendly Porthmeor Beach has the green-water, golden-sand looks – minus the palm trees – that give it an unmistakable holiday feeling.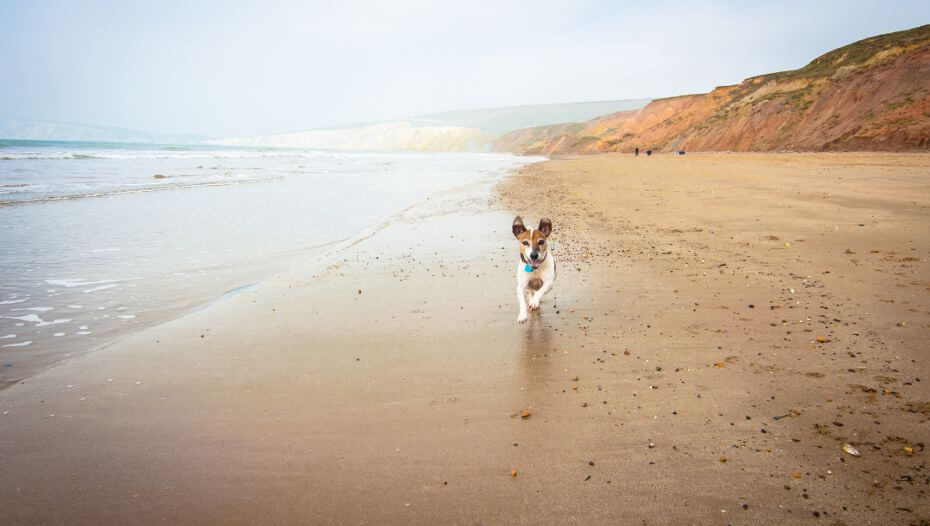 Porthmeor is a lovely dog-friendly beach which means the entire family is welcome to catch a few rays and splash about to their heart's content.
And when you've had enough of all those gorgeous views and sea breeze, you can retreat to St Ives and visit its historical places and the art galleries the town is famous for.
3. Freshwater West Beach – Wales
If you've always wanted to find that gorgeous beach you saw in your favourite movie or walk in the footsteps of beloved characters such as Robin Hood and Harry Potter, Freshwater West Beach is the place to visit. This is a dog-friendly beach slightly on the wild and windy side, which is why plenty of surfers have claimed it as their favourite playground.
The coastal path offers a magnificent view of the shoreline and it's perfect for walking a dog who adores the outdoors. This dog-friendly beach also has a freshwater stream rewarding thirsty pooches for completing their day's walk. Don't forget to stay out and catch the sunset for a truly breathtaking view of Mother Nature at its best.
4. Weymouth Beach – Dorset
There is almost too much charm to handle at the dog-friendly Weymouth Beach. This traditional seaside resort with its gorgeous Georgian seafront overlooking the sandy beach and the blue waves gently crashing into the bay will make you wish it could be your hometown.
But the best part of it is that you can enjoy all this with your pup by your side because this beautiful beach is dog-friendly. Your pup will love chasing balls, seagulls or just "chatting" with the fellow dogs basking in the sun. If you're in for adventure, there is plenty to do around the beach, from donkey rides to mini golf, children's activities and peddle boats. And if you prefer a relaxing, do-nothing holiday, Weymouth Beach also offers some quiet spots away from the crowds.
5. West Wittering – Sussex
With so many visitors flocking to this unspoilt coastline year after year, we couldn't leave out the West Wittering beach. This dog-friendly beach has many wonderful surprises in store for its lucky guests: the colourful beach huts decorating the shore line, the acres of golden sand waiting to be explored, the centuries-old history in tucked away places in the village. On a clear day you can even see the Isle of Wight across the water.
Take your dog with you and enjoy the sandy beach with a game of fetch or go for a leisurely seaside stroll.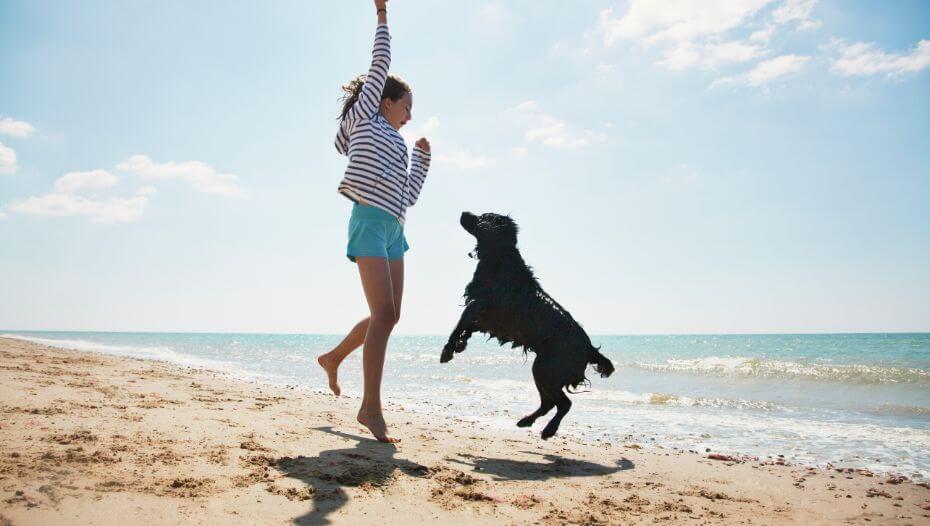 The grass lawn next to the beach is perfect for family picnics and relaxed pups taking care-free naps in the sun. During summer months some restrictions are in place, but you will find plenty of dog-friendly beach areas both of you can enjoy all year round.
Preparing for a beach holiday with your dog
With so many holiday ideas to choose from, you're probably already picturing you and your dog taking over the sandy beaches. Before you set off, make sure you check the dog restrictions, as most beaches will have some in place for the summer months.
And once you're there, it's important not to lose sight of your dog's safety as even dog-friendly beaches can pose risks for an overly excited pooch. To make sure they are having just as much fun as you are, keep in mind a few rules:
Don't let your dog sunbathe for prolonged hours. Limit their basking in the sun to early mornings and late evenings if the weather gets scorching-hot.
Only allow your dog to bathe in shallow lagoons and be mindful of tides.
Keep your dog on a lead if your daily walk takes you too close to cliff edges.
Make sure fresh water is available. All that running up and down the coastline means that they'll need this precious liquid to stay hydrated and replenish their depleted energy stores, ready for the next day's adventure.

Want to find out more about travelling with your dog? Read our handy tips for going to the beach with your dog, next.
More articles by Beta